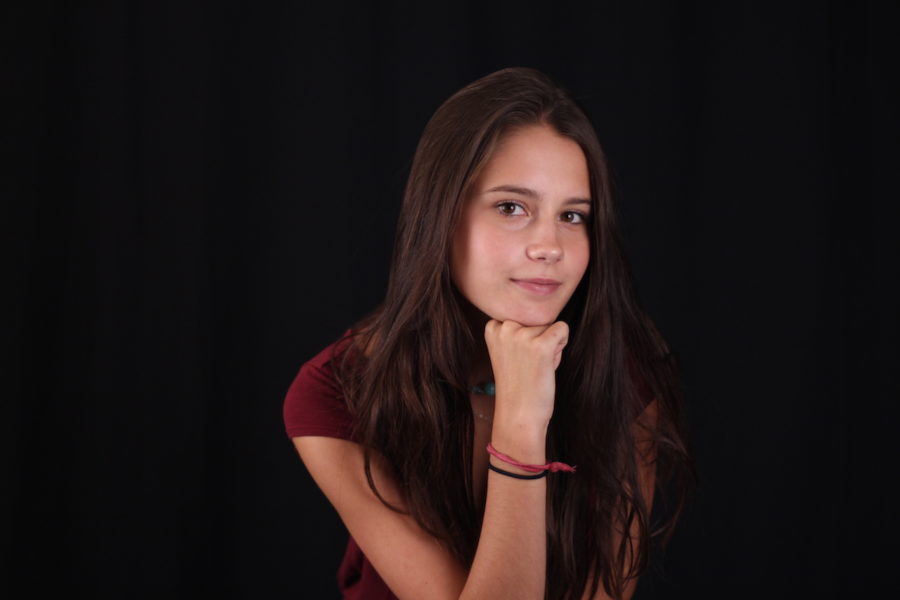 Hallie (ha-lee) Fischer is a super-excited, kinda-tall, slightly-sarcastic writer who is more than ready to start her fourth and final year on staff as the editor-in-chief of The Red Ledger. She has loved The Red Ledger ever since she was accidently put into newspaper in seventh grade, and after 12 years in the Lovejoy district, Hallie is very excited to be a #SE17IOR.
When Hallie graduates, she would like to attend Southern Methodist University to study business and finance to start her career. Other than stress-planning her future, Hallie enjoys working out, being outside, doing various adventurous activities, and just enjoying life as a teenager in Fairview, TX.
Although she dearly misses her 2015-2016 staff friends (Julia, CJ, & Kevin), Hallie is ready to kick butt alongside her right-hand wo(man) Mary Catherine (MC) Wells. The two are prepared to create art (writing and some drawings) to pump up 4th period newspaper and continue The Red Ledger legacy. Although they are separated by a mere 45 minutes, the three editor-in-chiefs of the greatest newspaper in the high school, Jillian, Caroline, and Hallie herself, are more than ready to make their 2016-2017 senior year one for the books.
Hallie Fischer, Editor-in-Chief
May 22, 2017

Senior goodbye: Play the hand you're dealt

(Story)

Feb 10, 2017

14 Days of Love 2017

(Story)

Feb 07, 2017

More than what goes in the mixer

(Media)

Jan 31, 2017

Countdown of Love

(Story)

Jan 30, 2017

Column: Lessons learned from 'The Bachelor'

(Story)

Jan 30, 2017

Welcome to the 14 Days of Love

(Story)

Nov 30, 2016

Column: Making sense of fleeting memories

(Story)

Nov 14, 2016

Campus houses opposite ends of political spectrum

(Media)

Nov 08, 2016

Column: Voicing educated thoughts, not just thoughts

(Story)

Oct 28, 2016

Senior Moments: The final stretch

(Story)

Oct 27, 2016
Oct 11, 2016

Senior Hallie Fischer

(Story)

Sep 26, 2016

Library opens new chapter with debut of book fair

(Media)

Sep 23, 2016

SLIDESHOW: Homecoming Pep Rally 2016

(Story)

Sep 19, 2016

Review: New sammies on Stacy satisfy

(Media)

May 27, 2016

Stacy Road construction expected to last 2 years

(Media)

Jan 29, 2016

Welcome to the 14 Days of Love

(Story)

Dec 07, 2015
Nov 12, 2015

Football holds play-off send off Saturday

(Story)

Oct 28, 2015

The tradition continues

(Media)

Sep 24, 2015

Press box to debut at homecoming

(Story)

Sep 08, 2015

Students now able to "EAT MOR CHIKIN"

(Media)

May 29, 2015

A grievous goodbye

(Media)

May 25, 2015

Track and Field awarded All-State and other awards

(Story)

May 18, 2015

Seniors end of the year schedule

(Story)

May 08, 2015

Language is elegant, fam

(Story)

Apr 29, 2015

Cross country informational meeting to be held May 5

(Story)

Apr 24, 2015

Severe weather hits North Texas

(Story)

Apr 15, 2015

Stop looking at the labels

(Story)

Apr 09, 2015
Apr 09, 2015

A sibling duo: The Sunni and Buddy Band

(Story)

Apr 08, 2015

From the courts to the course, teams compete in district competitions

(Story)

Mar 19, 2015

Big top makes stop in Fairview

(Media)

Mar 11, 2015

Racist video leads to outrage

(Story)

Mar 10, 2015

Stand-out student musicians

(Story)

Mar 04, 2015

All after school activities cancelled due to weather

(Story)

Mar 02, 2015

Girls bowling team advances to state

(Story)

Feb 20, 2015

Role reversal for winter dance

(Story)

Feb 11, 2015

It's all about Running the Edge

(Story/Media)

Jan 19, 2015

Arkansas track meet puts team in "good position"

(Story)

Jan 07, 2015

Track meeting to inform interested athletes

(Story)

Dec 18, 2014

Got Laundry? Occupational Prep students can help

(Media)

Dec 05, 2014

Student-directed production adds to Fine Art Festival

(Media)

Dec 03, 2014

Student captures local news channel's attention

(Story)

Nov 10, 2014

Golf weathers course at Hurricane Creek

(Story)

Nov 07, 2014

The value of the First Amendment

(Media)

Nov 04, 2014

Balancing school and sport

(Media)

Oct 27, 2014

Stacy Road Sonic set to reopen Tuesday

(Story)

Oct 20, 2014

Ebola still poses threat to North Texas

(Story)

Oct 07, 2014

Answering questions captivates quiz bowl students

(Media)

Oct 01, 2014

Volleyball defeats district rivals

(Story)

Sep 29, 2014

Monday sports recap: swim and cross country

(Story/Media)

Sep 25, 2014

Jazz band Region results

(Story)

Sep 15, 2014

Cross country starts its first 5A season strong

(Story/Media)

Aug 28, 2014

Schedule change forms due

(Story)

Aug 27, 2014

United through altitude

(Story)

Aug 26, 2014
Aug 25, 2014

The new man in charge

(Story/Media)

Jun 27, 2014

Reining in perfection

(Story)

Jun 23, 2014

Football camps create opportunity for scholarships

(Media)

Jun 14, 2014

Bonding through a prehistoric ride

(Story)

May 06, 2014

Prom pictures: part two

(Story)

May 05, 2014

Photo essay: Prom 2014

(Media)

Apr 16, 2014

Senior rank freezes to prepare for graduation

(Story)

Mar 31, 2014

Track competes in Austin

(Media)

Mar 31, 2014

STAAR testing begins

(Story/Media)

Mar 27, 2014

Track season in full swing

(Media)

Mar 12, 2014

Freshmen take Dallas

(Media)

Mar 04, 2014

Fat Tuesday Festivities

(Story/Media)

Feb 24, 2014

Tennis player meets her hero

(Story)

Feb 21, 2014

Health science gets hands on

(Story)

Feb 20, 2014

Blocked websites not set in stone

(Story)

Jan 27, 2014

To be, or not to be: a teacher's love of all things Hamlet

(Story)

Jan 21, 2014

Naviance is the answer to GPA questions

(Story)

Jan 07, 2014

Aspiring dancers try to be Majestic

(Story)

Nov 22, 2013

Health helps hungry humans

(Story/Media)

Nov 21, 2013

NHS extends to new territories

(Story)

Nov 04, 2013

Civilian Air Patrol prepares student for future

(Story)

Sep 13, 2013
Sep 06, 2013

Fans getting used to new stands

(Story)