Under the lights
Spanish teacher Seth Sartain may in be in the classroom today, but his previous stage was the high school football field
Hundreds of fans sit in the stands and contemplate the decisions made on the gridiron, but Spanish teacher Seth Sartain has been inside the head of the high school quarterback as a three-year starter for Mesquite Poteet.
The Leopards face Poteet in a must-win game at home on Friday, and even though he has to miss the game to attend a wedding, Seth shared his memories from his playing days.
Like many quarterbacks who find themselves in the heat of the Texas high school football culture, Seth said being a quarterback can either be "really exciting or really disappointing" because of the pressure in the spotlight.
"As a quarterback, if you play poorly everyone knows; everyone knows and is watching you," Seth said. "They know what you're supposed to be doing, if you completed the pass or if you fumbled. It is kind of a more public position to play."
Similar the Leopards' sophomore quarterback Carson Collins, Seth had to adjust to the fast pace of the high school game, as well as the stress and pressure to perform.
"One aspect people maybe don't realize is, especially as a young guy starting as a quarterback, is the pressure to do your older teammates justice," Seth said. "The seniors that year, this is their last shot. Early on that was the main thing. First off, adjust to the new pace of the game, and then also try to do my best for those guys who are on their way out the door."
He even remembers that many students didn't hesitate to express their distaste in his performance.
"I remember a game my sophomore year, again as a sophomore struggling and stuff, I had a terrible game," Seth said with a chuckle. "I had like five interceptions and we lost. And actually that season, losing that game lost any possibility of us going to the playoffs. On Monday this girl, an upperclassmen who I didn't know very well, just said some really harsh things to me, like she was personally offended at my poor performance. Which like, I'm already upset with myself enough."
Despite his critics, Seth had an impactful career, especially his senior year. According to a Star Local media news article, during his senior season he was named the 2006 10-4A All-District First Team Offense quarterback, completed 59 percent of his passes for 1,580 yards and 10 touchdowns. Seth also could do more than throw, adding that his most valuable asset was his running game.
"It's just another weapon an offensive can have," Seth said. "Strategically, going into a game it's another option the defense has to account for. It worked well for us. We were able to win a lot of games."
It did work "well" for the Pirates. His 2006 season, Seth took his team to the playoffs for the first time in five years with an 8-3 record.
"It was great to come back and be a senior and do well and bring our school to the playoffs for the first time in a long time; it was really cool," Seth said.
But the glory of a playoff spot was short lived after Seth dislocated his throwing arm in the last regular season game, a week before the first and only playoff game at Pizza Hut Park.
"I was waiting on the doctor to come and they were going to give me something, like a shot, to try and make it to where I could play," Seth said. "He was late and the whole team was warming up and I'm in the locker room waiting for this guy. He eventually shows up right before the game. It was good because my arm didn't hurt, but I couldn't feel it throwing. Some balls I let loose and think I way overthrew it and it would be in the dirt and vise versa the whole game. So that last high school game was interesting. It was unique from all the other ones and disappointing, obviously."
Seth had weekly district competition, but it was an especially tough game against Highland Park and its quarterback, now NFL quarterback for the Detroit Lions, Matthew Stafford.
"It was cool to get to compete against him and then to see him go to Georgia and all that," Seth said. "He gave us a lot of problems. He started as a sophomore and I remember standing on the sidelines as a freshman watching him play. He had a strong arm. He was a clearly a stud way back when."
Seth started dating Catherine Brashear the summer going into senior year, and the two would later marry. In high school, Seth was excited to "finally cash in" the reputation of high school quarterbacks "to impress a girl," but to Seth's surprise, it didn't work.
"Oh my gosh, I knew nothing about football," Catherine said. "I didn't even know he was the quarterback. He had to explain it to me one night over the phone. I knew the point was to score touchdowns and such, but he taught me the other rules and details of the game. So the quarterback trick was useless on me."
After learning the game for her boyfriend's sake, Catherine was quick to support the team, especially for their trip to the playoffs.
"It was very exciting," Catherine said. "My friends on the volleyball team and I made spray painted shirts for the guys, mine of course for Seth."
But to Seth, the bright lights and big wins were nothing compared to the everyday experiences with the team.
"Day-to-day stuff with your team at practice, with the guys, locker room, messing around on the field and stuff, that's the stuff that sticks with you more," Seth said. "Just locker room antics in general are a good cultural building for any sports team, especially football."
The evolution of the idea of Texas high school football into a fairy tale is anything but what this quarterback sees it as.
"I will say that a lot of times in pop culture, like movies and T.V. shows and stuff, I think they've kinda romanticised it a little bit more than what the actual player's experience is," Seth said. "Because if you think about it, on a Friday night, if you're sitting there with your head in the clouds and you're basking in the lights and all this, you're gonna get your butt beat."
Despite the romanticism, he continues to see and utilize the lessons he's learned from football even today.
"A friend and I would come every day during the season and left voluntarily before school and then we would have practice after school," Seth said. "So just laying the foundation of doing extra work consistently [is a lesson I learned]. It's like every single day, be consistent and work, and I guess seeing the success it brought about, I tend to do that in life, in general, now."
Seth red-shirted his freshman year at Ouachita Baptist University in Arkadelphia, Ark. Eventually he left football behind and transferred to Texas Tech University and became a teacher, but said he maintains a connection to the game, even if it's just from the bleachers on a Friday night.
"I've changed a lot since I stopped playing football, but that's always gonna be a part of me," Seth said. "The stuff that I learned, life lessons through sports and stuff and football, is something that stays with you forever."
Leave a Comment
About the Contributor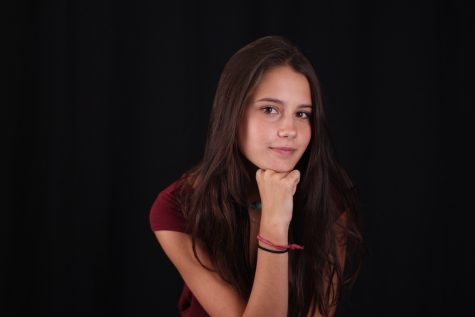 Hallie Fischer, Editor-in-Chief
Hallie (ha-lee) Fischer is a super-excited, kinda-tall, slightly-sarcastic writer who is more than ready to start her fourth and final year on staff as...