Review: New sammies on Stacy satisfy
Grif's offers variety of ice cream sandwiches, milkshakes, brownies
I love cookies, and I love ice cream, so naturally ice cream sandwiches are my kryptonite. My addiction began when I was very young, spending all my money at the community pool's snack stand on sammies and begging my parents for more once I ran out.
Sadly though, ever since moving to Texas from Pennsylvania, ice cream sandwiches have become a rare occurance in my life, like a high school sweetheart you only see when you come home from college. You desperately try to rekindle that once-passionate love even though deep down you know things will never be like before.
Until now.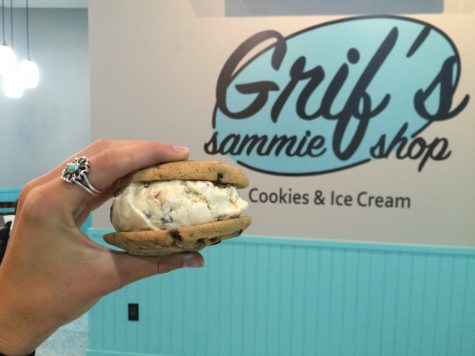 My sweetheart has moved in right across the street from me, in the form of Grif's Sammie Shop, a new ice cream sandwich shop in The Villages at Allen. Grif's offers 13 homemade cookie options to choose from as well as 12 flavors of Blue Bell ice cream to mix and match to your pleasure, all for $3.50 each. Want to marry chocolate chip cookies? Have chocolate chip cookie and cookie dough ice cream sandwich. Are you the most "granola" person to grace the Earth? Try the oatmeal raisin cookie with pistachio almond ice cream.
If for some reason that I can't possibly understand, sammies are not your thing, Grif's also has brownies, milkshakes, and beverages. Grif's also offers a cookie speed challenge where you have to eat 12 cookies of your choosing as fast as you can without any drinks. The current record is 15 minutes and 45 seconds.
I'd rate Grif's 7 out of 10 sammies, because while my ice cream sandwich is out of this world, I'd like to get it home before it melts and would prefer a better carrying case opposed to the current styrofoam box. Love is back in my life and can be in yours too with a visit to Grif's Sammie Shop.