Reining in perfection
Just down a gravel road in Lucas is a stable that is home to a three year holder of a national title: the Woodhaven Wranglers equestrian drill team.
"We are based out of Woodhaven Stables," junior Melody Johannsen said. "We are sponsored by Jean Schooping (the owner of the stable) and Woodhaven and we do rodeos, parades, and competitions. We are national title winners for multiple years in a row, and we send two girls from our team, usually two, to the Ride of Champions which is at National Super Ride."
Equestrian teams, like the Wranglers, usually include from four to 20 plus rider-horse pairs. The team learns a routine that involves weaving, speed adjustments, and direction changes to music for an audience and often in competitions like the National Super Ride.
"I would describe it as a group of people who are on horseback and we go in and perform high precision, usually high speed maneuvers," Johannsen said. "It is basically like a dance routine but you are on horseback, and no we aren't dancing on the horses, they are the one's dancing."
The Wranglers competed in Super Ride XII June 16-21 in Lindale and once again took home the national title.
"Our varsity team competed in several divisions and ended up walking away with the Youth Select Small Team national title, meaning we got 1st place," Johansen said. "Also, [we won] the title for the Youth Theme division. Our theme was Les Miserables. The judges loved it."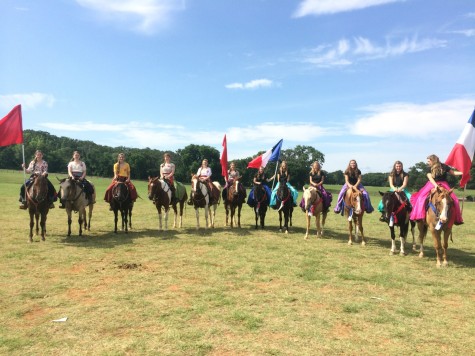 Sophomore Jenna Evans has been with the program since she was nine-years-old and is varsity captain and one of the coaches for the JV team.
"The past 6 or 7 years of being on the drill team, it's helped me work a lot harder, cause I know if I don't work hard then the other girls will slack off," Jenna said.
She has another reason to work hard and always put her best hoof forward.
"My mom is the coach," Jenna said. "I can't get away with anything. She is always on my case, so that makes me work twice as hard. Sometimes it works out to my benefit like knowing the drills before the other girls. [My mom and I] fight a lot because she thinks she knows what's best and I think I know what's best, so it causes problems, but she's made our team go very far."
April Evans has been in charge for just two years.
"I had previously been the team manager and when our previous coach left I accepted the offer to coach the team," head coach April Evans said.
Coaches are responsible for teaching the girls routines and helping them perfect it, but just from being involved with drill team, Johannsen has learned skills that help her riding in general.
"It's definitely taught me to use my head and rely and trust other people, because when you are in drill team, it is very high speed, you have to trust them to not run into you and you can very much hurt your horse," Johannsen said. "You also have to learn a lot of technical things like side passing and pivoting, and stopping and at any point in time he can spook at the flash from the photographers so you just have to be aware. You have to learn to adapt to change."
The riders perform at rodeos and ride in parades which has been a benefit for Jenna in other horse events.
"It most definitely has helped me with those activities," Jenna said. "Just being able to adapt to your speed based on other riders, and there are a lot of sharp turns in drill team and those help me with the barrells, and overall it just helps my riding."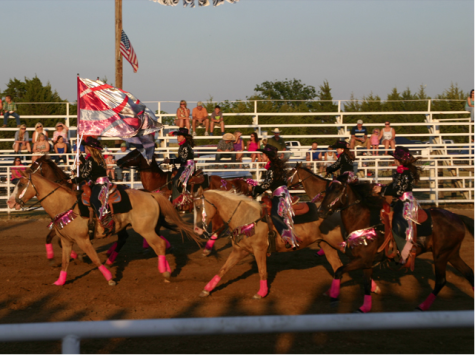 Not only riding skills are enhanced but so are connections to people. Jenna met her long time friend through drill team.
"You form bonds with other people. They are just great friendships to have, because I know if my friends leave me here (at school), that I have friends there that I can go to," Jenna said. "My best friend, Savannah, and I met when I was nine, when I joined the team. She graduated last year and she goes to A&M now, and we are still friends. When she comes home for breaks, we go on trail rides together and we have been best friends for a long time. I met her because of it."
Riders burn between 441-549 calories an hour while trotting, cantering, and galloping, but for those who don't think horse riding is a sport, Johannsen and Evans have something to say.
"Why is it in the Olympics?'," Johannsen said. "It depends on the level that you want to do it, but the higher up it gets it gets a lot more difficult and it starts testing both you and your horse."
"It's difficult in its own way," Jenna said. "You have to know what you're doing. You can't just hop on a horse and think you are going to be able to do it. You have to know how to ride a horse and know how to control it. People who say horseback riding isn't a sport are wrong; I would have them get on a horse and try and do what I do. If they try to go do what we do they couldn't do it. It is very difficult."
Wrangler workouts occur every Monday at the stable with the girls running through or learning a drill in the hopes of perfecting it.
"We repeat everything over and over and over again until we get it perfect," Jenna said. "We start our drills in September and our first competition is in May, so we take that time to get it perfect for the judges."
They also work on precision.
"Depending on how well the practice goes, we are either running the drills or adding speed or changing drills, or we break it down and make sure everything is very precise," Johannsen said.
The girls run through each drill to get it perfect for the judges.
"They (the judges) are looking for precision, correct spacing, they're looking for us to show them that we know how to have fun with our horses, and it is a fun time for us," Jenna said.
Drill team is different from other equestrian sports because of the group atmosphere.
"If I hadn't joined drill team, I wouldn't have learned how to ride with people, because horseback riding by itself is an individual sport, so you don't usually have 11 other people in the arena with you in very close quarters," Johannsen said.
Once the pressure is gone from a completed performance, the team does signings. Kids at the rodeos will bring pictures of the girls and have the riders sign pictures.
"It's so much fun," Jenna said. "Different rodeos have different signings. I remember in the Mesquite rodeo, we rode into the arena, and the kids came running to the gates, and we got to sign over and over again. I was thinking, 'Wow, I never thought this would be happening to me'. It's so much fun."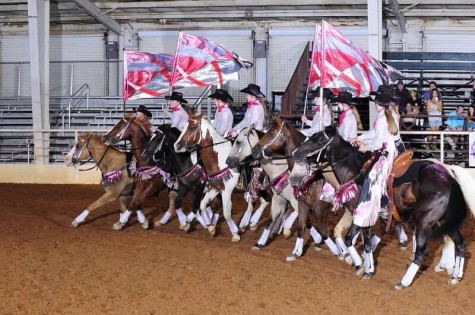 After the star treatment and national titles, it all comes back down to a rider and a horse's trust in one another.
"You just get bonds with your horse, your horse forms bonds with other horses," Jenna said. "I'm confident in what I do because of my position on the team and I don't let people tell me otherwise."
To learn more about the Woodhaven Wranlgers or how to sponsor this group of ladies and their horses, go to www.woodhavenwranglers.com or to learn more about Woodhaven Stables go to www.woodhavenstable.com.