STAAR testing begins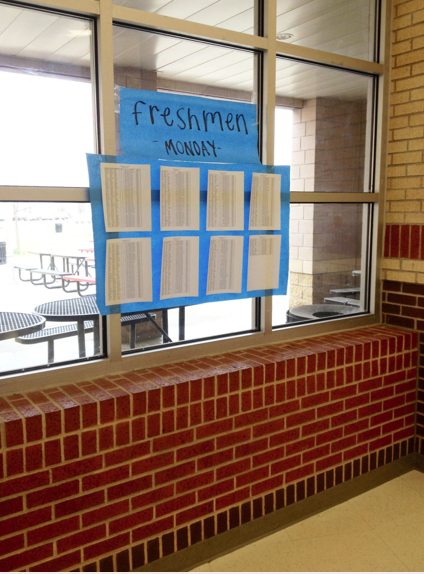 The start of the week brings the end of the year testing as the first STAAR/End of Course testing date is Monday, March 31 with other tests to follow.
Freshmen test on Monday with sophomores testing on Tuesday. Testing begins on both days at 8:45 a.m. and will run into 5th period.
Students will report to their designated testing room. If students do not know their testing room, they can check in the commons on the north window.
Testing locations for Monday and Tuesday are also listed below.
Monday, March 31:
| | | | |
| --- | --- | --- | --- |
| Last Name | First | Assignment/Location | Comments |
| Aguayo | Brittany | none | |
| Arriaga | Amanda | Test Administrator in B111 | All non 9th graders 5th pd to D129 with Riddle |
| Bart | Edward | Displaced to E210 | |
| Beimer | Anthony | none | |
| Beller | Amanda | none | |
| Birdwell | Michael | none | |
| Bracey | Sherria | Test Adminstrator STAAR ALT in D121 | |
| Branch | Lisa | Test Adminsitrator in B100 | |
| Breeden | Amanda | Test Coordinator | |
| Brewster | Jessica | Test Administrator Relief | |
| Brooks | Randy | Coverage in D126 | 5th pd Herrmann |
| Cherry | Adam | Coverage in E205 | 3rd period for Smiley |
| Christensen | Greg | Coverage in E206 | 5th pd for Johnston |
| Christian | Deneen | Coverage in D117 | non 9th grade students 1st pd Smith ; 4th pd Prince and Smith; 5th pd Prince and Smith |
| Christian | Keith | none | |
| Clark | Ginny | Displaced to D221 | |
| Coachman | Bruce | Test Coordinator | |
| Cooper | Ray | Coverage in E104 | 5th pd for Smiley, Lyles, Evans,  H. Lewis |
| Cox | Ryan | Test Administrator in B214 | non 9th grade students 2nd to D124 with Stallings, 3rd to B203 with Parker; 5th to E104 with Cooper |
| Davenport | John | none | |
| DeLisle | Jan | none | |
| Devalla | Vindhya | Test Administrator in B211 | |
| Dillow | Bruce | none | |
| Dodson | Teresa | none | |
| Dollinger | Theresa | Test Administrator in B106 | |
| Douglas | Amanda | none | |
| Duck | Alisha | none | |
| Eairheart | Jasen | Displaced to D131 | |
| Eaton | Michael | none | |
| Emerson | Darla | none | |
| Evans | Tara | Test Administrator in B110 | non 9th grade students – 1st pd to D212 with Finn; 4th pd to D208 with Pereira; 5th pd E104 with Cooper |
| Finn | Kevin | Coverage in D212 | 1st pd Evans |
| Fisher | Greg | Test Administrator Relief | non 9th grade student 3rd to B203 with Parker |
| Ford | Pam | none | |
| Gengoux | Maryline | Restroom Monitor | All non 9th students with Perdomo in D105 |
| Glorioso | Amanda | Displaced to D223 | |
| Green | Matt | none | |
| Gulley | Amanda | Coverage in D203 | 1st pd Mitchell in D203 |
| Hall | Elyse | none | |
| Harrison | Katherine | Displaced 3rd to E211, 4th E205 | |
| Hendrick | Lance | Test Administrator in B105 | |
| Hernandez | Mallin | Displaced to D107 | |
| Herrema | Kyle | none | |
| Herrmann | Tommi | Test Administrator in B217 | 1st period student go to CAT; 5th pd go to D126 with Brooks |
| Higgins | Brian | Displaced 5th | Olsen will be in room |
| Horst | Dirk | none | |
| Irons | Romi | none | |
| Jahnke | Jeff | none | |
| Johnston | Julie | Test Administrator in B108 | 5th pd go to E206 with Christensen |
| Joseph | Suma | none | |
| Kauffman | Justin | Test Administrator in B104 | non 9th grade students 3rd go to B203 with Parker |
| Kear | Jeff | none | |
| King | Louise | Test Administrator in B103 | 4th and 5th period students to CAT |
| Kinnard | Kristen | none | |
| Leary |  Jennifer | none | |
| Lewis | Nathan | Test Administrator in B210 | |
| Lewis | Homa | Test Administrator in B212 | all non 9th graders 5th pd to E104 with Cooper |
| Lidington | Brian | none | |
| Lilly | Amy | Displaced to D211 | non 9th graders 5th pd only |
| Lowrance | Fela | none | |
| Lyles | Allison | Test Administrator in B213 | non 9th graders 2nd to D124 with Stallings, 3rd to B203 with Parker, 4th covered by Mozley in D131, 5th to E104 with Cooper) |
| Mason | Chris | Test Administrator Relief | |
| Mayfield | Chris | none | |
| McCasland | Brice | none | |
| McKinney | Bernadette | none | |
| Mitchell | Bridget | Test Administrator Relief | |
| Mitchell | Ryan | Test Administrator in B202 | 1st pd in D203 with Gulley; 3rd in gym with Stinson |
| Motsney | Mike | Displaced to E211 | |
| Mozley | Melody | Displaced 1st and 2nd to D114 and coverage | Cover Lyles 4th in D131 |
| Nance | Jennifer | Displaced 4th pd | Olsen will be in room |
| Olsen | Amy | Displaced 2nd and 3rd – E107; 4th E105; 5th E103 | |
| Parker | Tami | Coverage 3rd in B203 | all non 9th graders in 3rd pd Kauffman, Smith C, Lyles, Evans, Fisher, and Cox |
| Perdomo | Pedro | Dispaced to D105 and Coverage | Cover Gengoux students in your classes, 5th pd cover Gengoux only |
| Pereira | Kristen | Coverage in D208 | 4th Evans |
| Priem | Ryan | none | |
| Prince | Karyn | Test Administrator in B215 | all non 9th graders 2nd go to D124 with Stallings, 4th and 5th to D117 with D Christian |
| Puckett | Blaire | Test Administrator in B107 | |
| Purcell | Shawn | none | |
| Reichenbach | Russell | none | |
| Riddle | Michele | Displaced to D129 and coverage | 5th pd Arriaga |
| Sakuda | Tamara | Test Administrator in B216 | 1st pd students go to CAT |
| Seidel | Jeff | none | |
| Shi | Wei | none | |
| Sloan | Joey | none | |
| Smiley | Susan | Test Administrator in B209 | all non 9th graders 3rd in E205 with Cherry, 5th pd in E104 with Cooper |
| Smith | Bev | none | |
| Smith | Crystal | Test Administrator in B102 | All non 9th graders 1st to D117 with D Christian, 2nd to D124 with Stallings, 3rd to B203 with Parker, 4th and 5th to D117 with D Christian |
| Stallings | Andrew | Coverage in D124 | 2nd period from Prince, Smith, Lyles, Cox |
| Stinson | Jonathan | Coverage in gym | 3rd period PE for Mitchell |
| Stuard | Bethany | none | |
| Taylor | Jason | none | |
| Testa | Lissa | Test Administrator in B204 | |
| Thomas | Kellie | none | |
| Tokarz | Amy | diplaced 1st and 2nd | (Mozley in room) |
| Tran | Van | none | |
| Vaughn | Tania | Coverage in E204 | 1st pd Sakuda, Herrmann, 4th pd and 5th pd King |
| Villareal | Brandon | none | |
| Voth | Michael | none | |
| Ward | Roxann | Test Administrator in B109 | |
| Weaver | Lindsay | none | |
| Willis | Jennifer | none | |
| Woodruff | Mary | displaced 2nd and 3rd | Olsen will be in room |
Tuesday, April 1:
| | | | |
| --- | --- | --- | --- |
| Last Name | First | Assignment | Location |
| Aguayo | Brittany | Test Administrator in B109 | |
| Arriaga | Amanda | Displaced to D103 | |
| Bart | Edward | Displaced to D119 | |
| Beimer | Anthony | Test Administrator in B110 | all non 10th graders 2nd pd to D124 with Stallings |
| Beller | Amanda | Coverage in E108 | 2nd pd Harrison |
| Birdwell | Michael | none | all non 10th graders 2nd pd to D124 with Stallings, 3rd pd to E109 with Lidington |
| Bracey | Sherria | Test Adminstrator STAAR ALT in D121 | |
| Branch | Lisa | Test Administrator in B103 | |
| Breeden | Amanda | Test Coordinator | |
| Brewster | Jessica | none | |
| Brooks | Randy | Coverage in D126 | 1st pd Weaver |
| Cherry | Adam | none | |
| Christensen | Greg | Coverage in E206 | 5th pd Herrema |
| Christian | Deneen | Coverage in D117 | 5th pd Weaver, Douglas, Thomas |
| Christian | Keith | none | |
| Clark | Ginny | Test Administrator in B214 | |
| Coachman | Bruce | Test Coordinator | |
| Cooper | Ray | Coverage in E104 | 5th pd Harrison |
| Cox | Ryan | none | |
| Davenport | John | Test Administrator Relief | |
| DeLisle | Jan | none | |
| Devalla | Vindhya | Test Administrator in B107 | |
| Dillow | Bruce | Test Administrator in B209 | All non 10th graders 2nd to D225 with Evans; 3rd to D224 with Hall; 5th to D209 with Reichenbach |
| Dodson | Teresa | none | |
| Dollinger | Theresa | none | |
| Douglas | Amanda | Test Administrator in B104 | All non 10th graders 2nd to D124 with Stallings, 3rd to E109 with Lidington, 5th to D117 with D Christian |
| Duck | Alisha | Test Administrator Relief | |
| Eairheart | Jasen | Displaced 1st and 2nd to D209; 3rd to E201; 5th to D222 | |
| Eaton | Michael | none | |
| Emerson | Darla | none | |
| Evans | Tara | Coverage in D225 | 2nd pd Dillow |
| Finn | Kevin | Test Administrator in B210 | |
| Fisher | Greg | none | |
| Ford | Pam | none | |
| Gengoux | Maryline | Displaced to D212 and coverage | Cover 1st pd Mozley 11 students |
| Glorioso | Amanda | Displaced to D211 and Coverage in D211 | 4th pd Harrison |
| Green | Matt | none | |
| Gulley | Amanda | none | |
| Hall | Elyse | Coverage in D224 | 3rd pd Dillow |
| Harrison | Katherine | Test Administrator in B213 | All non 10th graders 2nd to E108 with Beller; 4th to D211 with Glorioso |
| Hendrick | Lance | Test Administrator Relief | |
| Hernandez | Mallin | Test Administrator in B108 | all non 10th students 1st, 3rd, 4th go with Perdomo D212; 5th to D212 with Gengoux |
| Herrema | Kyle | Test Administrator in B202 | 3rd pd PALS with Johnston in E211; 5th pd to E206 with Christensen |
| Herrmann | Tommi | none | |
| Higgins | Brian | none | |
| Horst | Dirk | none | |
| Irons | Romi | Test Administrator in B211 | |
| Jahnke | Jeff | none | |
| Johnston | Julie | Coverage  in E211 | 3rd pd Herrema PALS |
| Joseph | Suma | none | |
| Kauffman | Justin | none | |
| Kear | Jeff | none | |
| King | Louise | Test Administrator in B100 | 5th pd to CAT |
| Kinnard | Kristen | none | |
| Leary |  Jennifer | none | |
| Lewis | Nathan | none | |
| Lewis | Homa | none | |
| Lidington | Brian | Coverage in E109 | All non 10th graders 3rd pd from Weaver, Douglas, Thomas, Birdwell |
| Lilly | Amy | Displaced to D119 | all non 10th graders 5th pd |
| Lowrance | Fela | none | |
| Lyles | Allison | none | |
| Mason | Chris | none | |
| Mayfield | Chris | none | |
| McCasland | Brice | none | |
| McKinney | Bernadette | none | |
| Mitchell | Bridget | Test Administrator Relief | |
| Mitchell | Ryan | none | |
| Motsney | Mike | Displaced to E201 | |
| Mozley | Melody | Test administrator in B102 | all non 10th graders 1st pd with Gengoux in D212; 2nd pd with Perdomo in D222 |
| Nance | Jennifer | none | |
| Olsen | Amy | Displaced to D210 | |
| Parker | Tami | none | |
| Perdomo | Pedro | Dispaced to D222 and Coverage | all non 10th graders 1st Hernandez, 2nd Mozley, 3rd and 4th Hernandez |
| Pereira | Kristen | none | |
| Priem | Ryan | none | |
| Prince | Karyn | none | |
| Puckett | Blaire | Test Administrator in B105 | |
| Purcell | Shawn | none | |
| Reichenbach | Russell | Coverage in D209 | 5th for Dillow |
| Riddle | Michele | Test Administrator in B215 | |
| Sakuda | Tamara | Test Administrator in B216 | 1st pd students go to CAT |
| Seidel | Jeff | none | |
| Shi | Wei | none | |
| Sloan | Joey | none | |
| Smiley | Susan | none | |
| Smith | Bev | none | |
| Smith | Crystal | none | |
| Stallings | Andrew | Coverage in D124 | all non 10th graders 2nd period from Weaver, Douglas, Beimer, Birdwell, Taylor |
| Stinson | Jonathan | Restroom Monitor | |
| Stuard | Bethany | Test Admisitrator Relief | |
| Taylor | Jason | Test Administrator in B212 | all non 10th graders 2nd pd to D124 with Stallings |
| Testa | Lissa | Test Administrator Relief | |
| Thomas | Kellie | Test Administrator in B106 | All non 10th graders 3rd to E109 with Lidington, 5th to D117 with D Christian |
| Tokarz | Amy | none | |
| Tran | Van | none | |
| Vaughn | Tania | Coverage in E204 | 1st pd Sakuda, Aguayo, 3rd Aguayo, 4th Taylor, 5th King) |
| Villareal | Brandon | none | |
| Voth | Michael | none | |
| Ward | Roxann | Displaced to E207 | |
| Weaver | Lindsay | Test Administrator in B111 | 1st to D126 with Brooks, 2nd to D124 with Stallings, 3rd to E109 with Lidington, 5th with D Christian) |
| Willis | Jennifer | none | |
| Woodruff | Mary | none | |