Student-directed production adds to Fine Art Festival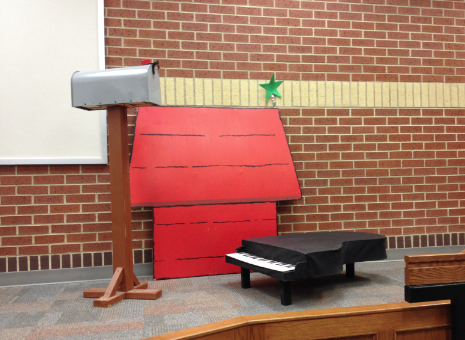 Good grief! The timeless classic, A Charlie Brown Christmas, will be returning to the annual Fine Arts Festival Saturday with performances at 2 and 2:30 p.m. in the lecture hall.
"Last year they chose to do 'Twas The Night Before Christmas instead due to the lack of boys in the class," sophomore Zoe Kahana (Sally Brown) said.
However, this year the advanced acting class will bring back the tradition for its third year with an all new cast.
"We wanted to continue the tradition of doing that show since it's so well-known and lovable," Kahana said.
The purpose of having the theatre classes put on a show at the festival is to give them an opportunity to harness, perfect, and show off their skills. This year, senior Michelle Leddon has been given the chance to act as student director.
"I've really enjoyed directing it and working with Davenport as a student director for the second time," Leddon said. "I hope that people enjoy it and come see it."
Having a student director is a unique opportunity and a different rehearsal format for the actors, but overall the cast enjoys learning from a peer.
"Having a student director has been great," Kahana said. "It's nice to have suggestions from someone that doesn't usually get to be in that position and Michelle has done a great job staging and directing the show."
A Charlie Brown Christmas is one of the three Christmas-themed shows that will be presented at the Fine Arts Festival, along with How The Grinch Stole Christmas (performances at 12 and 12:30 p.m.) and Fairy Tale Christmas (3 and 3:45 p.m.) all in the lecture hall.
"I had so much fun working behind the scenes," sophomore Chrissy MacQuilkan (sound technician) said. "We have a great cast and all love Charlie Brown, I can't wait for the show."