Back on track
Senior Blair Lang went from varsity runner to wheelchair bound in a matter of days, but now she is experiencing relief.
She was exhausted.
Senior Blair Lang was tired and worn out after seven months of endless trials, long car rides to random doctors, and she was tired of this pain. Her foot was constantly inflamed with pain and no one knew why or how to help. She was tired of being a helpless victim crippled every minute by excruciating pain. She was supposed to be getting ready to apply to college, running with her team, taking vacations with her family, but here she was again, in another hospital, another set of hospital clothes, in another surgery.
This surgery was the most risky, a last resort. She didn't know if she would wake up and be cured, have even more pain than before, or be paralyzed, yet she closed her eyes under bright lights of the surgery room.
Blair was a typical junior. She sang in the choir throughout high school, had two best friends, loved going to concerts, actively used her driver's license, had a job at a daycare, and a large part of her time was spent at cross country practice where she was on her way to becoming one of the top seven runners on the girls team. Being a captain, she was very involved with the cross country team that eventually became like her family.
"I was always super super involved [with the team]," Blair said. "We always had team events and I was always there and sometimes they would even be at my house. I was always with the team. They were always my solid foundation. I would always rely on the team to get me through other hard times."
Blair kicked her training into high gear junior year to be on the varsity team when district and regionals came up in October of 2014. She trained six days a week, averaging six miles a day, and continued to train until something stopped her in her tracks.
"We were in the heat of the summer season so we were training really hard and I guess wasn't paying attention to my body as much as I should have, but I definitely remember there was one workout and I put my foot down weird and I was like 'oh, that really hurt'," Blair said. "I just kept running on it and that's probably when I should have taken myself out but I wanted to be so good, like I wanted the season to go really well. So I just kept pushing myself and it kept hurting."
The pain finally took Blair to the school trainer, then to a doctor friend who, after MRIs and x-rays, concluded it was a marble-size bone cyst in her heel. Blair chose to do a typical, uniform procedure to remove it and only have to take six weeks off from her running. She'd only be under anesthesia for 15 minutes, and she was, but those 15 minutes would create an event that would change her life forever.
"It wasn't supposed to be anything awful," Blair said. "But I woke up and I was bawling and I was in so much pain. They put me on Fentanyl which is 10x higher than morphine and that was the only thing that made it better. But the doctor still sent me home and was like 'You'll be fine. It's okay'."
But she wasn't ok. She couldn't walk, couldn't let her foot touch anything without fear of crippling pain. Frantically, her mother, Louisa, called her doctor.
"When we got her home from the surgery center I knew something was not right almost immediately because she was having so much pain for the minor procedure she had had," Louisa said. "When I took her back three days later, the doctor confirmed the diagnosis."
Blair had Complex Regional Pain Syndrome (CRPS), a syndrome with no foreshadowing symptoms, not much scientific information or progress: a pain with no cure.
"They have no idea about anything," Blair said. "They have no idea why I got it. They have no idea why anyone gets it. They don't know how to treat it. They have no cure for it. They don't know anything about it. They're in the process of figuring things out but it's just been so rare they don't have enough funding for it."
Again she was told it would go away in a matter of weeks, but the Lang family did their own research about CRPS and discovered it was something that wasn't going to go away within a few weeks- some people have it for life. So, Blair started her seven-month-long process of finding an end to her pain, starting with medicine just to cope.
"At the height of my induce of medicine, I was on six medications and 10+ supplements; I would take 42 pills a day," Blair said. "I did that for eight months. With chronic pain comes sleep problems, comes depression. It would cause a lot more problems than just that [pain]. They didn't help as much as I wanted them to, but they took the edge of the pain. It was better than having nothing. There's just not much they can do.
Junior year was supposed to be for boosting her GPA, practicing the ACT, and applying to colleges, but Blair could only manage go to school for half a day, was on the 504 education plan, had doctor's appointment every day, couldn't focus, and had to be wheeled to her classes in a wheelchair.
"I remember everyone would stare at us when we were out in public and I hated that for her," Louisa said. " I hated going to pick her up from school and watching all the 'normal' kids doing what we all take for granted like wearing shoes and walking without pain. I was very worried for her future."
She went from doctor to doctor. Most wouldn't even see her because of her age and her small body frame.
"My mom would be on the phone crying saying please see my daughter, something is wrong with her, we don't know what to do," Blair said.
She did nerve blocks to try and block the pain she was feeling because for Blair, not feeling her foot was better than pain. She traveled to Lubbock multiple times to do more nerve blocks from one of the best CRPS doctors in the region and Blair was his youngest patient ever. Yet, nothing worked. Blair was going on seven months of constant, excruciating pain, and a feeling of hopelessness was a constant companion.
"It was very hard seeing her go from such an active, fun-loving person to someone who's life was controlled by pain," Louisa said. "She just couldn't go on anymore with all the pain. She wanted to enjoy her senior year and look forward to a bright future."
One of Blair's best friends just watched helplessly, wanting to help her friend, but unable help her pain go away.
"She was really frustrated by the whole thing," long time friend and senior Riley Gournay said. "What was supposed to be a simple surgery turned into a chronic illness and she was supposed to be back training for track season by January but she couldn't even walk. Running was her life and she was really good and all of the sudden it was taken away from her. She was so sad. Watching it happen was terrible. When she told me she couldn't run and train ever again, it hit me so hard. I know it was the worst thing she has gone through and I just tried to be there for her the best I could."
Then, Blair was directed to Doctor Wesley Merritt. He proposed a different solution, but much more risky. He offered to implant a spinal cord stimulator into her lower lumbar spine. If it worked, it would replace her pain signals with electronic vibrations, which she could control. Because of the delicacy of the spine, 16 year-old Blair could end up cured, in more pain, or even paralyzed. After much contemplation by her family, Blair closed her eyes under the bright lights from the surgery room in hopes of relief.
June 26th 2015: Blair Lang, who had been in pain for over 6 months, woke up and her foot pain was gone. She was pretty sore and uncomfortable because of the spinal cord stimulator box in her back, but for the first times in months, her foot wasn't in pain.
"I was just relieved that I was finally getting a little break from all the pain," Blair said.
"It was literally Christmas in July," Gournay said. "We went to lake as soon as we could and planned so many outings because she could walk and move without hassle."
Blair will attend the University of Oregon in the fall of 2016, she will start boxing, is enrolled in dual credit college courses, comes out to support the team, and can run a mile, only a year later. Blair's life is not perfect: she is 'a human robot'. She has to charge her stimulator once a week, charge her stimulator controller once every two weeks. She has good days and bad. She takes off days to just relax. She has to worry about getting into car accidents that might trigger her CRPS or any other surgeries that might inflame it again. Louisa constantly worries about her little girl.
"I worry about her all the time," Louisa said. "The fragility of life and good health is not something I take for granted anymore. Part of me would love to keep Blair in a bubble so she can't get hurt but I know I can't do that. Blair's resiliency is amazing. One thing I have learned that behind every single person is a story. You don't know what someone is going through or has gone through and I think maybe it has made me appreciate life and people more than I did before."
Blair's disease is always a threat to come back, but for now, she is back on track.
"I was so excited to be out of pain, but it was also kind of like the start of the countdown until my pain finds a way around the stimulation and moves somewhere else and the whole journey starts over again," Blair said. "I just feel really lucky that I am getting the chance to be normal again because for some CRPS patients, nothing helps. I was just really excited to have my life back for a while."
View Comments (3)
About the Writer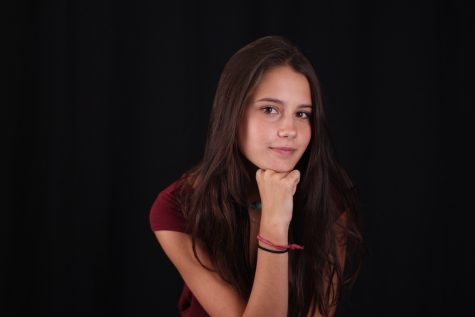 Hallie Fischer, Editor-in-Chief
Hallie (ha-lee) Fischer is a super-excited, kinda-tall, slightly-sarcastic writer who is more than ready to start her fourth and final year on staff as...