Students now able to "EAT MOR CHIKIN"
Why did the chicken cross the road?
To get to the Lovejoy High School lunch line.
"Chick-fil-a in the lunch line has been a process we have been working on for a while," lunch line manager Jackie Palovik said. "Even during summer. Then we finally got it all finalized within the last few weeks. It was just announced [last week] on the social media."
Food straight from the restaurant will be coming to the high school.

Loading ...
"We are going to be serving the original sandwiches which is the classic breaded sandwich that comes with pickles," Palovik said. "Students can get sandwiches and waffle fries. We make the waffle fries here but the sandwiches come from Chick-fil-a."
Palovik said the kitchen staff is excited about the new menu items.
"We like to introduce new foods to the students because we like to get them excited about coming to the cafeteria to eat because we enjoy feeding them," Palovik said.
The addition of Chick-fil-a will be a change to the normal food seen in the lunch line.
"I definitely think the students will be excited," Palovik said. "I think they are going to really enjoy having something they are used to seeing when they are not at school. Also everyone loves Chick-fil-a."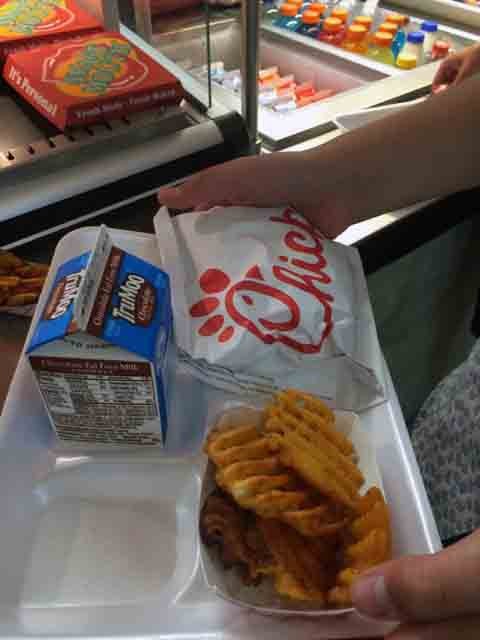 This new feature is hoped to bring more students to the lunch line.
"I am so excited about the Chick-fil-a," sophomore Allie Karnes said. "I usually don't buy school lunches but this might persuade me to branch out and buy something."
Chick-fil-a coming in the cafeteria is not just a one time thing.
"This will now be a normal thing," Palovik said. "It is on our menu and we will have it on Tuesdays and Thursdays. Fresh sandwiches will be delivered every lunch period."
But most importantly, there will be enough to feed whoever wants it.
"We will never will run out of sandwiches because we over order and we will always have plenty," Palovik said. "Chick-fil-a assured us that we will."
Some teachers also see this as a positive thing.
"I am very pleased that we now have a wider selection of yummy foods that we can choose from on Tuesdays and Thursdays," animation teacher Ray Cooper said.