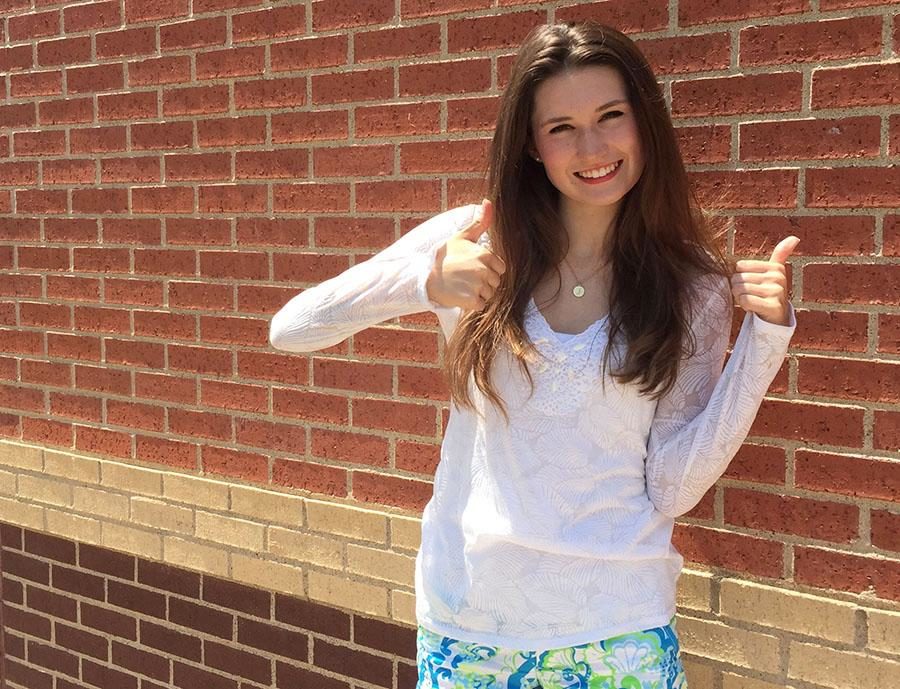 In 7th grade Julia signed up for newspaper class on a total whim. To this day she isn't exactly sure what landed her in Mrs. Sanders 7th period newspaper class. She kind of just went with the flow (which is actually very peculiar for Julia because she usually plans everything at least 3 years in advance) Now she is one of the Editor-In-Chiefs of The Red Ledger so that happened and it's cool and she likes the gig.
Extra Curriculars are a huge part of Julia's life. So much so she refuses to list them out here for fear of becoming explicitly boring. Her hobbies include dancing, tripping, falling, flailing and anything of that general nature. She wants to major in history or political science and go to law school eventually. Her fantasy career would be a paleontologist because dinosaurs are awesome, but she is more realistically looking into being a lawyer (which yes, she does find to be equally exciting.)
Other than all of that, Julia is so super duper excited for the 2015-2016 Red Ledger staff. She is very confident that this year the online news source will kick some booty at something and be really informative. She is even more pumped to work along side the old married couple (also known as the other two amazing Editor-In-Chiefs of The Red Ledger) Jillian and Hallie.
Julia Vastano, Editor-in-chief
May 17, 2016

Column: Here's to the bittersweet moments

(Story)

Feb 19, 2016

JWAC meets former Ambassador to Israel

(Story)

Feb 12, 2016

Column: Case against judgment

(Story)

Jan 13, 2016

Column: Mastering the 'game'

(Story/Media)

Dec 16, 2015

Column: Fighting fear

(Story)

Dec 14, 2015

2015 Reader's Choice Winners Announced

(Story)

Dec 07, 2015

Coat drive to be held until Dec. 11

(Media)

Dec 03, 2015

Reader's choice awards

(Story)

Nov 11, 2015

Athletes take next step

(Story)

Sep 23, 2015

Homecoming activities day schedule set

(Story)

Sep 04, 2015

New addition to Leopard skyline set to debut in late Sept.

(Story)

Jun 14, 2015

A summer of preparation

(Media)

May 29, 2015

Seniors take their last walk through the school

(Story)

May 25, 2015

The weather according to Delkus

(Story/Media)

May 13, 2015

Technology issues force rescheduling of AP French exam

(Story)

Apr 14, 2015

An alternative education

(Story)

Apr 02, 2015

A democratic approach to education

(Story)

Mar 09, 2015
Mar 08, 2015

Swing'n at Sadies

(Story)

Mar 03, 2015

History Bee and Bowl team members qualify for national tournament

(Story)

Feb 23, 2015

Capturing the ice day

(Story)

Feb 22, 2015

A flurry of tweets

(Story)

Feb 11, 2015

Journalists make mistakes too

(Story)

Feb 02, 2015

Mini majestics to take center court

(Media)

Jan 15, 2015

Give off campus lunch a chance

(Story)

Jan 07, 2015

Earthquakes shake North Texas

(Story)

Jan 05, 2015

New semester, new schedule

(Media)

Jan 01, 2015

Cooler weather, cooler fashion

(Media)

Dec 19, 2014

School's out, but The Red Ledger is still updating

(Story)

Dec 16, 2014

My Jewholic-Christmauannuakh

(Story)

Nov 07, 2014

The First Amendment in action

(Story)

Nov 05, 2014

Texas elects first new governor in 14 years

(Story)

Oct 20, 2014

Exclusive interview with former president of Texas Presbyterian

(Story)

Sep 28, 2014

Homecoming spirit day themes

(Story)

Sep 24, 2014

Homecoming court nominees announced

(Story)

Sep 23, 2014

The benefit of flipping the classroom

(Story)

Sep 20, 2014

Water line break causes traffic disruption

(Story/Media)

Sep 04, 2014

A welcome contrast to the Allen food scene

(Story)

Aug 26, 2014

Superintendent takes ALS Ice Bucket Challenge

(Story)

Jul 28, 2014

Summer plans: edition two

(Story)

Jun 05, 2014

In with the new: coaches hired

(Story)

May 31, 2014

The Red Ledger will continue to post over the summer

(Story)

May 16, 2014

Why you should live life like Leah Jenner

(Story)

May 16, 2014

New restaurant falls short on flavor

(Story)

May 09, 2014

Spell check ruined me

(Story)

Apr 29, 2014

Photo essay: a fierce performance

(Story)

Apr 25, 2014

The clock is kicking down

(Story)

Apr 18, 2014

Burn: one girl's guide to the ultimate comebacks

(Story)

Apr 11, 2014

Shading the summertime shine

(Story)

Apr 04, 2014

Things Fall Apart keeps me from falling apart *spoilers*

(Story)

Apr 02, 2014

Studying with stimulants

(Story)

Mar 28, 2014

Plastic bag policy changed in Dallas

(Story)

Mar 28, 2014

How I taught my grandparents to use an iPhone

(Story)

Mar 16, 2014

School is out, but TheRedLedger is still here

(Story/Media)

Mar 14, 2014

An open letter to John Green

(Story)

Mar 10, 2014

My rules for life

(Story)

Mar 07, 2014

Trendy health diets that are gross

(Story)

Mar 05, 2014

Girl's varsity soccer recognizes teachers

(Story)

Mar 05, 2014

Lorde beyond her years

(Story)

Feb 28, 2014

Kids say the darndest things

(Story)

Feb 21, 2014
Feb 13, 2014

Why Valentine's Day is awesome for single people

(Story)

Feb 07, 2014

Barbie setting the bar

(Story)

Jan 28, 2014

Thought bubble: America loves dumb stuff

(Story)

Jan 23, 2014

Thought bubble: fried foods

(Story)

Jan 07, 2014

Polar vortex chills the state

(Story)

Dec 24, 2013

Red Kettle takes holiday donations

(Story/Media)

Dec 24, 2013

Thought Bubble: The awful gift

(Story)

Dec 10, 2013

Power outages aren't fun

(Story)

Dec 09, 2013

How to stay safe on slippery roads

(Media)

Nov 22, 2013

Motivational shout out from the NFL

(Story)

Nov 21, 2013

Thought Bubble: Midnight movie premieres

(Story)

Nov 20, 2013

Thought Bubble: Pinterest addiction

(Story)

Nov 18, 2013

Blow-off days create lazy ways

(Story)

Nov 13, 2013

PTA holds e-Waste collection

(Story)

Nov 13, 2013

Thought Bubble: Bad day go away

(Story)

Nov 11, 2013

The beat of the hallway

(Story)

Nov 06, 2013

Thought Bubble: Virtue

(Story)

Oct 22, 2013

Facts about the bond package

(Story)

Oct 04, 2013

Pure Heroine debuts

(Story)

Sep 25, 2013

Pinterest prevents productivity

(Story)

Sep 20, 2013

Mock trial comes back from recess

(Story)

Sep 12, 2013

Popular teacher returns

(Story/Media)

Aug 27, 2013

Fish are friends not food

(Story)

Aug 06, 2013

Twins travel the world

(Story)

Jun 03, 2013

Just like the movies

(Story)

May 23, 2013

Senior signing day

(Story/Media)

May 17, 2013

Coach Cox comments on the weather

(Story)

May 16, 2013

Opinions on opinions

(Story)

May 01, 2013

Getting burnt: the dangers of skin tanning

(Story)

Apr 30, 2013

Yoga isn't bologna

(Story)

Apr 26, 2013

An open letter to Texas weather

(Story)

Apr 23, 2013

Declassified: competitive cheer

(Story)

Apr 20, 2013

Get unstuck from the sports rut

(Story)

Apr 19, 2013

My BBF (best beverage friend)

(Story)

Apr 19, 2013

Vine use grows quickly

(Story)

Apr 15, 2013

Students reflect on North Korea

(Story)

Apr 08, 2013
Apr 01, 2013

The genius next door that you might not know

(Story)

Mar 28, 2013

Proposed bill seeks to change high school graduation requirements

(Story)

Mar 21, 2013

ACO collects prom dresses for Princess Project

(Story)

Mar 14, 2013

The truth behind modeling

(Story)

Mar 06, 2013

Spring cleaning donations

(Story)

Mar 04, 2013

Homemade Thin Mints

(Story)

Feb 27, 2013

Exchange student finds comfort zone in America

(Story)

Feb 20, 2013

"But my lips hurt real bad…"

(Story)

Feb 04, 2013

Cracker Barrel comes to the area

(Story)

Jan 30, 2013

Freshman embraces vegetarian lifestyle

(Story)

Jan 29, 2013

Mock Trial goes to court

(Story)

Dec 31, 2012

Dissolution of resolutions

(Story)

Dec 06, 2012

Avoiding holiday crowds

(Story)

Nov 08, 2012

Holiday healthy eating tips

(Story)

Nov 01, 2012

Berger family fosters children

(Story)

Oct 29, 2012

The Subway of pizza

(Story)

Oct 22, 2012

Fall brings pumpkin patches

(Story)

Oct 22, 2012

"GRRR" marks the return of The Rolling Stones

(Story)

Oct 11, 2012

Sixth grade choir in the high school spotlight

(Story/Media)

Oct 04, 2012

PALS spend 'spare' time with special education students

(Story)

Sep 25, 2012

Danielle Rogan, Climbing to the Top

(Story)

Sep 20, 2012

"No Easy Day" reveals intriguing story

(Story)

Sep 18, 2012

Football first-timers open to the challenge

(Story)