New addition to Leopard skyline set to debut in late Sept.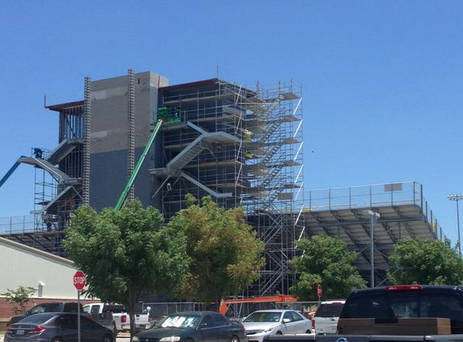 As the Eiffel Tower is associated with Paris, a new landmark has taken shape on campus that claims Lovejoy athletics as its own; the new press box is almost completed and will be utilized for the homecoming game.
"As we improve the stadium and the way everything looks, it will improve the Lovejoy's athletic program as a whole," head football coach Ryan Cox said. "The press box will benefit all sports."
The press box and other various improvements to the stadium have been scheduled for completion as a part of the May 2014 bond package, but will not be ready for the first game.
"Substantial completion should be in about four weeks [as of August 1]," Director of Operations Donna Washburn said. "The general contractor, Lee Lewis Construction, is expeditiously working to have the press box ready for the first home varsity football game."
Due to an unusually rainy spring, construction was delayed.
"There were 38 days of rains since construction commenced on the press box," Washburn said. "The general contractor has coordinated the schedules of multiple subcontractors to accomplish each one's particular scope of work in a condensed schedule. For example, the waterproofing subcontractor is finishing their scope of work at the top of the press box structure while the mason is laying courses of brick at the bottom of the structure."
Cox is eager for the completion of the project for both aesthetic and athletic reasons.
"One of the things the press box is going to do is improve the aesthetics of the stadium and make it look comparable to the rest of the facilities we have," Cox said.  "We have such a nice school and such nice buildings on every campus and everywhere you go. The [former] press box was not the greatest situation, aesthetically-looking, from the viewer's standpoint. It was really just a metal box at the top of the stadium. The other thing it is going to do is improve the vantage point for the coaches because it will raise up from where we see the football game. Having a state of the art facility on the field will take us to the next level of campus facility."
Players and spectators are equally excited for the press box's completion.
"I think the addition of the new press box is an awesome thing for Lovejoy," senior football player Cooper Carter said. "It looks great and will draw in new spectators for our games."