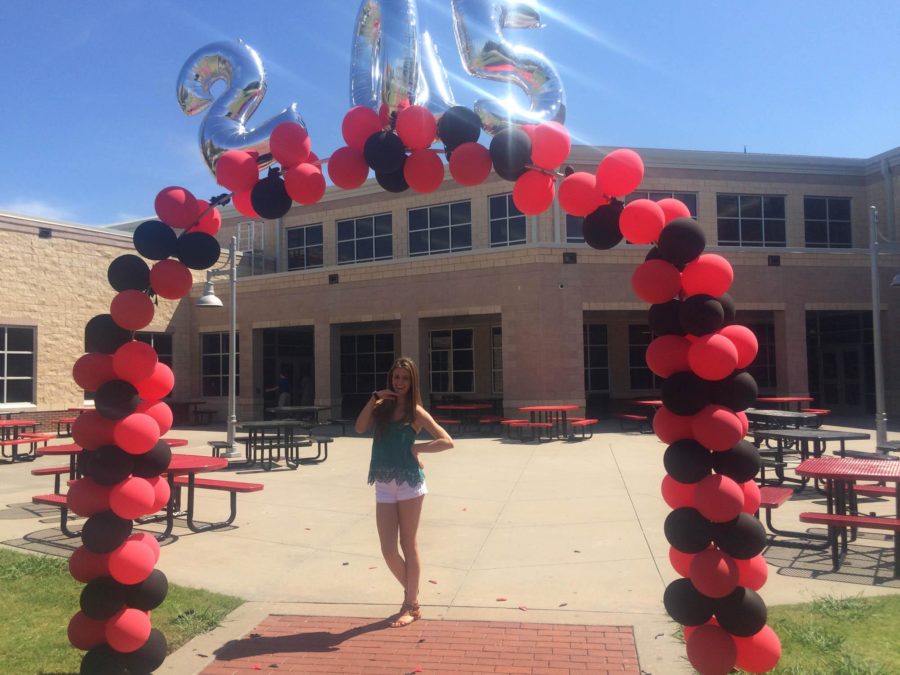 Now that she's a senior, not much has changed besides the dwindling number of days until her graduation. Claire Peralta is still as awkward and unsure of herself as she was freshman year, but about 2 inches taller. Rarely will you see her without a Diet Coke in hand, because of her undying love for Diet Coke, as showcased in her junior year staff bio. Yes, she knows it's unhealthy, please don't inform her of how her stomach is slowly becoming radioactive.
She loves odd necklaces, surfing, travelling, and hopes to leave the United States as soon as possible to become the female
Rick Steves
while learning as many languages as possible. Her favorite color is the absence of color, and has little to no filter. Claire attributes her unique personality to her obsession with James Bond movies and Blink-182 in the 3rd grade. She apologizes in advance if she offends you, she probably didn't mean to.
For questions and inquiries contact:

[email protected]

, or follow her on Twitter @clairemperalta.
Claire Peralta, Staff Reporter
Jun 17, 2015

The city of Allen grows with the Bethany Complex

(Story)

May 11, 2015

McCasland practices what he teaches

(Story)

Mar 16, 2015

French students tested on knowledge

(Story)

Mar 03, 2015

An impromptu dance

(Story)

Mar 03, 2015

Puberty arriving sooner than ever for some

(Story)

Feb 12, 2015

School selected for national pilot program

(Story)

Feb 04, 2015

A lunch time dilemma

(Story)

Feb 02, 2015
Jan 20, 2015

Toyota's move could impact the district

(Story)

Jan 06, 2015

Flu season takes a toll on students

(Story)

Dec 23, 2014

Maryland removes religious affiliation

(Story)

Dec 02, 2014

Excused or unexcused absences: the law behind the policy

(Story)

Nov 07, 2014
Nov 04, 2014

To read or not to read

(Story)

Nov 03, 2014

Campaigning and school-time separate

(Story)

Nov 03, 2014

Student rappers seek fame via SoundCloud

(Story)

Sep 30, 2014

Feeling the heat in B-Hall

(Story/Media)

Sep 23, 2014

Virus threatens the health of students

(Story)

Aug 29, 2014

The stink in the halls

(Story)

Aug 29, 2014

Increased parking fees pay for attendant

(Story)

Aug 14, 2014

Video: What to do with $100

(Story)

Jun 30, 2014

Paving the way to a smoother drive

(Story)

Jun 09, 2014

Summer spent studying

(Story)

May 26, 2014

Protecting the president

(Story)

May 14, 2014

Choir goes mad for pop songs

(Story)

May 12, 2014

Men's volleyball team set to launch

(Story)

May 08, 2014

New track coach expected to be named soon

(Story)

Apr 28, 2014

Students serve the community through service leagues

(Story)

Apr 23, 2014
Apr 10, 2014

Search for Mitchell's replacement begins

(Story)

Apr 09, 2014

Last chance for letter jacket fittings

(Story/Media)

Apr 07, 2014

Soccer season stopped short

(Story)

Mar 27, 2014

Club forms to bring kindness to campus

(Story)

Mar 19, 2014

Country Club faces alterations

(Story)

Mar 17, 2014

Celebration park to prevent birds

(Story)

Mar 10, 2014

Spring showcase shows off school

(Story)

Mar 05, 2014

Students care for unusual pets

(Story)

Mar 03, 2014

Tennis places fifth at the Copper Classic

(Story)

Feb 26, 2014

Officers overcome outrageous obstacles

(Story)

Feb 18, 2014

Popular sandwich shop opens in Allen

(Story/Media)

Feb 14, 2014

Fitnessgram part of alternative schedule

(Story)

Feb 10, 2014

New neighborhood to bring more students to the district

(Story)

Jan 22, 2014

Bullying on notice

(Story)

Jan 20, 2014

No school holiday on MLK day

(Story)

Jan 07, 2014

Semester classes offer a wide variety of focuses

(Story)

Dec 25, 2013

Christmas spirt rings differently in Europe

(Story)

Dec 09, 2013

How to stay safe on slippery roads

(Story)

Dec 04, 2013

College credit, high school setting

(Story)

Nov 28, 2013

A special day: Thanksgivingkuh

(Story)

Nov 22, 2013

Food drives provide for hungry

(Story)

Nov 08, 2013

Same substitute, new look

(Story)

Nov 06, 2013

Men's volleyball tournament canceled

(Story)

Oct 30, 2013

Halloween alternatives

(Story)

Oct 28, 2013

The taste of fall

(Story/Media)

Oct 17, 2013

Paint the stands pink

(Story)

Oct 04, 2013

Hoco games ignite spirit

(Story)

Sep 27, 2013

Let the Hoco Games begin

(Story)

Sep 27, 2013

The minimum wage debate

(Story)

Jul 23, 2013

Auto-correct your grammar

(Story)

Jun 24, 2013

Hostess products return to market

(Story)

Jun 04, 2013

Discounts for grads

(Story)

May 24, 2013

Watering to be restricted starting June 1

(Story)

Apr 26, 2013

Track and field competes in Regional meet

(Story)

Apr 24, 2013

District says no to teachers with weapons

(Story)

Apr 16, 2013

Boston Marathon runner shares her story

(Story)

Apr 15, 2013

Student stance on gay marriage

(Story)

Apr 03, 2013

Ally Brown: the InstaQueen

(Story)

Apr 02, 2013

Senior project presentations set to begin

(Story/Media)

Mar 25, 2013

Academics to compete in UIL district meet

(Story)

Mar 15, 2013

NHS begins selection process

(Story)

Mar 10, 2013

Health science students seize rare opportunity

(Story)

Mar 08, 2013

10 spring break activities for under $10

(Story)

Feb 22, 2013

Overcrowding leads to lunch switch

(Story)

Feb 14, 2013

Behind the scenes: an inside look at the cheerleading conditioning program

(Story)

Feb 05, 2013

Arguing their point

(Story)

Dec 21, 2012

December brings warm weather

(Story)

Oct 16, 2012

PSAT set for Wednesday

(Story)

Oct 09, 2012

Frontier food stand still going strong

(Story)

Oct 08, 2012

Hidden canine talents at the State Fair

(Story)

Oct 04, 2012

LEAP groups: the good, the bad, and the ugly

(Story)