Hoco games ignite spirit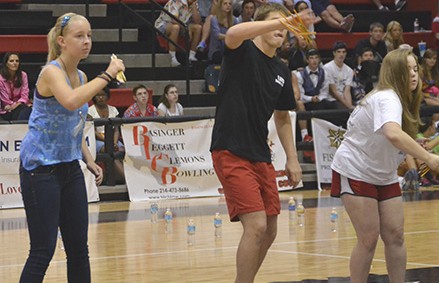 Sprinting down the hallways, snatching flags, and chasing others students isn't usually a normal sight at a high school. However, these hectic activities were a regular occurrence this past week, and marked the first year of the Homecoming Hunger Games or "Hoco Games."
"Julian Fields [a senior class tribute] and I were wrestling in the hallway [Monday] and I took one of his flags and he took one of mine," junior tribute Donnelle Branche said.
A tribute loses a "life" for each flag taken. A grade level could purchase their tributes' lives back by bringing 20 cans per flag.
"I tweeted people to bring cans so that I would have my lives back," Branche said.
Monday began the Hoco Games events, and by the end of the day, the senior class had lost one flag, the junior class had lost 3 flags, and the sophomore and freshman classes had each lost 2 flags.
"The students got their tributes' lives back Tuesday with the 8 cans that the freshman class brought, the 56 cans from the sophomores, and 77 cans from the juniors," Student Council Adviser Tami Parker said.
Tuesday's events only brought more excitement to the Games.
"I was in the library helping someone with a paper and Drew [Carson, junior tribute] did a sneak attack on me and I lost a flag," senior tribute Blake Parker said
Blake Parker was back in the running the next day when the Senior class brought a total of 130 cans, topping the 97 from the junior class, 37 from the sophomores, and 23 cans from the freshman class.
"[The students] did a really great job of donating cans for their tributes, and this is helping ACO with their supply too," junior Hoco Games Coordinator Kamie Lloyd said.
Tributes spent the week trying to stay "alive" for the official game ceremony on Thursday.
"My friends would guard me all week as I went from class to class," freshman tribute Abigail Barfield said. "It was pretty intense and scary and I was trying to get [to my classes] as fast as possible."
All of the stress ended with Thursday's Homecoming Hunger Games events in the gym, which meant the flag-snatching was over. All grades came to watch the remaining tributes compete in a series of activities that consisted of a pencil challenge, a "shake it till you make it" challenge where students shook ping pong balls out of pockets, and a final challenge.
"The winner was decided based off of our final challenge where Liz Schasel, Abby Kjellgren, and Rebecca Gleason who were our final three tributes, knocked over as many water bottles as they could in 30 seconds using panty hose with a tennis ball inside," Tami Parker said.
With 6 water bottles knocked over in the final challenge and a week filled with worry, the first annual Homecoming Hunger Games winner, sophomore Abby Kjellgren, was crowned.
"Though I wouldn't do it again, the games were so much fun," Kjellgren said. "I would like to thank the teachers that let me out of class early so my flags wouldn't get pulled, and my friends for telling me when other tributes were around the corner."
The games were an overall success.
"I think we did a great job with school spirit and hopefully the games will continue next year" Lloyd said.