What-a-hangout
Whataburger becomes popular post-game hangout
Teenagers sitting in the beds of trucks in the parking lot arguing over rivalries, wrapped around the outside of a building swarmed with police officers. It's part of typical Friday night scene at the Allen Whataburger during football season.
"We start preparing for the craziness long before the game is even over," Area Manager Crystal Sabolski said. "Tonight we had the Lovejoy crowd come through first, and then we'll have Allen (students). It's football players, drill team, band, cheerleaders, and they come in wearing uniforms, it's fun, there's a lot of energy."
Whether the team wins or loses, Whataburger is one of the most popular Friday night hangouts.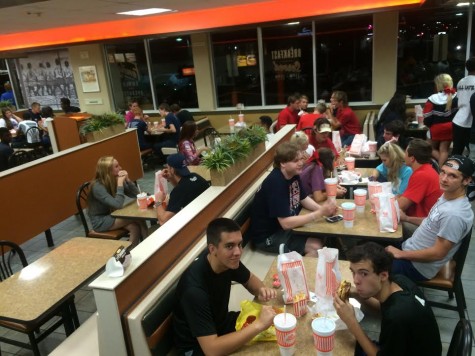 "We always come to see all of our friends after the game," senior football player Tommy O'Connor said. "It's fun, and we can celebrate our win or get support for the next one."
To control the massive crowds that take over the fast food restaurant, employees have a certain setup.
"We have 2 security guards at both entrances," Sabolski said. "We have one way in, one way out," Sabolski said. "We're very good friends with the Allen Police Department, so they help, and we have a manager that counts heads and controls the crowd at the front door so we don't go over occupancy. As long as everyone has fun, doesn't get rowdy, and there are no fights, then everything will be fine."
Most of the crowd control responsibility falls on the security officers at the doors.
"It gets very busy, especially after the football games," security officer Jorge Mayuri said. "I have to make sure everything is calm, and make sure everyone's disciplined, at the tables, and everyone stays outside if it's too crowded."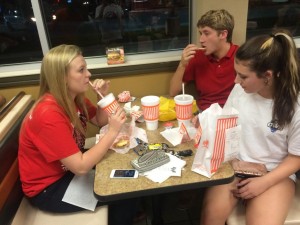 Students occasionally get too spirited after the games and can take the celebrations a bit far.
"One of the craziest things that's happened was we had a group of kids that thought it'd be funny to lay down in the drive-thru," Sabolski said. "It seems crazy, but it was actually really scary. People come around here when it's dark and can't see as well, and if we have Lovejoy and Allen in here at the same time it can be push and shove, and the employees won't be paying as much attention to what's going on, so kids need to take responsibility for themselves and get in and out."
It may border on insanity, but it's tradition.
"Everybody just comes here after the games," senior Sam Wortham said. "They have good food, so we like to grub out. Whataburger is a Texas thing, football is a Texas thing, so they just go hand in hand."