Soccer season stopped short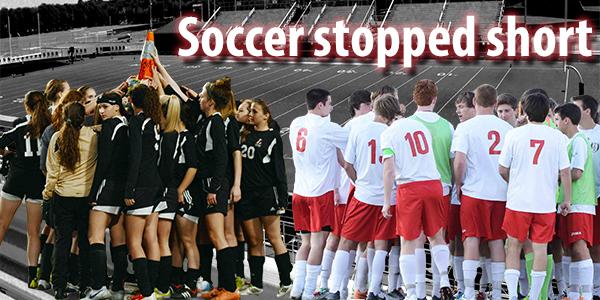 [sidebar title="Girls soccer district awards" align="left"]

Cassie Conarty – District Offensive MVP

1st Team
Dominique Mazero
Elyse Gaccione
Rebecca Gleason
Jessica Weyand
Jensyn Caton
2nd Team
Kaylee Grigg
Rebecca Sipes
Darby Blaylock
Elizabeth Schasel
Honorable Mention
Madi Franquiz
Rachel Willmann
Cassie Duke
[/sidebar] [sidebar title="Guys soccer district awards" align="right"]
Daaron McFarling – District MVP
Grant LaVerdure – District Defensive MVP
Cody McLemore – District Offensive MVP
Bryan Jennings – Coach of the Year
1st Team
Alex Hopkinson
Tim Rekieta
Chase Gaskill
Matt Smith
Garrett Matacale
2nd Team
Anthony Brigante
Colton Alleman
Simon Herran
Austin Van Wagoner
James Reyna
Honorable Mention
Michael Cinquepalmi
Kody Fagin
Michael Lofton
Joe Fulmer
Joey Whitmore
[/sidebar]
Soccer season is officially over as both the boys and girls varsity soccer teams lost Friday in the third round of playoffs. Boys lost to Mesquite Poteet 2-0 and the girls lost 3-2 against Wylie East.
"Wylie East is a very good team," girls varsity coach Jeff Kear said. "They have only lost one game this year. They are a legitimate contender to go to state, so it is probably a fair result that they ended up winning. Also, figuring how the game was played, they had the better of the game."
For some players, Friday night marked the end of their high school soccer career.
"It is what it is, and you can't change what's already happened," senior boys player Cody McLemore said. "I'm looking forward to college and what it holds for me. We didn't play the best and we had a bunch of chances to score, and we didn't convert our chances, and they did."
Though the games resulted in losses, the teams prepared and played to the best of their abilities.
"I am proud of the girls though for playing such a close game and believing that they could get a result out of it and working for it," Kear said. "I thought that spoke very well of them. While the result went against us, the performance was something to be proud of."