Campaigning and school-time separate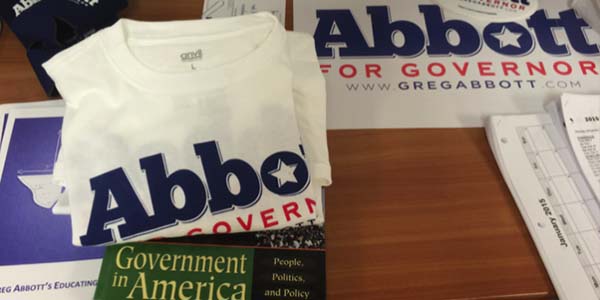 With midterm elections on Tuesday, teachers, administrators, and students over the age of 18 have important decisions to be made. Page 65 of the employee handbook prevents staff from using district property to favor certain candidates, however, there are no restrictions on outwardly showing support or using the school as a platform to do so.
"All of our teachers are individuals," Principal Chris Mayfield said. "As individuals they have the right, like any other U.S. citizen, to vote or support candidates. That's totally within their parameters. At school they have resources that are provided by the state and the school district, like their Lovejoy ISD email, that are school sponsored, so if they wanted to send political information from their school email that's personal and private and they are not allowed to do so. However, if they wanted to use any other account to email their friends  they're within their realm of rights."
Teachers are allowed to support candidates and display political paraphernalia in the classroom as long as they themselves were the ones providing it, not the school.
"If you're under contract with the state to be here at school teaching, and you're talking about political activities, you really shouldn't be engaging in that because you're a state employee and that time is for education," Mayfield said.
It's frowned upon to use school or state-mandated time to advocate for candidates, but it's not prohibited because of the lack of substantiated evidence that could be used in a lawsuit.
"Somebody could take an opposing candidate could file a suit around the use of public resources in support of the candidate," Mayfield said. "But really any time you violate the employee handbook, that's grounds for disciplinary action of a teacher."
Fortunately, teachers at the high school can see past their personal opinions and take their job of objectively preparing students to make educated decisions seriously.
"It's our job as teachers to present both sides of the political spectrum equally to help students, when it's their time to vote, make an educated decision," US History teacher Russell Reichenbach said.
AP Government teacher Jeff Roberts did his best to help his students be educated. Seeking promotional items that could help students be informed, Roberts didn't receive much a reply.
"I contacted all of the candidates, and of the four I contacted, Greg Abbott's team was the only one who responded," Roberts said. "It's not the teacher's place to show their political beliefs, rather to talk about each individual candidate and what they believe, just like we've attempted to show, though unfortunately only one responded."
It's supposed to be part of a teacher's job to help students expand their views and broaden their horizons, and to present all sides.
"I think that teachers should be able to express what their opinions are, but should also encourage students to look from all angles to keep their students well informed," economics teacher Bruce Dillow said. "There's a difference between telling students their opinion and telling them that this is what's right. Most people only look at the side that agrees with their opinions, and that's where the problem comes in, because they don't look at opposing views. Generally if you're presented with new angles, you'll stay close to what you believe in, but at least you may be able to come up with an idea that helps you see things differently."