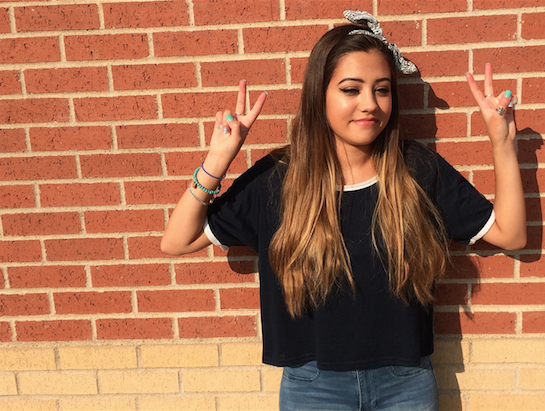 You're walking in the halls. There's no one around and your phone is dead. Out of the corner of your eye, you spot it:
Senior Year.
Entering her third and final year in newspaper, Jordan kind of feels like her leg is caught in a bear trap. High school has flown by and now that it's her final year, she...feels exactly like she did all the other three years. It's really not a big deal. She just wants to leave.
Aside from using an excessive amount of actual cannibal Shia Labeouf references, Jordan also enjoys binge eating excessive amounts of chocolate, watching way too many YouTube videos, and taking naps in odd places (Ex: On top of bar stools). Jordan thinks she's probably the best person who's ever lived, and though several people have tried to convince her otherwise, she remains confident in this fact. If she could marry anyone in the whole world it would be Whataburger. Jordan is looking forward to doing more opinion pieces this year, because although she excels at and love news writing, she has a lot of thoughts that she would like to share. If you're ever sad, talk to her, because she gives a lot of good advice. On the other hand she's very blunt about it, so approach with caution. She is way too sarcastic for her own good and sometimes crosses several fine lines, but the good news is this - she doesn't care.
In closure, this bio is all over the place but that's okay, because it's just a normal Tuesday night for Shia Labeouf.
Jordan Toomey, Lead Reporter
Sep 08, 2016

No laughing matter

(Story/Media)

May 24, 2016

Column: finding closure

(Story)

Apr 27, 2016
Apr 26, 2016

Mats, meets, and medals

(Story)

Mar 11, 2016

School to undergo blast of spring cleaning

(Story)

Feb 22, 2016

Ode to the vending machines

(Story)

Feb 02, 2016

Column: Embracing others' differences

(Story)

Dec 09, 2015

Column: Saving money, buying time

(Story)

Nov 17, 2015
Oct 08, 2015

Freshman runs against adversity

(Story)

Oct 06, 2015

Gay-Straight Alliance makes progress in community

(Story)

Sep 17, 2015

Mum shopping goes online

(Story)

Aug 12, 2015

A soaring passion for planes

(Story)

Jun 01, 2015

Changes to come for the second floor

(Story)

May 25, 2015

The face seen across campus

(Story)

Apr 24, 2015

Choir sings in tune with the Air Force

(Story)

Apr 22, 2015

Teachers have hand in textbook materials

(Story)

Apr 20, 2015

M&M prices, and depression, on the rise

(Story/Media)

Apr 07, 2015

Student sheds light on One Act Play

(Story)

Apr 06, 2015

Unconventional beats from Trip 40

(Story)

Apr 03, 2015

When school and family collide

(Story)

Mar 11, 2015

Majestics' oversea spring break

(Story)

Feb 06, 2015

UIL Solo and Ensemble compete

(Story)

Feb 05, 2015

Allen Skate Park is a major attraction to some skaters

(Story)

Jan 13, 2015

Schedule changes bring confusion

(Story)

Jan 13, 2015

Campus technology faces abuse

(Story)

Dec 18, 2014

Arts and crafts store opens in Allen

(Story)

Dec 16, 2014

Bus drivers bear huge burden

(Story)

Dec 04, 2014

The real side of mental illness

(Story)

Nov 06, 2014

Eleven years and hundreds of kids

(Story)

Nov 06, 2014

Choir set to sing age-old requiem

(Story)

Nov 05, 2014

Engineering: not just for boys

(Story/Media)

Oct 31, 2014

Cancer: a disease that doesn't discriminate

(Story)

Oct 21, 2014

Principal gains new perspective

(Story)

Oct 08, 2014

Side by stride: twins run to state

(Story)

Sep 05, 2014

Student Organization Council formed for efficiency

(Story)

Sep 03, 2014

WHAP classes start year without textbooks

(Story)

Jun 05, 2014

Summer concerts overview

(Story)

May 19, 2014

New medical club offered to students

(Story)

May 13, 2014

Tech specialist begins battle with breast cancer

(Story)

May 06, 2014

Schiller volunteers time

(Story)

May 01, 2014

Local tutoring offers aid for exam preparation

(Story)

Apr 29, 2014

Jazz band to showcase talent

(Story)

Apr 24, 2014

A time to shine for special olympians

(Story)

Apr 18, 2014

Tuition kids well-adjusted to district

(Story)

Apr 08, 2014

Choir students compete for UIL

(Story)

Apr 04, 2014

Caring for little leopards

(Story)

Apr 02, 2014

Sophomore chases her musical dreams

(Story)

Mar 31, 2014

NHS supports Relay for Life

(Story)

Mar 07, 2014

Choir heads to Hill Country

(Story)

Feb 17, 2014

New voice added to choir staff

(Story)

Jan 20, 2014

Band students advance toward All-State

(Story)

Jan 08, 2014

Schedule changes create chaos for counselors

(Story)

Jan 06, 2014

Extended break for dual credit classes

(Story)

Dec 16, 2013

Better to stress now than later

(Story)

Dec 13, 2013

Celebrating the fine arts

(Story)

Dec 07, 2013

How to handle healthy relationships

(Story)

Dec 02, 2013

Mock trial kicks off

(Story)

Nov 11, 2013

Lewis brings hands on approach to Human Geography

(Story)

Nov 07, 2013

School bus rear-ended

(Story)

Oct 21, 2013

Band goes beyond halftime show

(Story)

Oct 11, 2013

Bowling team rolls into second season

(Story)

Oct 10, 2013

Students compete in All-Region choir

(Story)

Sep 26, 2013

Homecoming procrastination will cost

(Story)

Sep 24, 2013

Chess club offers the competition without the sweat

(Story)

Sep 23, 2013

Register to vote on campus

(Story)

Sep 05, 2013

Students take over Leopard Friday

(Story)