New voice added to choir staff
The high school choir has a new member of the staff as Amy Lanford is spending some time as a student teacher.
"I'm actually really excited [to start teaching the choir]," Lanford said. "I've been working for three and a half years at school to get to do this."
In a semester, Lanford will graduate from college and be expected to get a job of her own; student teaching is the final step of preparation.
"I'm going to get the opportunity to teach some of the choirs here and, you know, figure out how that goes," Lanford said. "So when I'm on my own I know how things run."
Coming to the school  was not chance, however, as Lanford has a background in the area.
"I grew up in Richardson," Lanford said. "So I kind of knew the area, and I knew I wanted to come back up to the Dallas area to do my student teaching. One of my friends back at Baylor, Erin McInerny, went to school here."
McInerny is currently student teaching at Puster Elementary.
"I was a student at Lovejoy High School, though I never went to Puster," McInerny said. "I recommended the high school program as a good place for Ms. Lanford to do her secondary student teaching."
While being a student teacher sounds like an easy job, it isn't. There is plenty of work lined up for the newest choir director.
"I am there to support the choir directors," Lanford said. "I help them out with whatever they need."
Lanford also adds insight to the choral music decisions of the directors.
"It's nice to have her thoughts and her perspective on the music," choir director Bethany Stuard said. "It's really wonderful to have fresh ears."
The choir teachers are more than happy to share their knowledge with the new addition.
"For us, it's just an opportunity to share what we know and to help [Ms. Lanford] prepare to be a great conductor," Stuard said. "Which she's going to be, she's very gifted."
All choir teachers must have a choral background, and the newest instructor is no exception.
"I've sung in church choir since probably first grade," Lanford said. "From elementary school until high school. I sang in the Youth Chorus of Greater Dallas, and I've done the Texas All-State choir a bunch of times."
Student teaching is a major step in Lanford's career, and she's already developing relationships with the students.
"There are a lot of names," Lanford said. "But I'll learn them."
About the Contributors
Jordan Toomey, Lead Reporter
You're walking in the halls. There's no one around and your phone is dead. Out of the corner of your eye, you spot it:

Senior Year.

Entering...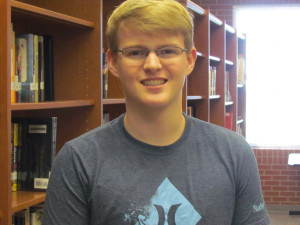 Ben Prengler, Photo Editor/Business Manager
Benjamin Prengler has many titles: President of Student Council, President of the Class of 2015, professional drummer, and photojournalist. Through the...