Tech specialist begins battle with breast cancer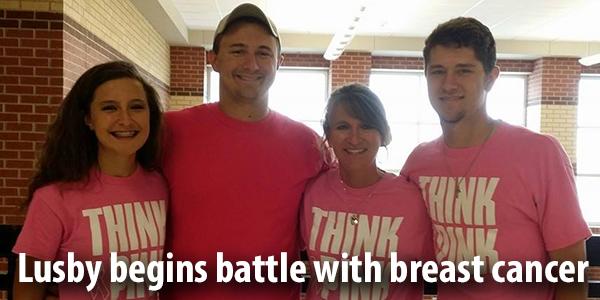 Network connection issues, password problems, StarBoard struggles; these are nothing compared to what campus technology specialist Donna Lusby will have to battle starting Tuesday as she undergoes surgery for breast cancer.
"I'm nervous, yeah, finding out you have cancer is scary no matter what stage you're in," Lusby said. "But I feel very fortunate that I did catch it early."
"She got the best possible news somebody could get that was diagnosed with breast cancer," library aide Sandi Petty said. "[The cancer] is Stage 1."
In addition to working on campus, she is also a mother of three.
"I think that [my kids] are scared and worried too," Lusby said. "But they're very strong, and they're being very supportive of me."
Lusby's children are doing their best to look on the bright side.
"I'm really nervous, but I know it's really small so all is going to go well," freshman Mallory Lusby said. "It's a really hard experience, but I mean, prayers every day, and I have my two older brothers to help [me] get through it too."