Replacing the irreplaceable
Assistant to the Principal Lynda Fleming retires after 12 years in the district
Hang on for a minute...we're trying to find some more stories you might like.
Irreplaceable–the word people most use to describe Lynda Fleming. And she knows it. Consequently, she has done everything she can to prepare for the day she always knew would come.
It's time to retire.
"I often say she is really the principal at Lovejoy High School because she does so many things," Principal Chris Mayfield said, "but she has been an incredible assistant. She just does so much for me, for parents, for students, for kids. It's going to be a big loss, losing her."
According to Mayfield, Fleming's organization, attention to detail and work ethic are "phenomenal," but it's her 12 years of experience that will be "impossible to find somebody" to match it.
"I had told Mr. Mayfield that it is important to me that the transition is as smooth as possible, and parents and teachers get the same level of service if possible," Fleming said.
"
She just does so much for me, for parents, for students, for kids. It's going to be a big loss, losing her."
— Chris Mayfield
Over the past few years, Fleming has slowly assembled a guide which she calls "Lynda's Manual," which she will give to the next administrative assistant to the principal. The guide includes instructions and advice regarding her responsibilities.
"Any major task that I do, I just want to make sure that the person sitting in this chair next year can have steps to follow to do it," Fleming said. "I wish I could share my brain on Google Drive because there are just so many details that I couldn't possibly think of every scenario to put in a manual."
On a daily basis, Fleming completes enough work for two people, or at least one and a half, she said. Although, many of her tasks are exclusive to Fleming herself, as her 12 years of experience in Lovejoy have qualified her as a go-to source of help and information.
"The school runs by her," said Cheryl Anderson, a 12-year-friend and co-worker of Fleming. "Her hand is in everything, and the reason that we have so few hiccups in the things that we do is because she makes sure that everything is in order."
Fleming spends her days answering emails, manipulating spreadsheets, preparing the weekly principal newsletter, formatting blurbs and student recognition, answering the phones, fixing jammed copiers, ordering supplies, and so on, in between her larger tasks-such as organizing graduation. She does so many things, she said, that "it's so hard to put it into a little package."
"Mrs. Fleming has been the glue that holds this high school together," yearbook adviser Rebecca Pollard said. "She has been so giving with her time and to the faculty and she is cherished by all of us."
But the combination of her miscellaneous and major tasks over her 12 years at Lovejoy have prepared her to help others even in the most unusual situations.
"It's those questions that interrupt me all day long that I know the answer to because, at this point, it's very rare that someone can stump me," Fleming said. "Until you have done the job and had all those experiences, you're not going to learn the answers until you go through it all."
The most important job requirements of Lovejoy's administrative assistant to the principal, Fleming said, include patience, compassion, and most of all, a heart for customer service.
"
It's almost not tangible. There's just something about it. It's just the Lovejoy way. There's just something about the Lovejoy way that makes you proud to be a part of it."
— Lynda Fleming
"When you're answering the phone let them hear the smile in your voice," Fleming said. "Not to pat myself on the back, but I get a lot of compliments from parents who go, 'Oh my gosh, you're so helpful.' But that's what I take pride in."
Like both her parents, Fleming has a heart for volunteerism. When her boys were in school, she was the "room mom." So when she started working in schools, "it was nice that [she] was finally going to get paid for all that time."
"I just love helping people," Fleming said, "and yet, I've got a lot of professional skills too. To meld those two together, it seemed like the perfect place for me."
Fleming came to the district 12 years ago when her neighbor, former principal Gavin Goodrich, proposed to her a job at Lovejoy.
"I just felt like it was the better move because Lovejoy was definitely up and coming, and I saw big things for it in the future," Fleming said. "I have never looked back. It's been one of the best decisions I've made."
Looking back on her experience here, Fleming said while she has worked the hardest for this job, it has also been the most rewarding. The student successes in competitions and academics, she said, are the fruits of the staff's labors.
"It's almost not tangible. There's just something about it. It's just the Lovejoy way," Fleming said. "There's just something about the Lovejoy way that makes you proud to be a part of it."
For the last two weeks, Lorraine Milstead has shadowed Fleming in order to pass on as much information about the school's processes as possible. While two weeks is hardly enough to pass on all of Fleming's knowledge, Fleming said Lovejoy will be in "good hands." Milstead brings experience from other schools including being the administrative assistant to the principal at Allen High School.
"[Milstead] understands really well the school business, and she understands the community," Mayfield said. "She's got some really good skill sets as well, so I'm excited for her, and she's going to do a really good job."
The Reason
Fleming was offered another job for next year. One that would be unpaid, and one which she "wouldn't trade for the world." She will take on the job of a full-time "Nana."
"My grandkids supersede everything," Fleming said. "They are the love of my life, and so both my sons asked me to watch their little girls and that's not something I'm going to say no to."
From her two sons, Fleming has three grandchildren. Peighton, the oldest and only boy, is 4, followed by Emma, 20 months, and Izzy, born in March. Fleming will spend three or four days a week caring for the children while their parents are at work. Her phone call-filled, school-running days will be replaced by playing outside and trips to the library for story time.
"It's so neat to see the world through their eyes," Fleming said. "Typical things for you and me is exciting for them, so I just look forward to sharing all that with them. But I have a couple of days that I get to go play with my friends and stuff too."
After witnessing Fleming's work and successes over the years, Anderson agreed that time to herself is much deserved.
"I think it's a wonderful time for her," Anderson said. "I'm so happy for her. Getting time to spend with her grandkids and remodeling her house and getting to travel is kind of what they've been doing off and on during summers as much as she can, so getting to do that as much as she wants, I'm excited for her."
Despite wishing and hoping that she would stay in contact with her work friends, Fleming fears her busy schedule with the grandchildren and the school's work demands will cause friends to lose contact.
"
People will tell you how wonderful it is to be a grandparent, and until you are one, there's just no way to describe it."
— Lynda Fleming
"You see and work with these people for 12 years," Fleming said. "You just see them every day. As much as you say, 'Oh, we'll stay in contact,' life happens. I would hope that we can maintain friendships and keep in contact, but it's not the same as seeing each other every single day and sharing stories about what your family did over the weekend and just all of that comradery. It's going to be hard to let go."
When she considered what would make leaving the school and coworkers she loves worth it, it was her grandchildren who came to mind. Fleming can hardly speak of the kids and the time they will spend together without tears in her eyes.
"For my [youngest] granddaughter, seeing her first steps, hearing her first word," Fleming said. "With my other two grandchildren, when I pick them up from daycare, my grandson will be clear on the other side of the playground and just go, 'Nana!' and come running. It just melts my heart. And the first time Emma said my name, it's just moments like that– just the fact that they're going to have such good memories of times with Nana."
While her friendships formed at the school are personal and meaningful to Fleming, her family takes priority.
"People will tell you how wonderful it is to be a grandparent, and until you are one, there's just no way to describe it," Fleming said. "And so to be with them every day, I'm sure there will be some trying times where I'm, just like 'Oh my gosh, I need some adult conversations,' but I wouldn't trade that time for the world."
About the Writer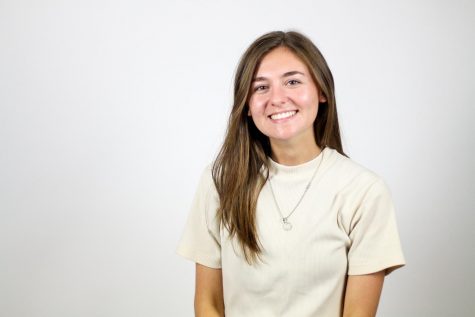 Lily Hager, Editor-In-Chief
With the coming of her fourth and final year of high school, Lily Hager eagerly awaits the senior perks that accompany all who suffer from "senioritis"–including...