On a bumper sticker
Teachers leaving district, plan to teach in Thailand
The engines degraded to an idle as the plane rolled to the gate. The fasten seatbelt sign is turned off as the pilot speaks on the intercom, "Welcome to Bangkok, Thailand." The sounds of people's crisp claps ring in the background, answering the pilot. US History and AP Human Geography teacher Tim Daugherty and English teacher Annastacia Daugherty gather their kids and carry-ons, waiting to deboard into the airport. Their 24-hour journey from the US has ended.
Tim and Annastacia are leaving the district and moving their family to Thailand where Annastacia will teach middle school English at the Berkeley International School. After their trip to Bangkok nine years ago, this will be the first time the Daughertys have visited a place before moving there. 
"That part of the world keeps growing," Tim said. "Those cities are developing; they're changing in the sense of expanding, people coming there [and] progressively getting more developed with their roads and education. It's going to be crazy to see how much has changed. I'm also excited to be able to explore the places that we didn't get to go up North. They've got Chiang Mai. It's a little bit different culturally; they've got more nature preserves and elephant sanctuaries which would be so much fun to go see with our boys."
Tim is taking a year off to become a student again, working toward his Master's degree in education online. He plans to be a substitute teacher during his time away from the classroom. Throughout his travels, Tim has found use of his knowledge of foreign places in his lesson plans. 
"For me, as a geography teacher, it's the history and geography [of different places]," Tim said. "It's so helpful to be able to just say that I have been there or in that region. We can talk whether it's showing personal pictures or just giving personal stories of places; [it] is amazing. I think it can be applied to English too, thinking about what you're looking at, empathizing with characters and stories and understanding something that seems very foreign. Reading and traveling are some of the greatest things that we as human beings can do to understand the stories of other human beings on this planet."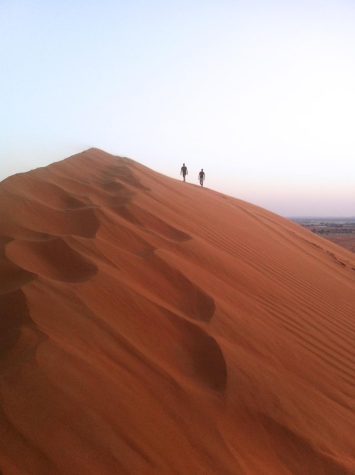 With Thailand's lower cost of living and the benefits package that the international school is offering Annastacia, including insurance, paid flights, housing and tuition for both of their kids to the school, it made Tim's pursuit in education possible. The reduction of COVID-19 restrictions and Annastacia earning her Master's degree last year contributed to their decision.
"This is something that you won't find in any school in the United States," Tim said. "They're a little bit of salary, but they're not paying. Any school, whether it's Allen or Lovejoy, anywhere here in the United States. It's something that's more specific to international schools to where they pay for all those extra stuff, so it's a great opportunity to do that; it's a great opportunity for our boys. It's great to be back to traveling, and we'll be close to so many other countries."
The Daughertys are moving with their dog and two cats along with their kids. After their first 15-hour flight from Dallas to Incheon, South Korea, the layover and connecting five to six-hour flight from Incheon to Bangkok, they experience a 12-hour time difference.
"For us, we could probably adapt within a few days," Annastacia said. "We have two small children. They don't do time changes very well, so it's gonna be forcing them to stay awake enough that they will then fall asleep at a reasonable time. We've given ourselves time. That's another thing that we've learned is we've given ourselves time to transition before the school year starts [and] time to find a house. We've been very careful with that."
Tim and Annastacia got married in 2011 and lived in South Korea as public school teachers for two years. After returning to the US for a few months, they moved again to the United Arab Emirates and lived in the Emirate of Abu Dhabi for four years where their son was born, and then moved back to the US.
"This is actually the longest that I've ever lived in one place," Annastacia said. "This is five years here which is a record. Then on top of that when we were over there [South Korea and the United Arab Emirates] we did a lot of travels in both places. My goal was always to travel to as many countries, however many years that I've been alive."
Tim and Annastacia traveled on their own before traveling together. Annastacia's parents were missionaries, so she was born in the US, lived in Ecuador for a year, Chile for four years, the Dominican Republic and then she moved back to the US when she was 10. Tim traveled to Kenya, around the US, South Korea for a summer and Peru for a summer during college for church mission trips and internships.
"I'm just looking forward to being embedded in a different culture again because you never know what to expect," Annastacia said. "Every day is an adventure; every day is new. You never know exactly what's going to happen to you. I love the adventure of that. You walk outside, and it's a monsoon. You go to school, and it's a school-wide field trip to somewhere that you had no idea that you were going to be going to. I love being able to work with international students and international teachers. It's just you never stop learning, and that's true anywhere you live. You should always be a learner [and] good listener, but there's something thrilling about not knowing what to expect out of your day."
Tim and Annastacia have been in Texas for five years. 
"We don't have any family in Texas," Annastacia said. "Initially, my brother lived here but they moved over to California. The only thing really keeping us here was the school, and we have enjoyed it a lot. We love our coworkers. We love the students. I think knowing that Owen is about to go into kindergarten pretty soon. We'll be back probably needing to take care of some family members. There's just a period of time where we want our boys, they're so young, they're absorbing all these things. They're like sponges just getting out and having adventures while we still can."
Freshman Rachel Wheeler is a student of Annastacia and Tim.
"Mrs. Daugherty is a bubbly, fun spirit who is one of those teachers who truly cares about and loves every single one of her students," Wheeler said. "She's one of those people I'm going to remember forever, even when I'm no longer in school. Mr. Daugherty is an overall great teacher who once again cares about all of his students. He's funny and works hard to make his students crack a smile with his legendary dad jokes. Although I'll miss them, Thailand is an amazing opportunity. I'm so excited for other students to experience the learning that I had with them."
From traveling over the years, Annastacia and Tim have picked up how to read and write Korean as well as speak a little bit of conversational Korean. Now, Annastacia is learning Thai on an app on her phone as preparation for their trip.
"​​I know it sounds cheesy and might sound cliche, but the students here have been so amazing," Annastacia said. "Just so sweet. So fun. Just have made very strong connections where they feel like family. Coworkers have been wonderful. We love the administration. I just know, having worked in lots of different schools, you can't replicate the community that's here. Knowing that my administration cares about me [and] knowing that my students care about me, it's not just a job. It really does feel like a community, and I'm going to miss that. I know you can never truly recreate that anywhere, once you've experienced it here."
Leave a Comment
About the Contributor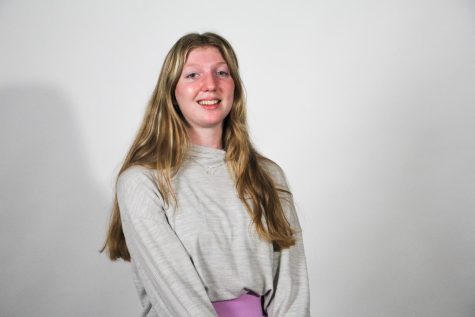 Calla Patino, Editor-In-Chief
Strolling into her third year on staff, senior Calla Patino is ecstatic to be back in the newsroom as an Editor-In-Chief, leaving her summer days of folding...