An ornamental task
Junior creates Christmas ornament for state capitol house chamber
Growing up, Makenna Ford loved to decorate ornaments. Now, as a junior in high school, her ornament-making has made its way far from home. In this case, the Texas State Capitol. 
Ford painted an ornament for state representative Candy Noble that will go on the house chamber's Christmas tree. Ford's ornament will find its place on the tree when Noble travels to Austin for the tree-decorating ceremony on Dec. 3. 
"Every year, they do a ceremony where each of the representatives, from the house of representatives, has someone from their district paint an ornament," Ford said. "Her name is Candy Noble, she oversees this district and she asked someone from Lovejoy to do it and my teacher offered it up to me." 
Noble's chief of staff, Suzanne Bowers, reached out to the school. She contacted Bryce McCasland, the advanced and AP art teacher.  
"She [Noble] actually lives out here, which is really cool," McCasland said. "She lives in the area and she has always been an awesome Lovejoy supporter and she knows kind of a little bit about what we do as an art program and what we are, so Suzanne contacted me. And was just like, 'We would love for Lovejoy to create this year's ornament.'"
McCasland offered the project to four of his AP art and gallery students. Ford was the first one to volunteer. He was confident that she was the right person for the job. 
"Everything she touches is good," McCasland said. "I know that I could give her anything to do and she would do it really well. I think that Makenna is one of the most authentic and genuine people that I know. She is always willing to give herself and her abilities to help other people and is always very humble. She hates acclaim. That's not why she did it, she just did it because she thought she could do a good job and she thought it would represent us well." 
Junior Simi Fadel, has art class with Ford. She attests to Ford's work ethic.  
"Mckenna is really hard-working, and she was a really good choice for the ornament because we knew she would get it done and be really good," Fadel said. 
Other than the deadline, Ford got complete creative freedom over this project. 
"I got to decide everything about this piece and wasn't really given any guidelines, so it was fun painting it in a style that is my own and shows personal voice," Ford said. "I just painted something that I thought was Christmasy and pretty. I really love art and it's something I find a lot of joy in, so this was a really cool service opportunity that incorporates something I love."
Leave a Comment
About the Contributor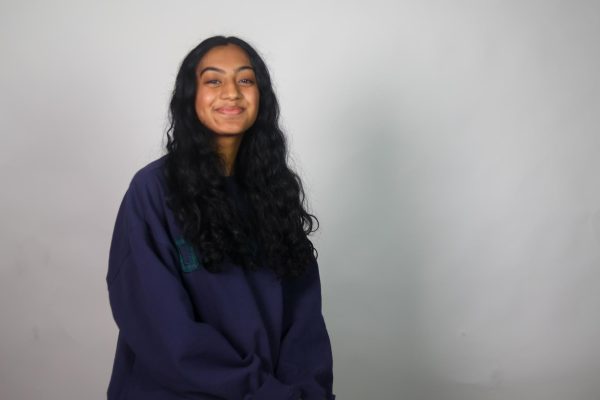 Dhriti Pai, Section Editor
Dhriti Pai is a junior heading into her second year on TRL. She is super excited for her first year as News Editor. In school, she enjoys being a part...