An unforgettable birthday
On Wednesday, Feb. 22, hundreds of community members paraded down the street to wish Carter Dubois a very special 7th birthday. DuBois is a kindergartner at Puster Elementary who was diagnosed with acute lymphoblastic leukemia (ALL) in December. He has since been hospitalized to receive treatment. 
"This event is the epitome of what makes Lovejoy so special," Puster Elementary principal Holly Haynes said. "Nowhere else will you see a community come together in less than 48 hours to embrace a family and show such love and support. It is so incredibly heartwarming to see our Lovejoy community coming together to brighten the day for one, very special little boy, and his family."
Parade participants met at the child development center at 4:45 p.m. then started down Brookcrest Ct. at 5 p.m. The parade was led by Lucas and Fairview emergency services followed in succession by the band, Carter's classmates, teachers and community staff. The high school athletics, cheer, majestics and fine arts were also seen marching down Stacy Ridge to the Dubois' home. 
"Several of our classmates participated in the parade this week," Carter's kindergarten teacher Melany Porter said. "Many brought presents, signs, cards and one student even brought him cupcakes. I walked one of Carter's best buddies up to the curb and made sure that Carter saw him. We both yelled 'Happy Birthday' and Carter smiled and waved."
Dubois has been receiving aggressive treatment for ALL at Cook Children's Hospital in Ft. Worth. He has not attended school since early December because of his diagnosis.
"Because my students are in kindergarten, I shared the diagnosis with Carter's classmates with caution," Porter said. "I told them that Carter was sick and would not be back to school for a while. We regularly make him cards, banners and send videos of me reading books aloud to the class at least once a week. This way Carter can still feel like he's a part of our class and the rest of the class can share things they want with him through pictures or writing."
Dubois' end of the first phase of chemo treatment lined up perfectly in order for him to be able to come home for his birthday. The parade was planned in under 48 hours and the large turnout was unexpected by the Dubois family.
"We were never expecting so many wonderful groups and people to participate in the celebration," Carter's mom Sarah Dubois said. "If you wonder what makes our community great, it's all of you. The ones who take time out of a busy evening to show up and celebrate a 7-year-old boy that just needed to see people and feel some love."
Carter was able to see his teachers and friends again while being supported by the sports teams and fine art groups. The Dubois family showed extreme amounts of gratitude for the love and support they received.
"You will never know how much your incredible display of love and support meant to us," Sarah Dubois said. "He still hasn't stopped talking about it. Every smiling face, every homemade sign and every kind word will always be remembered."
Leave a Comment
About the Contributor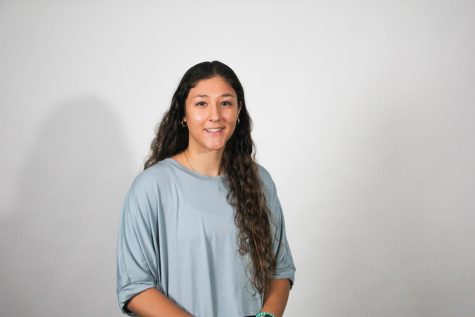 Hannah Gonzalez, Graphics Editor
Mama Mia, here we go again. As she takes her last ride in the TRL classroom, Hannah Gonzalez is ready to end this year with a bang. Gonzalez serves as...