Passion has no age requirement
Student publishes first book at ten years old
In the heat of the summer, the doorbell rings. A small, Venya Raju holds a sign-up sheet explaining that she is conducting an art class this summer for first and second graders. By the end of the summer, Venya decides to write a book about her experience conducting the class called "Just Try: You'll Be Surprised." 
Venya, now a fifth grader at Sloan Creek, is a published author at 10 years old. She began writing the book when she was nine years old, going into fourth grade.
"I thought it would be a nice project to take on…a nice challenge," Venya said. "I [wanted] to see how it was done; I [wanted] to see what all the authors get to go through. It's their living, so they get to do it all the time. I just thought it would be cool for me to see how it works and get to do it."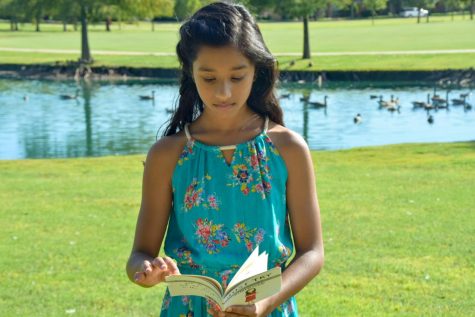 At the beginning of her journey, her father, Naren Raju, researched how to publish a book and began contacting people. For the Raju's, the first time was the charm. Once he read "The Art of Work" by Jeff Goins, he reached out to Goins. After some convincing that 10-year-old Venya wanting to write a book and have it published was real, Goins agreed.
"You can see [the] amount of effort she's putting into [it]," Naren said. "When you observe her close, it was all her imagination and putting it on paper. Nobody asked her to do it, and that's the most important thing. She did it all by herself. It really makes you think, as a parent, 'how can you really make this [easier] maybe give it some good shape?'"
Goins was Venya's mentor. He gave her a structure to follow in order to get everything done and make it a little easier to write since she was in school for a majority of the time. They had meetings every Wednesday to check in on the chapter of the book that she was writing during previous weeks.
"He let me use the people who edit for him and illustrate for him," Venya said. "He gave us the emails, and we just contacted them. They would edit, or we sent him the drafts and everything. [Then] he would send it to his editors, and they would edit. The information would go back to Jeff Goins then from Jeff Goins to us." 
Before Venya moved to Lovejoy in first grade, she went to Montessori Explorer, where she met a teacher that started to change her perspective on writing. Since then, her English teachers have continued to nurture her love of writing.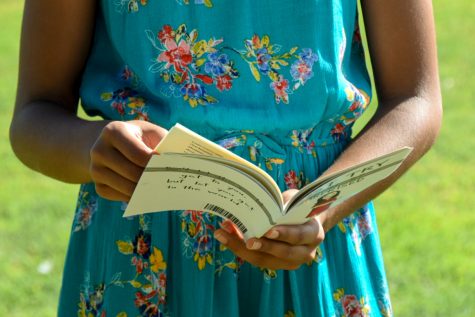 "Well, when I was younger, I hated to write actually, but there's this one teacher that really  changed that," Venya said. "Ever since then, I've just been taking any opportunity I had, whether it's like an assignment just to write a sentence. I would change it into a whole entire paragraph and make it a story…" 
Only about three of Venya's friends knew about the book in the beginning: her best friend, Kashyn, her other close friend who attended the art class she talks about in her book, Rowan, and her family friend's daughter, Shruti.
"When you write an essay and you think it's really good, you wouldn't really go tell everybody, 'hey I wrote a really cool essay,'" Venya said. "…the people that you would tell [are] your parents. You wouldn't really go off telling all your friends, right? So, that was basically the same thing for me when it comes to writing my book…"
Towards the end of the process of creating this book, Venya's mom, Sri Raju, helped with the editing and reading it through to see if everything was good. 
"She'll keep coming up with one project or another," Sri said. "She has tons of art stuff that she does and [not just] art. She just likes to build things, and she'll do painting; she'll explore different things…so, writing was also one such thing. She just one day came up and said, I want to publish a book."
The book is available for free download on the Kindle for a day or two. It is also available on Amazon worldwide to purchase. The book got its first review on Aug. 24. Eventually, as a phase two, the Raju family wants to use a portion of the sales to build libraries wherever possible. They want to use some money to print more copies of the book to hand out to third world countries for kids who can't go to a library to read.  
"I know that it's something that would be there forever and a memory that is out there in the world," Venya said. "…people can know that no matter how old you are, you can do it, and I know how many teachers say that; I know how many people say that, but I really mean it. I really mean that really you can do [it] as long as you try. People say that they're going to do it; They don't. They say that they want it; They don't. They just don't really do it. But if you actually work towards it, you can achieve your end goal."
Leave a Comment
About the Contributors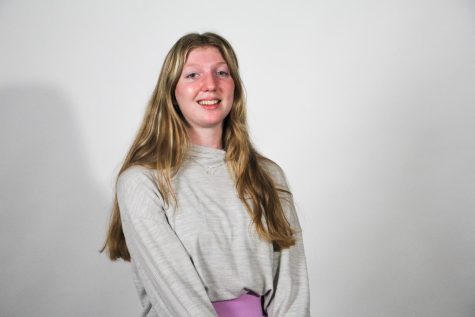 Calla Patino, Editor-In-Chief
Strolling into her third year on staff, senior Calla Patino is ecstatic to be back in the newsroom as an Editor-In-Chief, leaving her summer days of folding...