Bright, colorful flashes of dresses swirl around the dance floor as people spin in and out of the circle. The occasion? The Indian festival Navarātrī. Dhriti Pai, Kiah Pandey and Neola Edwin dance alongside their friends Katelyn Coleman, Dana Colston, Marisa Green and Anishka Vellanki, making memories to last a lifetime.
Garba is a form of dance which originates from the state of Gujarat in India. The dance is performed during the nine-day Indian festival Navarātrī. People dance around a centrally lit lamp or a picture or statue of the Goddess Shakti. Garba honors, worships and celebrates the feminine form of divinity. 
"Traditionally, just women participated in the dance," Vellanki said. "Now everyone gets to. We dance in a circle around clay lanterns with light inside which are in the middle of the dance floor. The festival lasts nine days and many temples hold areas for people to come and dance."
Navarātrī happens once a year from late September to early October. The garba these friends attended was at the Radha Krishna Temple in Allen.
"I only recently moved to Texas, and I didn't do any garbas before that," Edwin said. "Last year, I went to a garba with my friends. This year, my friend Dhriti set it up at the Radhakrishna temple."
Aarathi Devakumar is another member of the temple. She couldn't attend the garba dance celebration, so her family celebrated differently.
"The way my family and I celebrate is by doing rituals called a "puja" and also wearing the colors on specific nights," Devakumar said. "If you wear the specific color on a specific night, it will bring good luck. I couldn't attend the garba dance celebration, so my family and I visited our family friends and checked out their golu display and ate delicious Indian food. Vegetarian, of course."
Families prepare for the festival in different ways. Some people create a golu doll display which tells a story using the dolls. Most people wear very intricate dresses that they purchased in India or here.
"We wear something called a churidar, which is a long shirt with a scarf or dupatta draping down on your shoulder," Devakumar said. "Most women wear saris or lehengas, which is a two piece outfit containing a blouse and long shirt."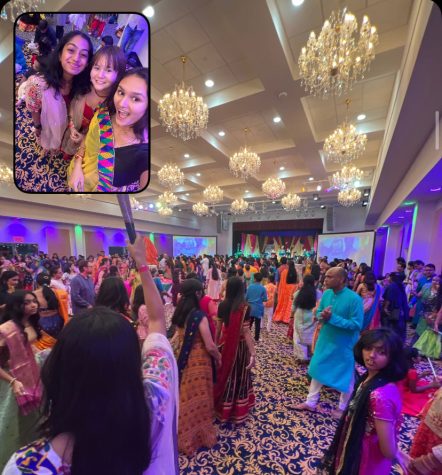 This festival is inclusive of everyone, despite their religion. This is why Pai, Pandey and Edwin got to bring their friends Coleman, Colston, Green and Vellanki. 
"Everyone is always welcome to participate, which is why many people bring their friends to this," Vellanki said. "The more people, the more fun it is. It differs on where you go, but for the dance, everyone tries to fall into one rhythm of dance and spin in circles. It makes it more lively when the room is filled with people."
Some of these girls have grown up participating in this festival, but it was a new experience for the others. They had a front row seat in an important celebration of Indian culture.
"I'm Malaysian, and my culture is heavily influenced by Indian culture," Colston said. "It was cool to see the similarities and differences between our cultures. I got to wear the traditional clothing and participate in the dances."
The festival celebrates the mother goddesses in Hinduism. Through that, women around the world are honored for their womanhood and femininity. 
"It is a very empowering holiday for me because in celebrating women through garba, I also get to meet a lot of cool and awesome women," Pandey said. "It is a celebration of women around the world because it is a celebration of our nine main goddesses. All women can relate to at least one of them, and it unites us."