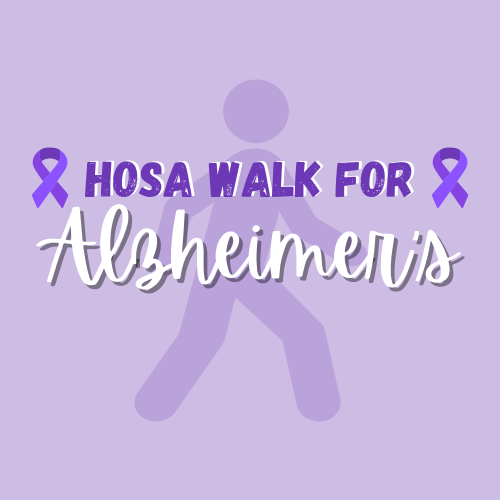 The Future Health Professionals (HOSA) Club will top off a week of supporting those with Alzheimer's disease through the Walk to End Alzheimers this Saturday, Oct. 23 at Grandscape in the Colony.   
"We continue to do [the walk] because it's a really good organization," senior HOSA president Savannah Fanous said. "Alzheimer's is devastating for families and [the walk] is providing money for research and support systems for those families."
The Walk to End Alzheimer's is a national organization but is held annually in counties across the United States. The walk in Collin County began five years ago when a series of walks from smaller counties such as Plano, Allen and McKinney united. Executive director Mark Denzin is one of the many staff members working to organize this year's local Walk to End Alzheimer's.
"I have the great fortune to work with a number of very dedicated professionals who, like me, want to find solutions to the Alzheimer's issues that the world is dealing with," Denzin said. "My colleagues are so great to work with and I'm really proud of the efforts they make every day to make a difference." 
More than six million Americans are living with Alzheimer's currently and with eleven million providing unpaid care; treatment will cost the U.S. about $355 billion in 2021. Denzin and his team are one part of the many organizations working to raise funds for Alzheimer's disease. 
"My role varies, but really I am a cheerleader and support person for the volunteers and staff who are putting the events on," Denzin said. "Most people don't recognize that our walks are a year-round endeavor. These groups really do all the heavy lifting to make the events so successful for our community."
Prior to the walk, each registered participant color-coordinates a Promise Garden flower, a symbol supporting those with Alzheimer's, and a t-shirt to their relationship with Alzheimer's disease. Participants wear yellow for care, orange for support, blue for living with Alzheimer's, and purple for the loss of someone with Alzheimer's. 
"If you're walking in it [you'll] be sponsored for doing the walk and people donate," CTE and health science teacher Kathryn Barnett said. "Last year we raised almost $3,000."
As a registered nurse, Barnett worked in the ICU, recovery room, telemetry, medical surgery unit, public and home health and healthcare management. As a college student, Barnett lost her grandmother to Alzheimer's disease. 
"It's a degenerative brain disease, they actually build up amyloid plaques in their brain and it starts affecting their memory and their cognition," Barnett said. "First it was just memory issues and then she got to the point where every morning she was waking up and wanted to go to school. She could remember stuff that happened to her as a little girl but couldn't remember anything happening then."
The Walk to End Alzheimer's raises funds for the care, research, and treatment of those supporting or living with the disease each day. With 1,426 participants and 232 teams, The Colony has achieved 98% of the $360,000 fundraising goal as one of the 600 communities nationwide.
"We're learning so much about the way the brain works that we're really getting close, especially with DNA, to learn how to prevent Alzheimer's," Barnett said. "[Students] are the next generation and hopefully by [their] generation, we have a cure. Because it is the walk for the cure, we're going for the cure."