Winter guard shows off at NTCA Richardson
Color guard attended North Texas Colorguard Association Richardson on Saturday, Feb. 18. Varsity color guard topped the competition and placed first out of three teams, and JV placed sixth out of ten teams.
"This season both the JV and varsity guards have been placing higher than ever before," senior captain Emma Ball said. "The JV was moved to Scholastic A class, and varsity just placed first in National A."
Color guard teams are divided into skill divisions based on skill level, population and available resources. Varsity is in National A, the third highest division in the world, and JV was just recently moved up into Scholastic A, the fourth highest division.
"Winter-guard contests are all indoor," senior Michaeala Amabile said. "We go into warm ups, then do our show just like a marching contest, but the energy inside of a winterguard contest is extremely different. The whole show is about performance and making the audience feel something, and the audience reacts accordingly with the skills demonstrated and the performance quality. It's overall just a lot of fun."
As soon as football season ends, color guard becomes winter guard. A new show is prepared, and they compete against other guards around the state from November through April. Shows are based on equipment, general effect, and movement. 
"Equipment is the difficulty of skills of spinning rifles, flags, and sabers," sophomore Hazen White said. "General effect is how the concept translates to the audience, and movement is dance-based skills. Before our performance, we always have an hour rehearsal and then we get our hair and makeup done. We usually change into costume once we arrive."
Guard members work around the clock for competitions during class and outside of school. Competitions usually take the whole day. Middle school guards go first, then JV and finally varsity closes out the competition after around ten hours.
"Colorguard is a perfect mix of fine arts and sports," Amabile said. "I've made so many friends and it is truly one of the best projects someone can ever be a part of."
Leave a Comment
About the Contributor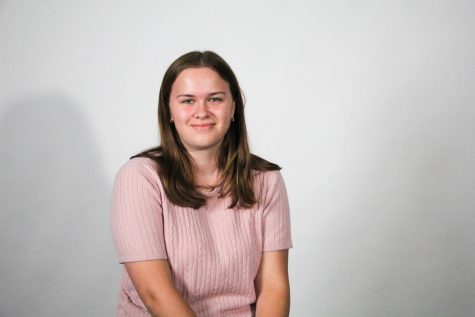 Sydney Cole, Staff Writer
Sydney Cole is entering her first year of high school and her first year on staff. Outside of E103, Cole spends time on the football field, not as a player,...