Junior Haylie Wilson Competed in the United States of America teen division on Sept 9-10. As her first time competing, she didn't know what to expect. She ended up winning her division for Texas.  
"At the pageant, there were the teen, Mrs., Ms., and Miss divisions," Wilson said. "There were only three girls in my [teen] division, but they had been doing pageants their entire life, and this was my first one. I was not prepared, but they said they loved me because I was very carefree. It was super fun and a great community, and they are all so nice too."
As Wilson's first-ever pageant, she trained with a pageant coach to ensure she was properly prepared. 
"My mom has a friend that said, 'Oh my gosh, your daughter should do pageants,' and so they signed me up to compete in this competition," Wilson said. "Basically, they emailed me for an interview, and I videoed myself and then sent it in, like an audition, and that's basically how you apply. "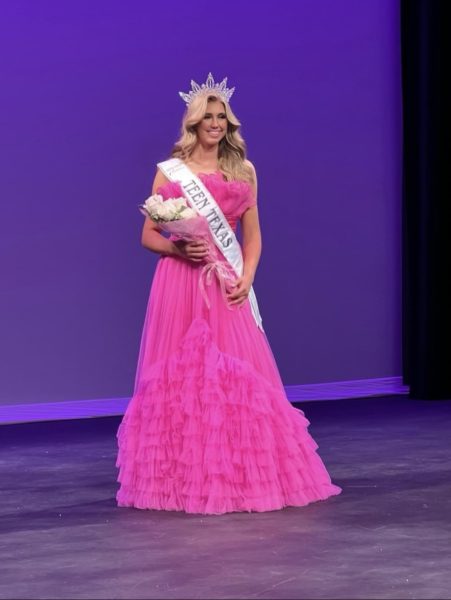 The three-day event consists of multiple levels of competition, interviews, and "walkouts". 
"The first day was orientation, meeting everybody, meetings, and then a pajama party," Wilson said. "The second day, we started with hair and makeup, then went straight into interviews, which was like a round-robin situation in front of the judges. We [later] did our opening number, then had to sprint back to change into activewear, do our walk out, then sprint back, get dressed into our evening gown, and do our evening gown walk. After all the other divisions finished, we did the walk of 'delicates.'" 
Wilson then returned to the stage one final time for the last round of on-stage interviews of the top three. The final questions required the contestants not currently competing to wait in a soundproof room to ensure fairness in their answers. 
"My question was, 'What do you want your generation to be remembered by?' I said mental strength," Wilson said. "I made them laugh because I commented on social media and that old people don't have it, so they thought it was funny. It was all super fun." 
They later announced the second runner-up, first runner-up, and queen. Wilson won the USOA Teen Texas division and will continue by competing in the national competition in San Antonio on July 4, 2024. 
"When I found out she won [the pageant], I thought she was kidding," Brindley Ludlow said. "This was her first one, and I didn't think she was gonna love it, but when I found out, I was so happy for her."
The event was streamed live on Instagram. There was also an in-person audience in attendance watching the competition. 
"Haylie had mentioned that she was signing up for a pageant, so I followed the account on Instagram. The night of the pageant, I got a notification that they were live, and I got to watch it in real-time," Sophie Brooks said. "She looked amazing, and I couldn't be more proud of her. When she told me she was competing, I was surprised because she had never done it before, but I knew she would be a natural at it." I was so excited. I was watching on the livestream and got to see it in real time. This was her first pageant, so it was so amazing that she won. I was running around my room and screaming because I was so happy for her."