Construction on Blondy Jhune Road to continue through March of 2020
The backroads of Blondy Jhune Road will be under construction with several projects beginning this month through March of 2020. For the first two weeks, construction will consist of installing seven new drainage culverts, and after that, the road will be almost completely reconstructed.
According to the City of Lucas, staff will be contacting and setting up private meetings for those within range of the construction. Blondy Jhune will also be closed during the installation of the culverts and those living near the affected areas are recommended to leave their homes through Winningkoff and return through Country Club.
"Staff started meeting with property owners along Blondy Jhune Road to discuss the roadway project, drainage, and new driveway needs," City Manager Joni Clarke said in an email at the end of March. "Most of these meetings will be completed next week. The contractor is still planning to start on April 1."
According to City Engineer Stanton Foerster, the second part of the project will consist of road replacement and new road construction.
"After new culverts are installed almost all of Blondy Jhune Road from Country Club Road to Winningkoff Road is being reconstructed," Foerster said. "The old asphalt road is being replaced with a 24-foot wide concrete roadway. Through the tree canopy, a narrow 22-foot wide roadway is being built to mitigate damage to the tree line."
City officials advise residents to avoid Blondy Jhune.
"If not possible (to avoid Blondy Jhune), they should be prepared for delays and some inconveniences," Foerster said. "The working space for the contractor is very tight, and the driving space is even tighter so there is an inherent challenge that exists between room to work and room to drive."
In the end, Clarke said the city is focused on the main goal of improving the lives of residents.
"The Lucas City Council has worked very closely with staff to ensure the preservation of the natural beauty of Blondy Jhune while balancing the need for quality roadway construction for the benefit of our citizens," Clarke said.
View Comments (1)
About the Writer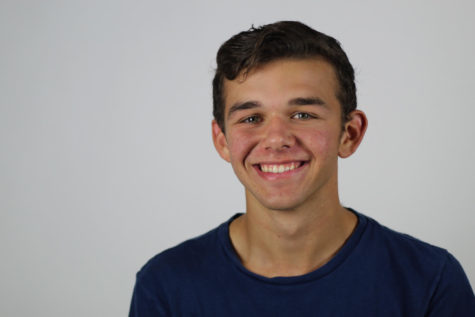 Haydn Spooner, Staff Writer
Haydn Spooner is a senior and first year staff writer for The Red Ledger. After living in and visiting several exotic places such as Argentina and Hawaii,...