Solid and stable
State partially reimburses district; parent-paid fees eliminated from budget
After months of planning, rallying, phone calls, and meetings, the district was reimbursed with 1.8 million dollars from the state legislature when House Bill 21 was passed on Aug. 15 during a special session.
Prior to the bill's passage, the district was prepared to lose about 10 percent–about six million dollars–of the annual budget before the bill passed. This would have caused the district to let go 120 teachers–almost one-third of the staff. However, the district did not take that as an option.
On June 30, the district was required to finalize the budget for the 2017-2018 school year which included a 10 percent cut for all operating budgets, parent-paid fees for bus transportation and extracurricular participation, a personal seat license for varsity football games, and a use of $1.75 million from the fund balance. Now with the money from the state, the district is able to discontinue parent-paid fees for this school year.
"So as a result of the special session that ended on August 18, we got an extra $1.8 million," Superintendent Ted Moore said. "So, we didn't lose as much as we thought we were going to lose, and so that's why we are able to do away with the fees for bus and extracurriculars. So we are in a stable and solid position for this school year."
A bill that could have provided funding relief for many districts across the state was derailed earlier in the session when the Senate version added vouchers for parents to be able to pay private school tuition. The House was against giving away state money to private schools, so no finance bill was passed. The final version of the bill passed by the Senate on Aug. 15 reduced the statewide funding total to $351 million, down from the $1.8 billion allotted in the House version.
Despite the increases in student population with the budget cuts, the district hopes to keep per-student funding and teacher to student ratios at the same level.
"I think we'll be able to keep the number of teachers kept up with the number of additional students, so I don't think you will see class sizes go up–like individual periods," Moore said. "I think we'll be able to keep up and hire extra teachers as we need them. But, we're always going to have to look at either ways to do things more economically or look at ways to generate additional funds."
Initial changes to the budget in June cut around 600,000 dollars that came from district operations which includes curriculum instruction, maintenance, utilities, and facility upkeep.
"We study our program from top to bottom, and determine first what can be cut that is furthest from the educational experience for our students," School Board President Chad Collins said. "We solicit feedback and listen carefully to our school staff and our taxpayers and parents on what they value most in our program. We continuously look for ways to create efficiency on each campus and maximize our resources accordingly."
Before HB 21 was passed, the district called on parents and staff to reach out to state senators and legislators about the budget shortfall. On July 24, more than 100 teachers, parents and staff gathered at the state Capitol to meet with legislators to persuade them to raise the importance additional funding through ASATR, additional state aid for tax reduction.
"We were so proud to be joined by 120 staff and parents in Austin where we met directly with legislators that directly can impact votes on behalf of Lovejoy ISD," Collins said. "We took a group of passionate, public education fans that stood toe to toe with state representatives and senators to provide them with strong reasons to support Lovejoy ISD and other ASATR districts. We made a big impact and left a sounding impression with those who we met and advocated to representing our Lovejoy schools and community."
AP Human Geography and AP Government teacher Kelly Bellar was among those in Austin voicing her opinion. She and other community members split into groups with information packets and a list of legislators to meet.
"We went around to their different offices and just let them know who we were, and what we represented, and that we wanted them to be sure that they were supporting school districts and providing for them the way they are supposed to," Bellar said. "And, in some cases we go to talk to a senator or a representative. Most of the time we talked to staffers or their chief of staff there."
Board members are already looking into the 2018-2019 school year to forecast any possible shortfalls and changes that may be implemented in the future.
"Our Board of Trustees cares passionately about the quality of program we have built within Lovejoy ISD and have stood strong on trying to protect the equity our community has built," Collins said. "We will continue to do everything we can to protect the quality of our program while being fiscally responsible and innovative in how we approach the budget each and every year."
Leave a Comment
About the Contributor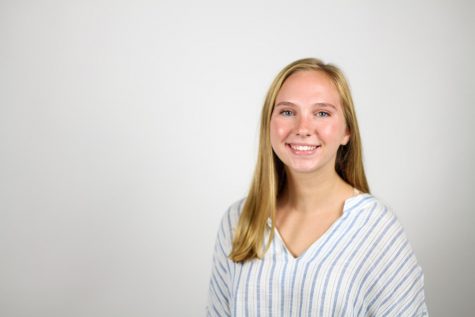 Madeline Sanders, Editor-In-Chief
On her fourth and final year as a member of The Red Ledger, senior Madeline Sanders is thrilled to have her second go-around as Editor-In-Chief with the...