Perfect match
Award-winning guest educator subs for five years
Brinng. The bell rings, and the room fills with students when her foot steps in the door. 
One yells, "Yay, we have a sub today! We don't have to speak Spanish!"
She says, "Buenos Días. ¿Cómo les fue el fin de semana?" A shock silence and glued eyes trail her further in the classroom, lasting only a few seconds, until a student says, "Is that all you know or do you speak Spanish?"
She says, "I speak it as well as your teacher does." The student says a moderate, "Oh." She continues, "Yeah, but think about this, I can help you with your assignment."
Elvie Trevino has been a substitute for five years; she has earned two awards: a Guest Educator of the Month in October and the Lovejoy ISD Council of PTO's Citizenship award.
"When I got the first one, it was Educator of the Month and ongoing," Elvie said. "That's humbling. It's pretty special, and I'm still asking 'I wonder who put my name up.' I don't dare ask, but it was pretty neat. I'm grateful. I'm going to try to keep earning the certificate."
When Elvie moved from Weslaco, Texas, she decided to become a substitute other than the option of working a full time job at Collin College.
"I know I've done the right thing because I'm a people person," Elvie said. "I get to see you guys. I love y'all, and I love being here. It's just good for my health. My heart feels full of love. It just feels like I'm at the right place. I know I am because I've always loved students, but I have the flexibility though."
Elvie and her husband moved five minutes away from her son, Randy Trevino seven years ago in August to be closer to her grandchildren.
"It's 'Nana, what are you doing,'" Elvie said. "'Why don't you come?' 'I'll be right there.' That has saved my life. So besides being here, they're my biggest pleasure. Then after family, this is where I want to be. This is where I feel happiest, and I think particularly now we need to find something that makes us feel safe, but happy. I think a whole lot of people are staying home. They're miserable; They're getting sick and emotionally downtrodden, and that's not for me. [I]couldn't handle it."
She was a counselor for 30 plus years, and then she taught educational psychology at South Texas College for six years. 
"When my son says come try it [working here], I listen," Elvie said. "He's been very helpful to me. It's amazing. Because usually it's parents who have an effect on their kids, but Randy's [Elvie's son] had an effect on me. When I was a counselor, I kept talking about teaching at South Texas College because they had a campus across the street from our high school. Finally, one day he said, 'Mom, you've been talking about teaching there for years. Why don't you do it? You've always told my sister and me that if you want to do something, go for it don't let anything stop you, so what's stopping you?' I had to put my money where my mouth is, and I said, 'Okay, I'll do it.' So I looked into it. Randy's influence helped me transition from high school counseling, to teaching at the college and then coming here." 
She used to live 10 hours away from her son where she would get out of the house for a drive to Braums for some ice cream as an activity. After the quarantine in March and summer, Elvie had to release her extroverted self.  
"I got in the car and drove around, but I had to get out of the house, unlike other people," Elvie said. "When school started, I was in heaven because I could come back. I'm fine. I can put up with all the limitations. I believe in safety: the masks,the distancing and using good old common sense for my safety and for everybody's safety around me, but that doesn't mean that I'm going to be happy in my two by four room or anything. I want interaction. Here's where I get it, and I get it safely."
Elvie has subbed in English, computer science, journalism, choir, band, theater and science classes.
"
If you feel that someone appreciates you as a person, you're gonna deliver."
— Elvie Trevino
"The difference too is when I was teaching, I have the same kids all the time," Elvie said. "Subbing, I have a lot of variety in different subjects, different kids, different ages, so I get to see a whole bunch; it's not just the same students all the time. That's pretty neat. I have seen so much talent. I have seen so much potential on this campus."
Elvie worked in Randy's high school, Weslaco High School, while he was a freshman and sophomore. Randy was a college counselor for five years, and is now running his own Randy Trevino College Consulting business. 
"She'd pop into my office, bring me coffee, set up lunches for the counselors, and dote on me so much that some of my coworkers would joke about me being a 'mama's boy,'" Randy said. "Students would always ask me if she was as nice to me when I was a kid as she is to the LHS students; my answer is an emphatic 'No,' as she was my parent and a very good one, at that. Overall, I enjoyed having my mom around."
Jasen Eairheart has worked with Elvie since she became a substitute.
"She is consistent and experienced," Eairheart said. "You know exactly what you're going to get when Mrs. Trevino is filling in for you. She also has the confidence and diligence to look over my lessons and to add her own flavor to any lesson I've left for her. I know that whatever I leave for my students will get done."
Elvie decided she wanted to be a teacher in third grade. It is where she "always knew this is where [she] belonged."
"It's human nature," Elvie said. "If you feel that someone appreciates you as a person, you're gonna deliver. If you feel like 'Well she won't like anything I do anyway, so what the heck,' you're not going to do your best. I'd rather pull strings and try to encourage you to do your very best. Show you what you're made of."
View Comments (1)
About the Writer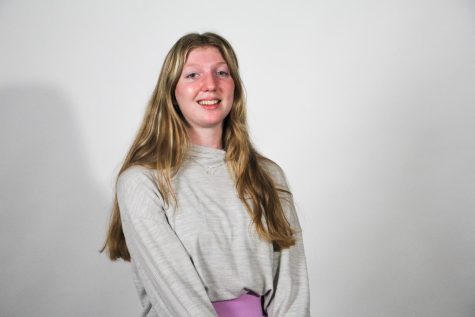 Calla Patino, Editor-In-Chief
Strolling into her third year on staff, senior Calla Patino is ecstatic to be back in the newsroom as an Editor-In-Chief, leaving her summer days of folding...