Throwing his way to Junior Olympics
Sophomore throws javelin at Junior Olympics
Sophomore John Michael Martin stands at the end of the runway. He takes a deep breath and begins to run. He builds speed until he gets to the end and launches his javelin across the field. He turns around happy knowing he just got a personal record.
John Michael finished his freshman year of track and field season by placing top five in javelin for the state of Texas. He qualified for the AAU Junior Olympic Games and competed on Aug. 2 and 3 in North Carolina. 
"I started throwing javelin four years ago," John Michael said. "I started because my mom threw in college and it looked interesting to me. In practice, we use a lot of repetition to develop motor patterns. We also do a lot of drills and basic skills."
There is no UIL-sanctioned javelin competition in Texas. AAU allows athletes to compete in javelin at the regional level, a qualifier and then advance to the Junior Olympics if they are at the top of their age group.
"He threw at regionals the past two years and placed high, allowing him to qualify for the Junior Olympics twice," Martin's mom Shea Martin said. "I try to encourage him every step of the way and answer his questions so he understands what to expect from meet to meet. I also emphasize the importance of keeping a clear headspace because it's such an individual sport."
On the event day, Martin checked in early in the afternoon. The athletes' javelins were weighed the previous day, so they warmed up and waited for them to arrive before the competition began.
"Everyone gets three throws and if you make it to finals, you get three more," John Michael said. "I didn't throw my personal best but threw well. It was a great experience."
Martin's mom has been an inspiration to him. She helps coach John Michael and teaches him what she learned through her years as an athlete.
"I threw javelin, but I was a discus and hammer thrower mostly in college, so I can really only impact him as a competitor and his psychological game," Shea said. "My dad, John Michael's grandpa, was my coach so he definitely gets that support."
John Michael's coaches are a combination of his private and club coaches. Coach Dave Wollman was the former head track coach and assistant athletic director at SMU and former track and field coach at Stanford. 
"I try to educate young throwers on what it takes to be great or what it takes to be average, and then helping them choose based on their personality," Wollman said. "It takes a lot of sacrifice, and John Michael is such a well-balanced kid. To be exceptional, you have to narrow your vision into one goal. However, at this age, I always recommend enjoying life as much as possible because it's important to find something you're truly passionate about."
Martin has already accomplished many things. He is looking forward to the next three years to see what else he can achieve.
"My biggest accomplishment is definitely qualifying for the Junior Olympics twice and winning some meets closer to home," Martin said. "This year I am competing in discus, javelin and hammer through USATF. I hope to compete in Eugene, Oregon this summer in the Junior Olympics at Hayward field. I feel like the only necessary thing to be a successful javelin thrower is work ethic. If you dedicate your time and efforts, you will succeed."
Leave a Comment
About the Writer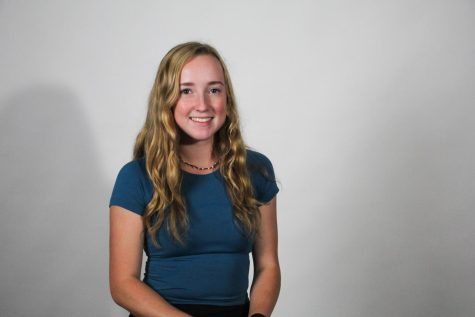 Campbell Lester, Section Editor
Campbell Lester is back and ready for her second year on staff, especially now as News Editor. After making it successfully through her first year in high...