Artistic accolades
Student pieces selected to be displayed at DMA
A delicate room of paper and a knight in shining armor, both now award-winning, and both a reflection of family and sweet memories.
Juniors Carolyn Jurotich and Jessica Wu's art pieces were recently selected to be featured in the Dallas Museum of Art's 2016 Young Masters AP Fine Arts Exhibition.
"Quite a few people in our class made it through to the next round," Jurotich said. "It was really funny figuring out I'd actually won it. It was just a really cool feeling, and it made me feel proud and a little more happy with the piece."
The girls were selected from hundreds of applications sent by AP Art students from all parts of Texas.
"I felt really surprised at first," Wu said. "I think it helped me a lot."
For both Wu and Jurotich, this journey to this achievement began early on.
"Ever since I was young, I've liked doing art," Wu said. "I've taken art since I was like six or something, and I've always loved it."
Wu said she uses art as a way to de-stress from AP classes. For Jurotich, the reward is in the feeling she gets from being successful in art, a feeling that began in elementary school.
"Since I wasn't good at core classes, I put most of my effort into art, and it just made me feel good," Jurotich said. "It was just something I was good at."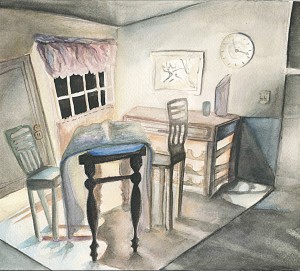 Wu credited joining the high school program in elementary school.
"Ever since I came here I've really found my style," Wu said. "[Art teacher Brice McCasland] has definitely transformed my view on art. Most art teachers are concerned about aesthetic or if art is pretty, but he tells us to focus on the meaning and the importance to us more than the viewers."
Both artists credit their success to their guidance from McCasland, commonly referred to as "Mr. Mac."
"Mr. Mac usually gives us a prompt and then we kinda find our own way to do that," Jurotich said. "[The prompt] was to create a diorama using a story like Goldilocks or Three Blind Mice. I chose one that was kind of out there, St. George and the Dragon. I don't have a dragon in it, but I kinda focused on the whole idea of a knight defending a princess."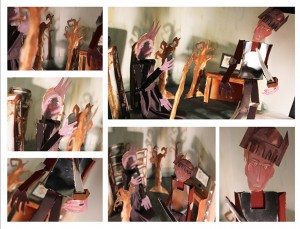 Jurotich also chose to incorporate her own meaning behind the piece.
"I kinda personified [my brother] through one of the characters, which is the knight, and the princess is myself," Jurotich said.
McCasland described Jurotich's work as "powerful" but in a "funny way."
"It's a blend of maturity and childishness that's nice," McCasland said. I think all of us appreciate things that make us either think back to youth or want to be youthful, because I think we all have that want, so it's this fun blend of playfulness and yet it's lit and controlled in a way that feels mature."
For Wu, the piece she chose to submit was a painting of a room created entirely of paper. She also based her piece on family memories."I did my dining room," Wu said. "I feel comfortable in that space, and it's defined my family relationships, so it just has a lot of meaning for me."
McCasland said Wu's painting style is very unique.
"You see it and there's nobody else that paints like that," McCasland said. "It's this weird blend of the opacity or the transparency of the paint and how it's running, so it's this very kind of powerful, confident approach with watercolor. At the same time it's very delicate.
"It's beautiful. I think the other thing with her's is she always does a good job of tying it back to very personal things."
Both pieces will be on display at the Dallas Museum of Art on Feb. 27 through April 17 in the Concourse Gallery.
"I feel absolutely ecstatic about it," Jurotich said. "It feels like a really good start to an art career, and hopefully a good hook for possible colleges."
Leave a Comment
About the Contributor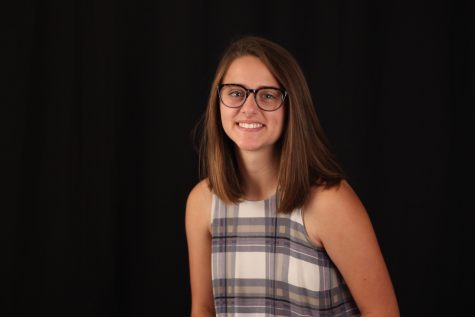 Mandy Halbert, Staff Reporter
Mandy is a senior this year, but she's still just as afraid of high school hallways as she was as a freshman. But aside from that, she looks forward...