'I'm not just a minority– I'm a Muslim American'
AP Biology teacher Sadaf Syed discusses her faith and life amidst political hostility
January 19, 2017
It was the fall of 2003, and the North East Mall in Fort Worth was packed with people, just as it was every Saturday. Sadaf Syed, with a gray hijab wrapped around her head, pushed her newborn son through the crowd in his stroller. Her son was actually the reason for her outing — after being cooped up in the house with the child, she wanted out. Besides, she was a big window shopper and could spend hours at the mall without becoming bored.
The mall was pulsing with footsteps and chatter, but above it all something began to buzz in Syed's ear: laughter, coming from a man and a woman right behind her.
Then a single word cut through the air and her heart.
"
I learned to accept the jeers and the negativity. When people do that, I learned to say to myself, 'Well they don't know me.'
— Sadaf Syed
"Towelhead."
The man hissed the word and yanked on her hijab.
He yanked on the garment that brought Syed a feeling of peace and a sense of modesty, the purpose of the hijab and many other regional coverings.
He yanked on the garment that gave her the feeling that she was judged not by her physical appearance, but by who she was as a person.
Shocked, Syed reached to hold onto her head covering and continued walking. She didn't say a word, but after a moment, she decided to turn and look at her harassers. Maybe they didn't say that, she thought, desperately hoping the ordeal didn't happen even though the word and the tug had been clear as day. When Syed met the couple's eyes, they laughed in her face.
"It looks like a towel," the man sneered.
For years Syed, a biology teacher, has been the victim of malicious comments such as "towelhead" and "go home," even though she was born in Chicago, mainly when she would wear her hijab. The hateful words and hostile glares entered her life after the terror attacks on 9/11– she was in college at the time and had been wearing a hijab for about three years. Before that event, Syed said she was "never persecuted."
"On 9/11, I went to class after I saw what was happening, and I [didn't] know what to do," Syed said. "I went to campus, and that would be the first time I started seeing people pointing and shaking their heads. Then I had a professor who told me I should be ashamed of my beliefs. I remember that was a shock because I didn't realize that everyone thought that I was doing something."
In that moment, Syed said she knew "things were changing." In fact, her parents, who never forced her to wear a hijab in the first place, asked her to consider taking off the covering out of fear for her safety.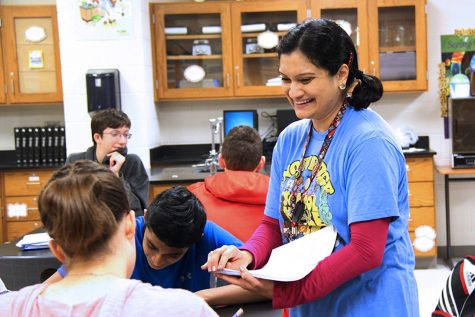 "I thought about [what my parents said] and I said, 'I think that based on everything I know, this country is about religious freedom, and not only do I love the country, but I love the people, and I think that [taking the hijab off] is not a necessary step,'" Syed said. "'It's wrong for me to take it off because I have been given these rights.' That's why everyone comes here. Persecuted people come here because this is such a great country."
Syed thought maybe people would stop accusing her after awhile, but she soon "realized that was not the case." Still, she did not remove her hijab. Instead, Syed learned how to deal with the hate by "becoming numb."
"I learned to accept the jeers and the negativity," Syed said. "When people do that, I learned to say to myself, 'Well they don't know me.' But of course that's what they're going to think because if all they know about a Muslim is what happened on 9/11, then [they] probably will think that."
Difficult decisions
Syed finally decided to take off her hijab for two reasons. The first was that the covering kept her from obtaining a job, which she wanted after her husband's occupation as an engineer became at risk due to outsourcing. After being a stay-at-home mom for 10 years, Syed got her pharmacy technician certification and applied for a variety of jobs. But the hijab impeded her search. She decided to begin applying to places like Target and Wal-Mart, as "those jobs are easier to get, supposedly." Still, she had no luck.
"You can fill everything out, and then they'll call you, and they talk to you," Syed said. "Then [you] just come in to sign the papers, and [they] see you, and that's when it would fall through. The really sad part is, when I took it off, [it] literally didn't take a week for me to get a job."
The second reason Syed took off her hijab was for her children. She feared they would be treated unkindly, as she already saw "so much negativity when [she stepped] out the door."
"Around the same time when I was looking for a job was the time when my son was about to start kindergarten," Syed said. "I thought, 'What if somebody like [the unkind people I see so often] will be the teacher of my child?' I thought about the job issue, I thought about my son going to Kindergarten, and I realized that I have to take it off."
Once Syed moved to Allen from Fort Worth, where she had received much hate, conditions improved. She felt "more accepted" in Allen, for she saw "more smiles, more people of diversity."
"
I realized that if I can just be a representative of a practicing, faithful Muslim who doesn't do the bad things, then maybe I can do some good with this.
— Sadaf Syed
But even with her more welcoming community, which has been her home for five years now, Syed said she will not wear her hijab again because her decision was final. She had promised herself "[she] was not going to make [the hijab] a mockery of some sort" by indecisively wearing it. Now Syed said she wants to be a "representative of the very vast population of Muslims."
"All I want is good for my family, friends, and everyone I see, really," Syed said. "I realized that, in the end, if I can just be a representative of a practicing, faithful Muslim who doesn't do the bad things, then maybe I can do some good with this. I decided that this is how I will be. I'm not just a minority – I'm a Muslim American. I [actually] like to say American Muslim because I think the worst thing I feel is when I'm told to go back home because this is my home."

Political tension
In the fall, some of Syed's old fears flared up again during the presidential election when the topic of banning Muslims entered the political debates.
"I was scared because I felt kind of like after 9/11– am I going to be looked at now [and be someone] that something bad's going to happen to?" Syed said. "I had a talk with my own kids because they also were scared, and they're little children."
Syed's daughter, who heard people talking badly about Muslims in school, even asked if they would have to leave the country.
"
As long as you try to stay positive, […] it's going to be ok because I don't feel alone anymore. This time I don't feel alone.
— Sadaf Syed
"I said, 'Well, honey, this is what I'm going to say: You are fine the way you are, be a good person, and it's going to be ok,'" Syed said. "Because that's what you tell an 8 year old. And I believe now firmly that as long as you try to stay positive, and you get to meet the wonderful people that are here, it's going to be OK because I don't feel alone anymore. This time I don't feel alone."
Positivity is not only what Syed holds on to, but what has surprised her the most about the election because, even though there have been many instances of hate rhetoric, many people have taken a stand for minorities.Syed's sister, who lives in Kansas City, told her the mailbox at the local mosque had a rose and a note from the community that said, "We hate no one, we love all. If you ever need anything, let us know."
A similar event took place in Plano when non-Muslims held up signs to say, "We are with you," as Muslims went to pray. Syed said she thinks these acts of love will lead to increased communication and understanding between diverse people.
"Anything that causes a dialogue about minorities of any sort is a good thing in a sense that, when we have a dialogue, we get to know each other," Syed said. "Then, all of a sudden, it's not this unidentified person that is a minority, it is your friend, it is your neighbor, it is your teacher. And then you're like, 'Well, he or she is A-OK, so maybe not everyone is like that. Maybe I should just get to know more people of diversity.'"
Syed also said that communicating with different people leads to a new view on the world, one filled with magnificence and radiance.
"
This world is full of beauty. Doesn't matter what your faith is, what your skin color is, what your beliefs are.
— Sadaf Syed
"If you think about it, this world is full of beauty," Syed said. "Doesn't matter what your faith is, what your skin color is, what your beliefs are. If we all opened ourselves up to the diversity of this world, I think most people would come out saying, 'Wow, I'm really happy that there's so many different people out there, and I can learn so many different cultures, religions, ways of life.'"
Though Syed has faced negativity, fear, and loneliness, she has retained her radiant smile and positive outlook, which is evident in the ever-cheerful voice that greets her students in room E211.
"My message is although I might look different and I'm part of a minority and I have a religion that's different, I am an American," Syed said. "And I can be both. You can be a Muslim and you can be an American and you can love your country and be a good, faithful person of your faith. Everything else that you see are extremists, and if I could fight it on my own, I would."