5 years, 2 continents, 1 adventure
Bethany Hughes travels across the Americas by foot and bike with groundbreaking intentions
January 25, 2018
The gangway of the airplane felt empty for Bethany Hughes. No windows. No natural light. Just the feel and smell of the constantly disinfected air seeping out of the cabin of the plane.
As Bethany made her way down the stretch toward her seat, strangers surrounded her, none of whom knew that this moment was her last glance at home for five years.
Five years filled with travels from desert to forest to glacier, from six feet to 17,000 feet above sea level, and from the southern tip of Chile to the farthest expanses of Alaska–a 20,000-mile journey.
Despite the fact that bodies bustled and faces flashed around her, Bethany felt alone in the gangway.
"When you go home, you are a different person in a way you can't explain, and you have experiences which just won't make sense to most people," Bethany said.
Bethany Hughes, sister of Spanish II and English I teacher Annastacia Hughes, is currently on her way to becoming the first female to traverse the length of the Americas by non-motorized means. Her trek began in November 2015 on the Beagle Channel in Argentina and will end in Alaska in September 2020.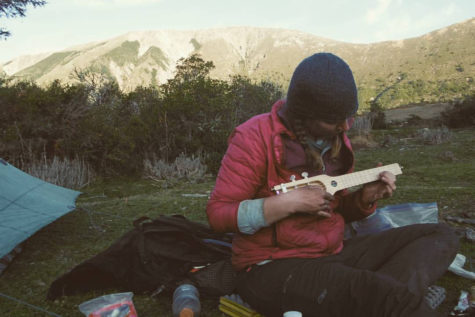 Bethany and Annastacia both grew up as missionaries in South America from ages 2 to 10 and lived in Ecuador, Chile, and the Dominican Republic. Bethany said her upbringing inspired her to continue traveling and take on the continent-trotting challenge.
"I grew up in South America and saw that women were treated very differently," Bethany said. "I wanted to come back as an adult and try to understand that difference better."
Before beginning her adventure, Bethany had already hiked across the United States for five months, guided backpacking groups in New Mexico, and worked with sled dog teams in the Tongass National Forest in Alaska. Annastacia said once Bethany finished hiking the United States, she knew Bethany would want to take on more of the world.
"She's stubborn in a good way," Annastacia said. "If she sets her mind to something, there's no stopping her. She's very resourceful. I know that she's flexible. She can handle a lot of things and situations."
---
The trek
To accomplish their goal, Bethany, along with her hiking partner, Lauren Reed, have to bike and walk their entire journey. The path closely follows the mountain ranges that connect the Americas. Before starting, Bethany planned the route herself.
"For four years, I researched everything I could find on anyone who has done anything like this," Bethany said. "With their information and routes, I drew up a plan of my own. Every three or four months, we settle down someplace to rest for a bit. I check the route ahead and tweak and detail it, plan lengths between towns, and then we walk or paddle. But usually walk."
"
My best moments are often when I stop walking. The relief my feet feel. Looking around and being still."
— Bethany Hughes
While walking from town to town, Bethany and Lauren must carry everything on their backs, including tents, sleeping bags, clothing, matches, bandages, and cooking supplies. They must also adapt their diets and eat what locals eat, which means constant adjustment.
"Once I figure out how to greet someone correctly in one region, it is entirely different in the next," Bethany said. "As soon as I learn to cook polenta right, we move into the land of harina tostada. It means having flexible standards and reminding yourself these people live off of this stuff. I have a long list of foods I can't wait to eat once I'm home."
Weather changes from region to region, which makes traveling in the winter difficult.
"[In Northern Bolivia and Southern Peru,] we were tired after 11 months straight of walking," Bethany said. "July [to] September was winter, so daylight was short and weather comes on hard and fast. We were usually at about 14,000 feet [above sea level,] so wounds and illness don't heal very quickly. We didn't see trees or much color or hear running water for long periods. There is a lot of poverty and a hopelessness in many of the people."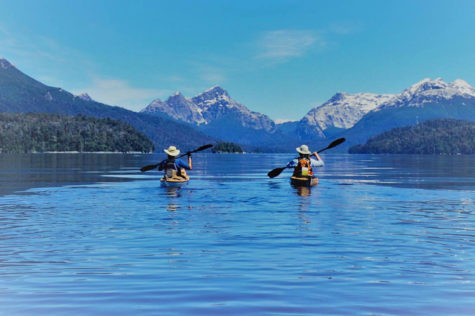 Although the duo is constantly walking, Bethany appreciates the times when she is "still with the environment."
"My best moments are often when I stop walking," Bethany said. "The relief my feet feel. Looking around and being still. Sitting with a group of kids, sharing a piece of fruit and showing them our gear in exchange for them telling us stories like how the gods took the power of speech away from animals because the dog told a lie."
---
Support
Bethany said half of her family has been "wildly supportive" as she takes part in her excursion.
"Those who have been supportive have helped me stay fed and able to afford a roof over our heads every few days," Bethany said. "Just getting their notes and hearing from them feels as good to my spirits as taking my shoes off at the end of a 20-mile day does to my feet."
However, some family members have become "ostensibly absent." Bethany said she suspects they are afraid of what she has committed to.
"[These family members] worked to set their children up to 'get ahead' in life, or at least get comfortable," Bethany said. "Then I go and chose to do exactly the opposite, to go slow and to be very uncomfortable most of the time. I think they can't understand that, and it may even be kind of a slap in the face for all they sacrificed to get the family ahead."
Although not all family members support her, Bethany falls back on her sister, Annastacia, during the rough times.
"My sister is my reason to try to be my best self," Bethany said. "When I don't have it in me to go anymore, thinking of her makes me get up and try. Her belief in me makes me believe in myself."
Outside of connecting with family while traveling, Bethany must have a close relationship with her hiking partner as they travel for nearly five years.
"We put a lot of work into this relationship," Bethany said. "We check in daily and have walking meetings each month to set goals and stay on track. It is one of our biggest strengths and greatest weaknesses that we are so very different."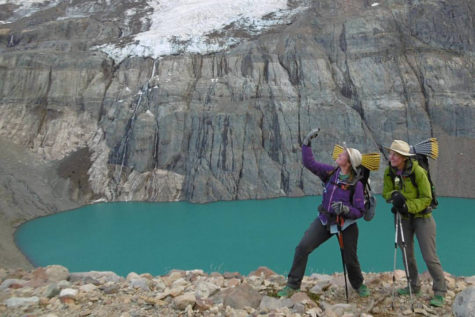 ---
Her Odyssey
Bethany's purpose in making this journey is not just about becoming the first woman to complete the trip. Bethany created the Her Odyssey organization as a way to stay organized along her route, as well as to share the stories of women she meets on her journey.
"I write a lot," Bethany said. "I hope to write well and in such a way as to bring people along with us on the journey [via Her Odyssey], then to write a retrospective book with the infinitude of other interactions and thoughts. We also plan to share a collection of legends and bedtime stories we have been collecting. It is my intention to engage with groups by speaking and leading events."
By organizing the trip through Her Odyssey, Bethany and Lauren are able to speak at various places along the way and share what they have learned with others while gathering sponsors to support their travel needs.
"By these engagements and upon completing this journey, I hope to return and retrace the course of this journey and bring gifts to those strangers who have helped us so much along the way," Bethany said. "To give them a copy of the book and let them know what a difference they made in my life."
Emily Briggs, Her Odyssey trek manager, said it's a "rare and wonderful thing" to see Bethany's vision play out.
"Bethany is one of the most deeply feeling and thinking people I know, and she has developed a rich writing and storytelling talent," Briggs said. "While inevitably the stories she gathers along the way will change the course of her life, I believe the writing she then shares with the world will go on to change others, as well."
Although the trek is nearly halfway over, Bethany stays focused on what her purpose for the trip was in the first place.
"I think it is important that we challenge what we think is possible," Bethany said. "Walking across continents sounded impossible, so I thought I ought to try to test what I could achieve. I believe that by pushing our own boundaries and sharing the journey, we can encourage others to push theirs."