Reduce, reuse, recycle?
Miscommunication among school groups, administration, custodians coupled with misuse of blue bins by students leads to questions of effectiveness in recycling program
In the corner of every classroom, there's a blue recycling bin. Occasionally the bin is filled with paper and plastic water bottles. Other times food and nonrenewable trash can be found in them.
Situations like these have raised concerns amongst the student body on how effective the school's recycling program is.
"I feel like everyone thinks that the recycling just goes to the trash, so they don't even bother to try to recycle now," senior Chiarra Ramon said.
In the past, Student Council, Peer Assistant Leadership Skills (PALS) and life skills classes assisted the school's recycling process by emptying out recycling bins in teachers' classrooms. However, this year no student-led organizations have taken on this role, resulting in the recycling often being mixed in with the trash.
"I had no idea," said Lynda Fleming, principal's administrative assistant who has coordinated recycling efforts in past years. "I wish someone would have told me. Well, neither one of them were in charge of it, but I thought that they helped carry it out. Well, nothing's been going on this year then, that bothers me."
PALS member Audrey Supan and Student Council president Evie McGowan both confirmed that neither organization is involved with school wide recycling anymore due to their busy schedules. Life skills teacher Sherria Bracey confirmed the same for her students.
"I hate to do false advertisement," Bracey said. "Life skills didn't help in recycling at all this school year. It was part of the occupational prep class [in past years], and this year I don't teach occupational prep."
This year the only people who have been involved with recycling are the custodians, who according to Fleming, "are responsible for emptying out the recycling bins in the workrooms and in break rooms."
Recycling is collected each Tuesday. After Tuesday, the cardboard boxes and stacks of paper that the custodians collect fill the recycling dumpster within a few days, leaving no room for additional recyclables collected elsewhere during the rest of the week.
"In order to recycle more, something has to change with how often the recycling dumpster is emptied," janitor Grazyna Czarnecka said. "After three days, the recycle dumpsters are full and we have no place to put the rest."
When emptying recycling bins, if custodians notice non-recyclable trash in the bins the contents of the entire bin goes to trash.
"The unfortunate thing is, if you've got a recycle bin that's all paper, and then somebody throws a banana peel or a can of coke that's open it gets contaminated," Fleming said. "It's just laziness, or you know, they're in a conversation and don't think about it. It's just so hard to educate people on how to recycle right."
In order to improve school recycling practices in the future, Bracey said she is willing to incorporate recycling into her current life skills classes.
"In life skills, I teach math and science," Bracey said. "I could make recycling a part of science by incorporating it into environmental science."
Ramon said she believes that educating the student body on what to recycle would lead to improved recycling practices.
"When it comes to the cafeteria, there are no recycling bins, so no one really gives a thought to it," Ramon said. "But in the classrooms, people do make the effort to put paper in the recycling bin and plastic water bottles, and I feel like maybe if you have brush up courses like how they do with safety procedures, that would definitely help."
Leave a Comment
About the Writer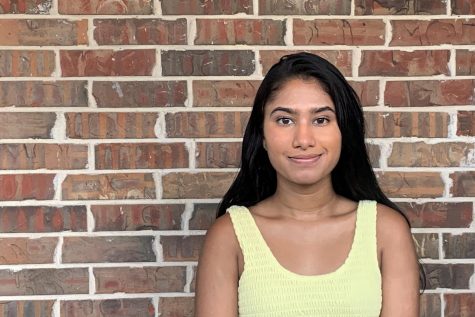 Arushi Gupta, Editor-In-Chief
Transitioning into her fourth and final year on staff, senior Arushi Gupta is thrilled to take on the role of Editor-In-Chief. After spending nearly six...