'Larger than life'
Majestics show, featuring numerous dances and flawless precision, premiers this week
"Five, six, seven, eight," senior and Majestics dance team major Aly White called out.
The synchronized beating of jazz-shoe-clad feet on the stage boomed through the auditorium as the Majestics danced on each count. The team was practicing for their spring show, and they moved with effortless precision. However, it took long hours of hard work to make the steps look so easy.
"We've been working on these dances since at least October," sophomore KelsieAnn Trank said. "We've learned a lot of them over 2015 summer. The rehearsals are long, but it's really great to be dancing with your friends."
Though rehearsals are often exhausting, the Majestics enjoy their time dancing together.
"It's been really fun because we went to competition before this, and so we got to polish our dances before that and that was the hard part- kind of polishing through competition," junior and Majestics lieutenant Ashlynn Gaines said. "But now that [the] show is coming, all of our dances are done, so we kind of just get to, not so much relax, but get to have more fun with it instead of being like crucial and polishing 24-7."
The spring show allows the Majestics to stray from the norm of traditional drill routines and explore different types of dance, like jazz, hip hop, modern, and novelty, which Trank described as "a dance that tells a story, and the dance moves are based on the story." And unlike football season when the dance team provides halftime entertainment, the spring show allows the Majestics to be the headliners.
"It's a nice opportunity for specifically us to dance for people instead of being a 'placeholder' while other people rest," Trank said.
One of the dance routines was pirate-themed, and when the number's nautical music began the stage became a flurry of arms, legs, and plastic swords. But it was a sharp, rehearsed flurry, as everything about the Majestics is practiced and perfected, from everyone wearing matching black tanks and spanx to everyone pulling their hair up into tight, meticulous buns.
Each girl morphed into their own pirate character, and some even shouted the occasional "Aarrr!" as they performed. At one point, several girls got to dance in the aisles of the auditorium, taking the performance to an interactive level. This incorporation of acting and the audience are two ways that the show is different from a competition or a halftime performance, and they are also two reasons why the show is so special to sophomore Cassady Kreuser.
"For me, the show is more personal," Kreuser said. "You get to put on more of a character and interact with the audience. Although I loved competition, I enjoyed seeing all of our pieces onstage with lights and everything. Each one is different for me because you are performing in a different way. For show you get to let loose a little and have fun with embracing a character."
After the pirate performance, the team moved on to a boogie-woogie number strictly for juniors and seniors. The girls rehearsed a certain set of steps repeatedly, increasing their speed each time in hopes of keeping up with the fast-paced music.
"Should our hands do this or this?" a girl asked as they practiced the dance, flipping her hands from flexed to flat.
In perfect unison, the others replied, "Flexed."
Soon a group of boys arrived to perform the partner portion of the swing dance-inspired routine. As the music blared, the boys spun and lifted their partner, and some duos crossed the stage and performed a trick, often involving a flip or lift of some sort. One boy flipped his partner and she flew backward and stumbled on her feet, and a fearful gasp escaped the lips of some of the sophomores watching from the audience.
The boys even got their own time to dance and shine without the girls, though they weren't quite as polished as the Majestics. Some glanced at the feet of the other boys on stage in confusion, trying to remember the steps and not get left behind. A few of the sophomores watching giggled at the lost looks in their eyes and their awkward, unsynchronized movements. However, senior Collin Trank wasn't too worried about the boys' lack of dance training.
"It's a little daunting at first but people's attention is on the girls not the guys, so it's okay if we mess up," Collin said.
All the calloused feet, sweat, and long hours the Majestics have put into this show will be presented to the community on April 21, 22, and 23 at 7 p.m. As the team's dance season comes to a close with this performance, many of the girls, including Kreuser, look back on the fond memories and lessons from this year.
"It's been so rewarding being part of a team that supports you," Kreuser said. "I grew so much with my dancing and confidence. [The] show is great this year, [too]. It's so exciting to be apart of it as a Majestic. I love this journey so much."
Leave a Comment
About the Writer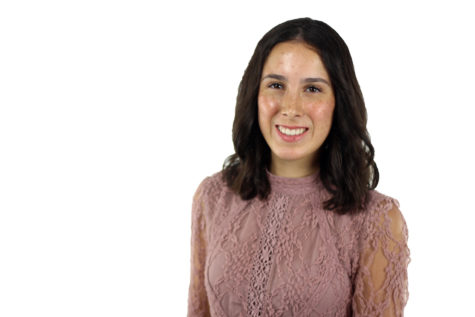 Hannah Ortega, TRL Editor-in-Chief
Senior Hannah Ortega's love for journalism has blossomed from a curious seed, which was planted when she joined the class in the seventh grade, into...