Column: The 'Eras Tour' Experience
TRL's Mia Reaugh shares her experience at Taylor Swift's 'Eras Tour.'
"Hi, my name is Taylor," musical icon Taylor Swift says introducing herself to a crowd of 80,000 people as if they don't know who she is. Even her slightest movement would cause the audience to erupt with applause. People of all ages dressed to the nines to experience the night of their lives. The three hour concert was nothing like I'd seen before and nothing that can be replicated–utter perfection.
I've been a Swiftie for as long as I can remember, her first album coming out the year I was born. One of my first memories is dancing and singing with my mom while 'Our Song' blasted on my CD player. Followed by annoying my family by playing with my singing Taylor Swift doll. With each album, my love for her music grew as I memorized each lyric to every song. My eight year old self jumped with joy when we got tickets to see Taylor in her 1989 World Tour. My sister and I stayed up all night making signs convinced she was going to invite us on stage. Even though Taylor probably did not see our signs from our nosebleed seats, it was an unforgettable experience. In 2018, I had the opportunity to see the Reputation Stadium Tour with some friends and it did not disappoint. So when my parents secured tickets to the 'Eras Tour', I was ecstatic.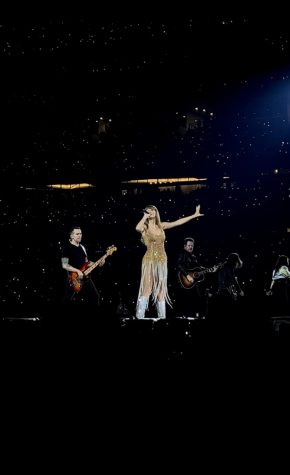 Swift announced the Era's Tour in November of 2022 as a journey through the musical eras of her career. The concert began with a suspenseful slowed version of 'Miss America & the Heartbreak Prince' with Swift emerging from the middle of the stage with a sparkling bodysuit. The whole stage was glowing pink, signifying the 'Lover' era. She followed with 'Cruel Summer', 'The Man', 'You Need to Calm Down', 'Lover', and 'The Archer'. Swift was shimmering on stage with her glamorous costumes and the whole stadium lighting up with Xylobands, light up bracelets, creating a magnificent atmosphere.
Swift disappears into the stage as the Xylobands change color to yellow, signifying the 'Fearless' era. She returns with a beautiful replicated dress from her Fearless Tour. She sang 'Fearless', 'You Belong With Me', and 'Love Story'. I have heard a stadium sing so loud and passionately in my entire life.
Next, Swift moved onto the 'evermore' era which has never been performed before. The whole stage transformed into a forest with Swift sitting atop the 'evermore' section of the house depicting all of her albums. She sang 'willow', 'marjorie', 'champagne problems', and 'tolerate it'. Some of the songs Swift sang alone while others had dancers depicting the story of her song.
Following that was her 'Reputation' era with snakes and black illuminating the stadium when she performed '…Ready For It?', 'Delicate', 'Don't Blame Me', and 'Look What You Made Me Do'. The next era was 'Speak Now' with only one song, 'Enchanted'. Although it was only one song, it was magnificent. Swift emerged from the purple stage with a shimmering golden ball gown that was breathtaking.
And just like that, we were on to the 'Red' era. She strutted the stage with perfect choreography while singing '22', 'We Are Never Ever Getting Back Together', and 'I Knew You Were Trouble'. Then she sang one of the most anticipated songs of the whole concert, 'All Too Well (10 Minute Version)'. The whole stadium was on their feet screaming their hearts out.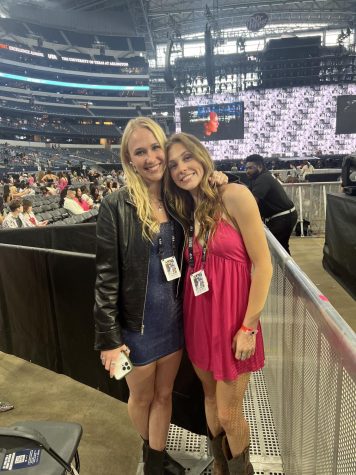 After that, the 'folklore' era took over with 'betty', 'cardigan', 'august', 'the last great american dynasty', and 'my tears ricochet'. I really enjoyed her dancers illuminating the plot of her songs and creating almost a movie. Finally, the '1989' era arrived where she sang 'Style', 'Blank Space', 'Shake It Off', 'Wildest Dreams', and closed it off with an astonishing fire show during 'Bad Blood'.
Following '1989', Swift has a special segment of her show that is unique to every night. She plays two surprise songs from her discography acoustically from her guitar and piano. She played 'Jump Then Fall' from 'Fearless' on her guitar and 'The Lucky One' from 'Red' on the piano. It felt really personable that each night gets something different and exclusive from the other shows.
Finally, Swift performs her latest album 'Midnights' as the closing of her show. Anything sequin and bedazzled you can think of was on stage. Swift pulled out all the stops with synchronized dancing, stage elevation, and her iconic high heeled boots. She played 'Lavender Haze', 'Midnight Rain', 'Vigilante Shit', 'Bejeweled', 'Mastermind', and finished the night off with confetti and 'Karma'.
In all, Taylor Swift played for over three hours with 44 songs. The only word to describe it is extraordinary. I was having trouble standing for that amount of time, while she was singing and dancing without missing a note or beat. I knew the 'Eras Tour' would be spectacular, but my expectations were blown away. This concert became an experience that I will never forget. Taylor Swift is indeed the music industry.
Leave a Comment
About the Contributor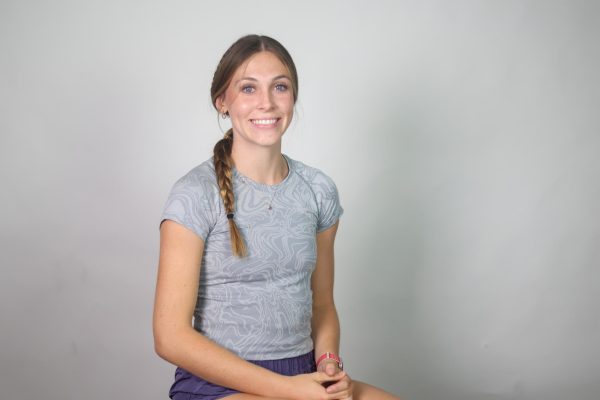 Mia Reaugh, Editor-In-Chief
Going into her junior year of high school and third year on staff, Mia Reaugh is ecstatic to start the year as Editor-In-Chief with her partner in crime,...