Teaching tunes
Junior Carolyn Murad gives ukulele lessons, works at music shop
The joyful, high-pitched note of a ukulele cut through the air as junior Carolyn Murad's fingers plucked the instrument's strings.
The lighthearted tone sounded foreign to Murad as it resonated through the room- she was so used to the deeper, richer sound of her guitar. The instrument's small frame felt wrong in her hands, too, and though the chords on the tropical ukulele looked the same as the chords on a rustic guitar, they actually couldn't have been more different.
However, after playing the ukulele for about eight months now, the instrument's sound is music to Murad's ears, and she has the opportunity to share her knowledge of the ukulele with others.
Murad teaches ukulele lessons to people of all ages at the Texas Music Lab in Plano. She started taking guitar lessons there in sixth grade, and she started working at the shop around this time last year.
"I work at this music shop in Plano and the person who taught ukulele was going to college and so they were like, 'Carolyn, you should learn the ukulele and teach it,'" Murad said. "I learned it in like two months. It was really similar to the guitar. I just think it's really fun and it's really stress relieving. Whenever I get stressed out with school or something I just play it."
Murad's one-on-one lessons usually take place on Thursdays and Saturdays, and she said she "doesn't really teach anyone in Lovejoy. It's mostly just Plano kids and people who know about the shop." Murad begins her lessons with new students by teaching the basics.
"At the beginning we usually do simple picking patterns and the basic chords like C and G and F just so they get used to it and the fretting and stuff," Murad said. "It's just different for each kid."
Seeing students enjoy learning and playing the ukulele is Murad's favorite part of the job.
"
I think it's really fun to see […] how happy they are when they play it and how they enjoy it so much"
— Carolyn Murad
"I think it's really fun to see when they learn something new and something they want to learn and you find it for them and teach it to them; just how happy they are when they play it and how they enjoy it so much," Murad said.
Murad's boss, Jack Buras, has seen firsthand how she connects with her students and how much she cares for each and every one of them.
"[She's] a real genuine kind of person, and all the folks she interacted with here really thought the world of her," Buras said. "She teaches several adults, and they love her to death. She teaches a lot of kids, too. The little kids follow her like a duck around the store. They really do like her, and she takes the time to make them feel real good about their lessons and what they're doing."
Students are not the only people who learn during Murad's ukulele lessons. Murad herself said she has learned valuable life skills through teaching.
"[I've learned] how to communicate because at first I was trying to teach them a G chord and I was like 'Oh, it's just like this' and they were like, 'Well, how do I do it?'" Murad said. "I was like, 'Oh, I guess I should show you how to do it,' because I already knew from guitar [and] it transfers over so it's like a D, but I couldn't say that because they didn't have the experience of the guitar. I had to show them how to do it and break it down."
While Murad enjoys being an instructor, it was an intimidating task at first because of her short time playing the ukulele.
"I took the students from the other teacher and they already knew [how to play] mostly and I was kind of scared that they would know more than me since I just learned it," Murad said. "But you definitely develop more skills, and you can transfer stuff from the guitar to the ukulele really easily."
Along with giving ukulele lessons, Murad runs the Texas Music Lab on Saturdays, and Buras has watched her grow through this task.
"I got Carolyn to [run the store] a couple of times just to help and she did so well with it eventually she worked into a deal where she kind of runs the store," Buras said. "She's kind of the top dog. The first time she had to greet somebody at the door and say, 'Hi, can I help you?'- it's a whole different deal. Carolyn was not real outgoing when we met her, but doing this has kind of made her that way. You'd be real surprised if you saw her before and after. She handles herself great when she's here at the store on the floor."
When it came to running the store, Murad's age and how people would view her based on her age was a concern. But, Buras said, it's skill that matters, not age.
"
The minute she plays something it doesn't matter if she's old or young or tall or short- nothing matters. "
— Jack Buras
"When she first started, she was telling me she was real concerned about just waiting on somebody in the store and I said, 'Well, don't just hand them the guitar- play a little something before you hand it to them and you won't be a kid anymore, you'll just be a guitar player,'" Buras said. "That's really how it works. The minute she plays something it doesn't matter if she's old or young or tall or short- nothing matters. It's just whether or not you're a guitar player or not, and she gets that. She never misses the opportunity to tune something and hand it to somebody when they're looking at it, and they do look at her differently. She's a musician all of a sudden, she's not just some kid who [has] a job like at Kentucky Fried Chicken."
Murad, Buras said, has made a great impact on the Texas Music Lab, and he wants to keep her around for as long as possible.
"[Hiring her was] one of the better decisions I've made," Buras said. It's really hard to do that with somebody her age, but I don't regret it at all. We're real proud and I hope she stays. I've been teasing her about [how] I'm really going to sabotage anything she does about leaving here. She needs to stay and go to college close enough [so] she can still teach for us."
View Comments (2)
About the Contributor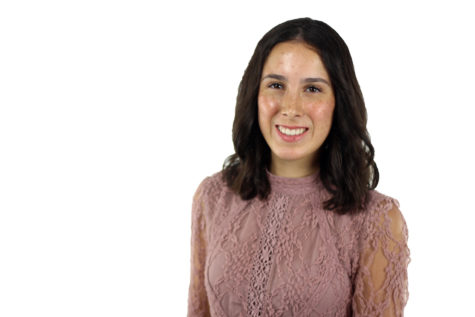 Hannah Ortega, TRL Editor-in-Chief
Senior Hannah Ortega's love for journalism has blossomed from a curious seed, which was planted when she joined the class in the seventh grade, into...