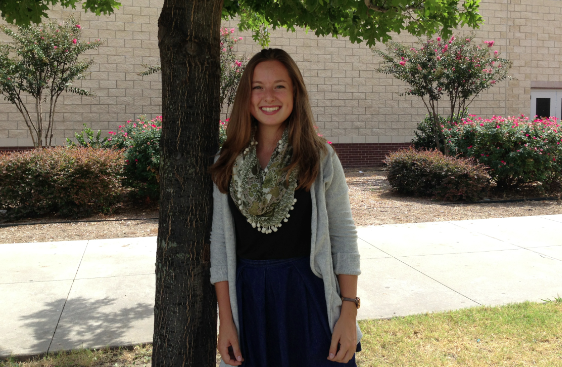 How much does a polar bear weigh? Enough to break the ice. Welcome to my Bio.
No I am not a Freshman, Glad we got that out of the way.
Because God died for me, Everyday I choose to live for him
Hobbies include: eating, procrastinating, thinking I can play soccer, talking about my hometown Asheville, North Carolina (aka the best place on earth), and attempting to make clothes.
No, but really Asheville is the best place on earth.
If you haven't already, go search Asheville, NC.
Can I say I told ya so? I told ya so.
Warning: can be slightly sassy, and sarcastic on occasion.
Since this assignment is due in about 5 minutes I shall end this with a masterpiece of humor:
Did you know that Napoleon had a long lost brother?
I guess they were Bornaparte.
Ok one more…
My Boyfriend broke up with me because he said I quoted Linkin Park to much,
but in the end it doesn't even matter,
another for good measure?
I have a fear of speed bumps
but I am slowly getting over it.
last one promise,
What did the buffalo say to his son when he left for college?
Bison.
haha sike
Why do robbers not get puns?
because they take things literally.
Oh ya and I guess I take a photo here and there for the red ledger.
Morgan Hykin, Photographer
Sep 23, 2015

Homecoming activities day schedule set

(Media)

May 13, 2015

Technology issues force rescheduling of AP French exam

(Media)

Feb 06, 2015

UIL Solo and Ensemble compete

(Media)

Dec 25, 2014

Christmas lights light up holiday nights

(Story)

Dec 08, 2014

The season stops for seniors

(Media)

Nov 12, 2014

Orchestra students succeed at All Region

(Media)

Nov 06, 2014

Choir set to sing age-old requiem

(Media)

Oct 30, 2014

Take three: volleyball competes for playoff seed

(Media)

Oct 28, 2014

"Final" district game for volleyball

(Media)

Oct 24, 2014

Volleyball faces Prosper for district championship

(Media)

Oct 17, 2014

Pink Out Pep Rally

(Story)

Oct 16, 2014

Volleyball team served by youth

(Media)

Oct 15, 2014

Freshman year a big part of college applications

(Media)

Oct 13, 2014

School named one of the best in the South and in the nation

(Media)

Oct 09, 2014

District garners financial awards

(Media)

Oct 07, 2014

Photo Essay: Texas State Fair

(Story/Media)

Oct 03, 2014

Homecoming pep rally prepares students for game

(Media)

Oct 02, 2014

Basketball gets early start to season

(Media)

Sep 30, 2014

Tennis team looks towards postseason

(Media)

Sep 19, 2014

Art gets new kiln

(Media)

Sep 11, 2014

A Capella becomes a class period

(Media)

Sep 10, 2014

Student studies at Berklee College of Music

(Media)

Aug 26, 2014

Students endorse House Bill 5

(Media)

Jun 11, 2014

Artist spotlight part four: Veridia

(Media)

Jun 09, 2014

Summer spent studying

(Media)

Jun 04, 2014

Artist spotlight part three: Ume

(Media)

May 30, 2014

Photo Essay: Class of 2014 Senior Walk

(Story/Media)

May 23, 2014

AP Calculus students dabble in art

(Media)

May 22, 2014

The benefit of electric cars

(Media)

May 22, 2014

Multimedia package: choir goes mad for 'Madness'

(Story)

May 19, 2014

Swim team to get new pool

(Media)

May 15, 2014

Photo essay: Suburbia music festival 2014

(Story)

May 14, 2014

Choir goes mad for pop songs

(Media)

May 06, 2014

Photo essay: Jazz Band concert

(Story/Media)

May 06, 2014

Festival rocks suburban Dallas

(Media)

Apr 29, 2014

Photo essay: Baseball falls to Wylie East Raiders

(Story)

Apr 24, 2014

A time to shine for special olympians

(Media)

Apr 23, 2014

Orchestra students head to Houston

(Media)

Apr 22, 2014

Major sports supplier moving to Allen

(Media)

Apr 22, 2014

A helping Haines in Ukraine

(Media)

Apr 17, 2014

Seven seniors sign to play college sports

(Story/Media)

Apr 16, 2014

Senior rank freezes to prepare for graduation

(Media)

Apr 14, 2014

Mock exams mimic tests

(Media)

Apr 11, 2014

Black Light Pep Rally

(Media)

Apr 04, 2014

Theatre's little known nooks

(Media)

Apr 03, 2014

GO Mad Color Festival

(Story)

Apr 01, 2014

Academic teams win district championship

(Media)

Mar 27, 2014

Club forms to bring kindness to campus

(Media)

Mar 26, 2014

PALS open to applicants

(Media)

Mar 25, 2014

OAP travels to zone competition

(Media)

Mar 12, 2014

Alterations made to One Act Play

(Media)

Mar 10, 2014

New store changes local scenery

(Media)

Feb 27, 2014

Small in size, big in heart

(Media)

Feb 26, 2014

A long distance to run

(Media)

Feb 19, 2014

Disappearing plots make way for parking lots

(Media)

Feb 17, 2014

Home vs. school lunches

(Media)

Feb 13, 2014

The basket that won't be forgotten

(Media)

Feb 10, 2014

New neighborhood to bring more students to the district

(Media)

Feb 10, 2014

Seniors to participate in annual lip dub

(Media)

Feb 06, 2014

Snow storm leads to early release

(Media)

Feb 05, 2014

French club goes abroad

(Media)

Feb 05, 2014

Seniors sign scholarships

(Media)

Feb 04, 2014

A purple promotion

(Media)

Jan 30, 2014

Last chance for yearbooks

(Media)

Jan 24, 2014

Leftover mess leaves library off-limits

(Media)

Jan 22, 2014

Boys lose out on chance for first place

(Story)

Jan 13, 2014

Parents get a glimpse of the college process

(Media)

Jan 08, 2014

Schedule changes create chaos for counselors

(Media)

Jan 08, 2014

Filling the slots for semester classes

(Media)

Dec 11, 2012

Lady Leopards sink Pirates

(Media)