Volleyball team served by youth
Varsity roster features seven sophomores and just three seniors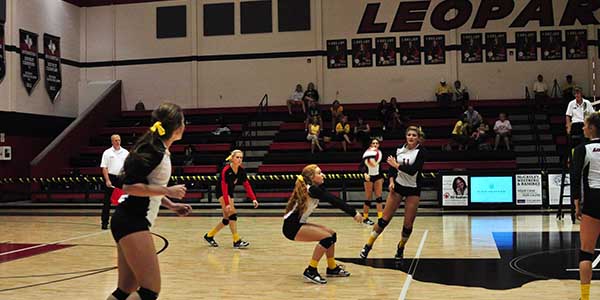 Sometimes in sports, youth take a toll on a team. However, that's not the case for the 2014 Leopard volleyball team, currently 8-0 in district play. With a roster of 15 players, the Leopards have only three seniors on the team.
"I think that the youth is sometimes a bit of an issue," head volleyball coach Jason Nicholson said. "Sometimes we are a little up and down. Sometimes we don't have a lot of consistency because we're young, so sometimes we get a little error prone because of the lack of experience from a skill standpoint and a volleyball standpoint"
However, the youth of the team does bring something positive.
"
We play a bigger role on the team and I think that will help us in the future years."
— sophomore Lexie Smith
"They bring a lot of energy," Nicholson said. "A lot of positive influence as far as what they are doing and excitement to what they're doing too."
The players that have varsity experience try their best to be leaders for the younger players.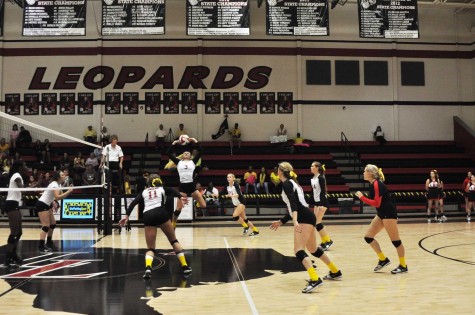 "I really like being a role model to my younger friends," junior Jordan Fate said. "That is one of the most important things to me; setting a good example for them. Being older on the team this year and filling the captain position, I'm a lot more vocal. I've really stepped up this year to try to get them comfortable and smarter with the game."
Even though some of the leadership is coming from juniors with varsity experience, seniors are important to a team with so much youth.
"[Senior leadership] comes on the court and off the court as far as training and those type of things," Nicholson said. "With me being new to the program as far as getting everything established and the traditions that are here, I think it's important for that senior group to really teach the younger kids what's expected of them."
Featuring just three seniors on the team, they feel the need to take it upon themselves to set the standard for the underclassmen.

Loading ...
"I think that it is so very important that we lead on and off the court," senior Emmaline Stockton said. "They are the future of this program and will carry this team on their backs. Displaying the qualities about what it means to be a Lovejoy volleyball player is so important and I can't wait to see this program flourish and see what God has in store for these amazing girls. So why not us seniors try to build the foundation for these girls."
With only a few games left in the regular season, players that are new to varsity have had time to adjust to the game and even step up as leaders of the team.
"Callie Holden, she's only a sophomore, but this is her second year on varsity so she's as far as varsity experience she's not really a sophomore since she got to do it as a freshman last year," Nicholson said. "Bailey Downing has been huge for us in the middle. She's had some games that were tremendous in helping us push through and making sure we're doing what we do. We have two defensive specialist's in Lexie Smith and Morgan Seidl that have done a very good job for us as well."
Although the team is young, all the sophomores on the team made building chemistry easier.
"I like having such a young team because we all already know each other so well with having half of the team sophomores," sophomore Lexie Smith said. "It has helped the team chemistry a lot and because we don't have many seniors we play a bigger role on the team and I think that will help us in the future years."
Leave a Comment
About the Contributors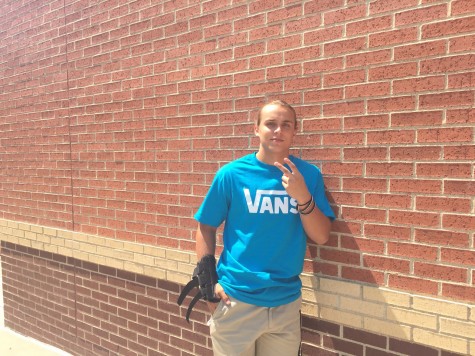 Kevin Davis, Sports Editor
Kevin Davis is returning for his fifth year is the newspaper program in middle school, and is a senior this year. He is also the sports editor of The Red...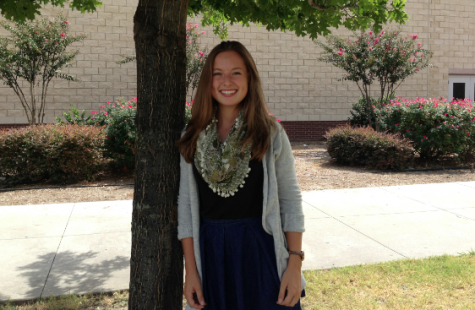 Morgan Hykin, Photographer
How much does a polar bear weigh? Enough to break the ice. Welcome to my Bio.

No I am not a Freshman, Glad we got that out of the way.

Because God...