Take three: volleyball competes for playoff seed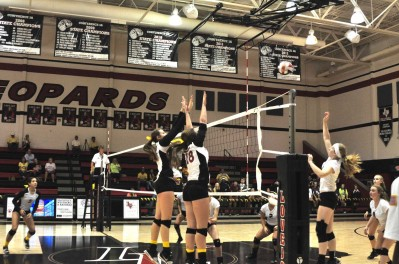 With its 3-0 win over Sherman Tuesday night the volleyball team has assured itself a share of the District 10-5A championship. But in order to get the top playoff seed, the Leopards must win a noon showdown against Prosper on Saturday at McKinney High School. The winner gets the #1 seed and the loser the #2 seed in District 10–5A.
The volleyball team won its home district match against Prosper, but lost at Prosper 3-0. This split, along with the Leopards and Prosper each winning all of their other district matches led to a tie for the top District 10-5A seed for the playoffs.
"The last time we played Prosper, they came ready to play, and it caught us off guard," senior Hannah Field said. "We weren't 100 percent healthy either which was hard to overcome. Now, we know what to expect. We are really preparing in practice, so we will be ready to go on Saturday."