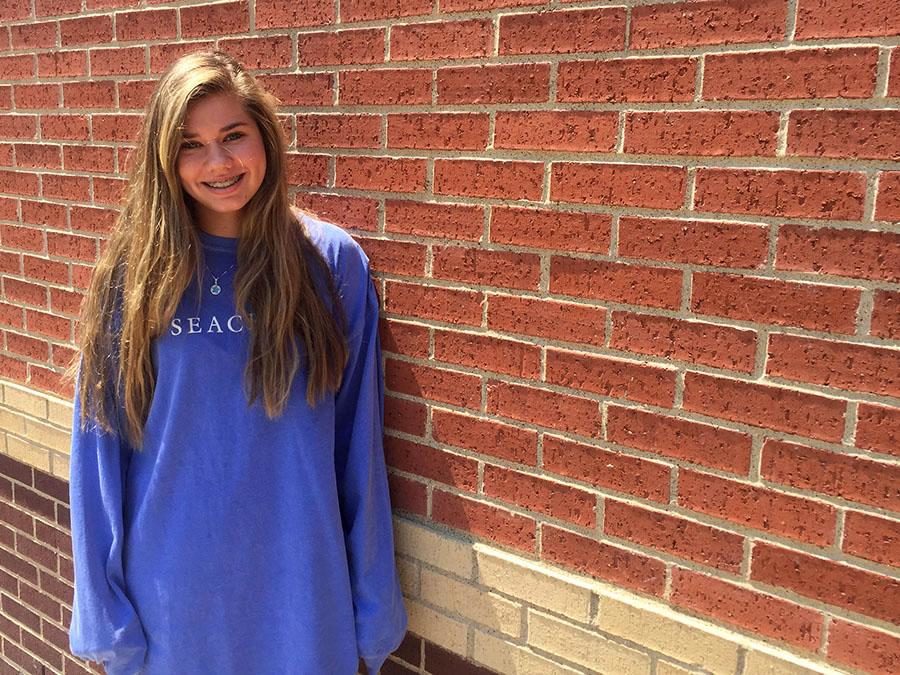 Gracie Sutherland isn't a typical 14-year-old freshman.Yes, she enjoys the basic netflix, sleeping, and her phone, but that isn't it in her hectic life. You will rarely see Gracie off the volleyball court of her without her headphones in. She is always doing something in her chaotic life.
The main reason Gracie joined the Red Ledger is because her love for writing. In seventh grade, she signed up for newspaper thinking it was just going to be another class she would dread going to, but instead it was the opposite. She took a quick liking to writing. Gracie enjoys knowing what's going around in the world and informing others about it through her writing.
Gracie has a 17-year-old brother named Chase who couldn't be more different than her. Her dog, not so much, they get along pretty well. Most of Gracie's free time at home is spent with him, him being Oscar, Oscar being the dog, but technically he isn't considered a dog just another family member. The only problem is that Gracie rarely has free time at her house to bond with her adopted brother, her adopted brother being the dog.
Other than her love for music, volleyball, guitar, reading, and writing, Gracie isn't too exciting. She's looking forward to being a freshman at Lovejoy High School and hoping to have a great year.
Gracie Sutherland, Staff Reporter
May 27, 2016

Stacy Road construction expected to last 2 years

(Story)

May 12, 2016

'Game of Life' pop show to open tonight

(Story)

May 09, 2016

AP art to be showcased at Village of Fairview

(Story)

May 06, 2016

Tenth annual Lovejoy Country Run to be held May 7

(Story)

Apr 26, 2016

Multiple early signees from state recognized volleyball program

(Story)

Mar 21, 2016

Groth to take on new opportunity

(Story)

Mar 08, 2016

Reeling in awards

(Story)

Feb 10, 2016
Jan 21, 2016

Bringing 'Light to this world'

(Story)

Dec 11, 2015

Band to perform at Heritage Ranch

(Story)

Nov 18, 2015

Fowl subject matter

(Story)

Nov 09, 2015

Sign policy brought into new light

(Story)

Oct 28, 2015

The tradition continues

(Story)

Oct 20, 2015

Students to recycle reading material

(Story)

Oct 05, 2015

Willow Springs adds FCA for student-athletes

(Story)

Sep 21, 2015

McDonald writes a new chapter in school library

(Story)