Multiple early signees from state recognized volleyball program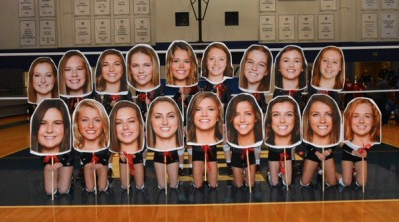 With six state championships and a trip to the state finals this past season, it's not uncommon for members of the varsity volleyball team to receive attention from college programs. Recently three juniors, Callie Holden, Lexie Smith and Bailey Downing and one sophomore, Shanel Bramschreiber, have made verbal commitments to continue their athletic careers in college.
Bramschreiber enrolled here after the winter break, but played in the fall for Plano Senior.
"I've always known since I was little that I wanted to continue playing volleyball in college, so I was very excited when I got an offer from Baylor," Bramschreiber said. "I was verbally offered a scholarship after the Baylor volleyball camp in summer of 2015, and I accepted it after a few weeks."
Holden, an outside hitter, will be attending Texas State University.
"I've worked so hard and with working this hard it would go to waste to not play in college, it would just be unethical," Holden said." I got the offer a couple months ago and took me two months to figure out I wanted to go there when narrowing down choices."
Downing will attend Utah State University.
"I was offered [my scholarship] in February when my club team went to Salt Lake City for a tournament," Downing said. "It took me about two months to decide because it is such a huge decision and I wanted to make sure I was picking the right school for me. I have always wanted to play in college and not only because it would pay for my educations, but because I enjoy playing it and being a part of the team."
Smith will be attending the University of Illinois.
"I decided to start playing in college because I love being on a team and playing volleyball," Smith said. "I chose to go to Illinois because I'm from there and all my cousins, aunts, uncles, and siblings live there, so I want to be close to them.