Best in Texas: Sweet tea
Editor's Note: Best in Texas is a review series that showcases local shops, drinks and food to determine which is the best in the area. TRL's Eleanor Koehn continues the series by reviewing four restaurants that sell sweet tea.
Sweet tea, a southern classic, is black tea combined with a simple syrup or just plain sugar. While the recipe sounds simple enough, many restaurants make their sweet teas in different ways. Some may add sugar while the water boils, others may take it through a rigorous cool-down process before adding the ingredients. Some have hints of orange, lemon or their own proprietary blend of tea flavors. Whatever the case may be, I have decided to review four different variations of sweet tea and ultimately decided which was the best in Texas. 
Chicken Express:
The first place I decided to try was Chicken Express. Chicken Express sells their tea by the gallon or by the cup, which is a good indicator that their tea is made in-house. When I was given the cup of tea, I was surprised at how sweet it was. I am a big fan of sweet tea, but the kind I was given at Chicken Express tasted like liquid sugar. I could hardly taste the tea and was overwhelmed by the absence of any other flavors. While Chicken Express is not my cup of tea, if you enjoy sweet flavors, then this restaurant has the perfect drink for you.  
Chick-Fil-A:
The next restaurant I stopped at was Chick-Fil-A. When I think of sweet tea, I usually think of Chick-Fil-A's blend. The tea is consistent every time I visit, in flavor and in color. The tea is made with real sugar and real lemon and has a nice refreshing taste. Chick-Fil-A's ice tea is a perfect combination with their lemonade which is also made in-house. The two combined together make a delicious Arnold Palmer, or what Chick-Fil-A likes to call it —Sunjoy. 
Raising Cane's:
Next up on my sweet tea review is Raising Cane's. Raising Cane's is similar to the two previous restaurants because they all sell gallons of their sweet tea. When I received the Cane's sweet tea, I was surprised at the balance between the flavors. Although it was sweet, there were also hints of lemon and other tea flavors. Compared to the Chick-Fil-A tea, I preferred the Cane's drink. It was less sweet than the other two, which made it more refreshing. 
Cream and Sugar:
Cream and Sugar was the last stop on my tea tour. Cream and Sugar is an outlier from all the others I have reviewed as it doesn't sell fried chicken and fries. When I ordered the sweet tea, I was excited to try it out. Cream and Sugar is an upscale shop compared to the other three restaurants, so I hoped the quality of the ingredients was better. But when I tried it, I was disappointed to find out that the quality of the Cream and Sugar sweet tea was around the same as the other three teas. I would take off points because of their price, and the fact that you can't purchase gallons of ice tea in bulk. 
---
After this lengthy review, you are probably asking me to spill the tea. After reviewing four fine establishments that all happen to begin with C's, and three that sell chicken, I have concluded that the winner of the Best in Texas award for sweet tea goes to Raising Cane's. Raising Cane's is the least sweet option on the list, yet it combines so many delicious tea flavors. The others are either too sweet or too expensive to be considered for the prestigious award of Best in Texas. That being said, if you are a fan of an overpowering amount of sugar in a drink, I would recommend Chicken Express.
Leave a Comment
About the Writer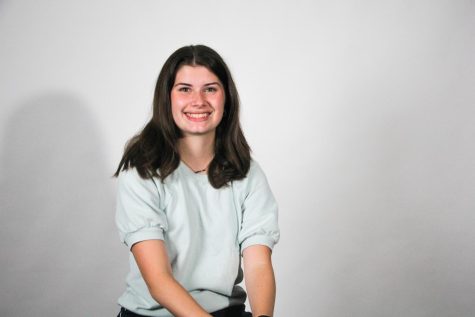 Eleanor Koehn, Section Editor
Although Eleanor Koehn is a senior, this is only her second year on staff and her first as Arts and Entertainment Editor. When she is not reviewing and/or...