Robotics heading towards 2022 World Championship
Robotics will attend the 2022 VEX Robotics World Championship presented by Northrop Grumman Foundation on May 5-11. There are 810 teams representing 22 different countries gathering in Dallas, both online and in-person for competitions ranging from the elementary to university level. 
"Every team is competing in the same competition; it's 2v2, so they'll do a number of matches before they get to the eliminations," robotics instructor Josh Strickland said. "If they're good enough to get to the elimination, eventually the last one standing will win the World's Championship."
The competition unites students from around the world to test their technical abilities and workforce skills. The 2022 themed element is titled "tipping point" and is played on a tilting 12'x12′ field. Matches consist of a 15 second autonomous period followed by a 1:45 second driver-controlled period. The goal of the game is to gain a higher score than the opposing team. 
"The elements in the game change every year for the challenge," Strickland said. "The element is really hyped up and is usually this big unveiling and they typically live stream it across for all to see".
The object of the competition is to gather rings on the goals using the programmed robot and stack the goals on their platform all while the field tilts. Hannah Schnurr is a freshman competing on the varsity team composed of all seniors. 
"My reaction to the theme 'tipping point' was just that it looked hard," Schnurr said. "It was a lot more complicated than last year, which makes the game more fun because there's so much you can do with it." 
After a match in competitions, students have the choice to go on a skills run. This consists of a singular robot, instead of a 2v2 match, in an attempt to achieve as many points as possible for their team through driving and programming. 
"Skills runs are kind of like trying to reach your personal record, " Strickland said. "I had a few teams qualify through skills, and one team qualified by winning the Excellence award, which is the highest level of award at the state tournament."
Tracy Chen and David Carias compete in team 1082K, which consists of nine people, while most other teams consist of seven. 
"My team qualified through state, which means we won an award that qualified us to state, then at state we won an award that qualified us to worlds," Carias said.
Every team gets interviewed during the event and judges look for a quality team and program as well as team dynamics. Teams can earn the Excellence Award and design awards as the highest level of achievement. 
"We have a really big team, so project management and communication is a little more difficult, but we use discord and all that to communicate and talk to each other," Chen said. "Usually we section off tasks to each period so it's more organized."
On competition day, teams will set up in what's called the pit, typically a cafeteria or gym with clusters of tables, and each team gets one table to set up. Their table will have all tools and computers available to them, and after each match, teams will return to the pit to work on their robots. They will compete in a match for about 10 to 15 minutes, return to the pit and compete in Skills runs between matches throughout the day until the elimination round. 
"This is our year of breaking records," Strickland said. "Previously, we had two as the number of teams that qualified for Worlds. This year we have six, so we just blew that record off the handle."
Robotics attends a range of 10-15 tournaments per year. The Vex world championship will mark the end of their season. 
"Speaking on behalf of my most senior teams, their goal would be to win the World Excellence Award or World Design Award, which is the highest level of award, or just simply make it to the final elimination round," Stickland said. "They get interviews after each event, so it's not just build a robot and go win, you have to have a great all-around team."
The teams will be separated into eight divisions with about 100 teams in each. 
"We win together, we lose together and we're just one big robotics family," Strickland said. "I will sometimes get here as early as 2 or 3 a.m. [on competition days] to open the lab up because if students could live here they would. They are that amazing. Every team and every student is composed of the hardest workers I've ever known and I'm so proud of them all."
Leave a Comment
About the Writer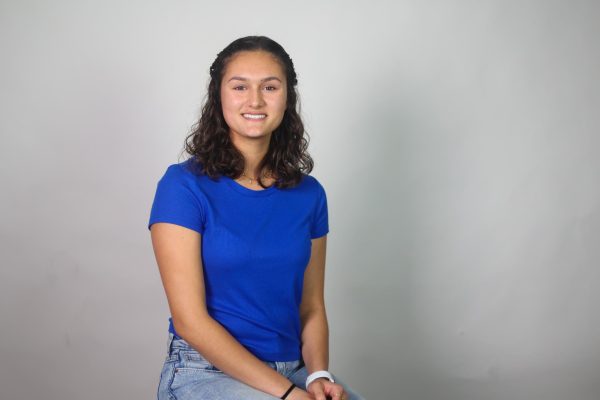 Marisa Green, Section Editor
Entering her third year writing for TRL, junior Marisa Green is excited to get back into the newsroom. Outside of TRL, Green spends most of her time in...