Review: Fairly Farmers
A new family-owned restaurant has opened on Stacy Road. Fairview Farmers is a breakfast and lunch spot in town, and specializes in both classic American dishes and healthier options. They are currently in a "soft launch," meaning they are still working out flaws within their services and aiming to train employees about how to run the restaurant smoothly. 
I decided to go to Fairview Farmers early in the morning, as I had heard mornings on the weekend have been incredibly busy. We entered the restaurant around 8:30 a.m. and were immediately seated. The restaurant is decked out with decorative items and large windows, creating a wonderful morning atmosphere. They have a large patio for additional seating, however no one was sitting there when we arrived. Fairview Farmers also has a bar for juices and beverages. 
From where I was sitting, I could see right through the bar seating to the kitchen. Fairview Farmers has an abundance of servers working, including the family who owns the restaurant. With such a large employee population, it could feel hectic and claustrophobic at times, but I believe that the number of employees may lessen as time goes on.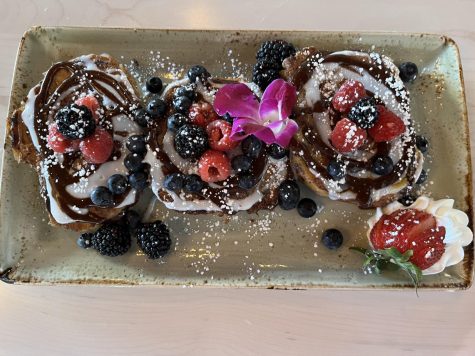 Their breakfast menu is quite extensive and has a large array of items. They have skillets which are scrambled eggs, potatoes and toppings of your choice. Another menu item that stood out to me was "Brunch Shareables" which are appetizers that can feed multiple people. The menu also includes unique pancake and waffle options such as "S'moreo Pancakes," "Cannoli Pancakes," and "Belgian Pecan Cream Pie Waffles."
After minutes of perusing the menu, I decided on the "Cinnamon Roll French Toast." My mother was with me and ordered the "Farmers Breakfast." The food came out at a relatively quick pace. The dishes were decorated with edible purple flowers, and my french toast was topped with fresh raspberries and blueberries. My "Cinnamon Roll French Toast" was perfectly named, as it is literally cinnamon rolls cooked over with a swirl of cinnamon sauce. They were delicious yet incredibly sweet. I couldn't finish more than one piece. My mother's meal was more basic. It was two eggs, turkey bacon, rosemary potatoes and a biscuit. While my mom's breakfast was something you could probably order at another restaurant, my order was unique and definitely difficult to find at an average breakfast spot. 
The prices at Fairview Farmers are a little on the higher side. My french toast came out to be $15, while my mom's rang up at $13. Even though the meals are more pricey than other breakfast spots, I believe the quantity of food you get makes up for the price increase. My french toast was a huge portion of food that could have fed three people. They also use organic, farm-to-table ingredients to cook their food, which could also explain their prices. 
Overall, I would recommend trying Fairview Farmers at least once. I would encourage you to arrive there early, at first, because as my mom and I exited the building, there was a line formed outside of the entrance. 
Rating: 8/10
View Comments (1)
About the Contributor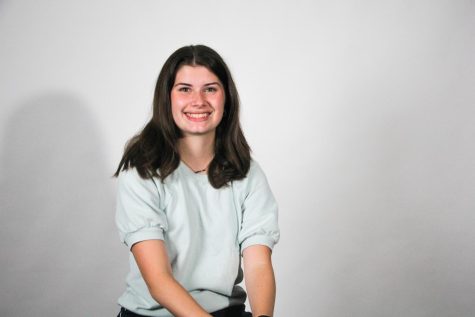 Eleanor Koehn, Section Editor
Although Eleanor Koehn is a senior, this is only her second year on staff and her first as Arts and Entertainment Editor. When she is not reviewing and/or...