Review: Salads on Stacy
TRL's Eleanor Koehn reviews new salad chain on Stacy Rd
Salad and Go is a relatively new chain in the DFW area. They recently opened a location on Stacy Road, a prime spot for Lovejoy students looking for a quick bite to eat. Salad and Go advertise their food as cheap, fast and fresh, which is a seemingly impossible combination. I decided to try out the new restaurant and see if it is worth the hype it's received on social media. 
Salad and Go is a completely contactless system. Without indoor seating, Salad and Go operates solely on drive-thrus. They have three drive-thrus which customers can pick from. Two of them are the classic ordering system; customers drive-in, order and then wait to receive their food. The last one is only accessible through the Salad and Go app. Customers can order in the app, pull through the pickup lane and grab their food in a quicker time. 
When I went to Salad and Go, I went through the classic drive-thru lane to experience how long the wait was. They have nine salads on their menu that can be updated for a wrap at no additional cost. The salads ring up at $5.74, which I think is a cheap price for the quantity and quality of the food. I decided on the buffalo chicken salad, my mom ordered the Thai salad and my sister got a cobb wrap.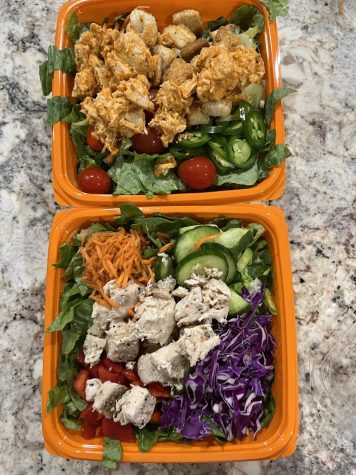 The wait was short; it only took around 5 minutes for our entire order. My sister and I also added on two frozen strawberry lemonades for only a dollar each. When we got our food, we headed home to try out the salads. The salads are topped with a variety of colorful and fresh ingredients. My buffalo chicken salad had buffalo chicken, carrots, celery, tomatoes, croutons and of course, lettuce. The containers were quite large, far bigger than salads you can get at other places. 
When I tried the salad, I was shocked at the freshness of the ingredients. It can be hard to make an entire salad without a single rotten vegetable or dirty piece of lettuce, but Salad and Go accomplished exactly that. They make the salads so large that I can usually save half for another meal. The frozen strawberry lemonade was also delicious. I loved how it didn't taste artificial, but natural and refreshing. I would recommend this drink for the summertime. I have also had their seasonal Sangria lemonade. It was also delicious and had a slight hint of mint. 
Also on the Salad and Go menu are a variety of breakfast burritos exclusively served 6:30-10:30 a.m. on Monday through Friday and 7 to 11 a.m. on weekends. Although I never got the chance to try their breakfast options, I have heard that they are made with the same quality ingredients and are just as large as the wrap. You can top a breakfast burrito with a customized cold brew. 
Salad and Go is becoming a staple chain restaurant for many students if you haven't tried it yet, I would definitely recommend it. The popularity surrounding this restaurant is not without reason. Anything you order is going to be served fresh, fast and cheap. I would rate Salad and Go a 10/10 as I have no complaints regarding them. 
Leave a Comment
About the Contributor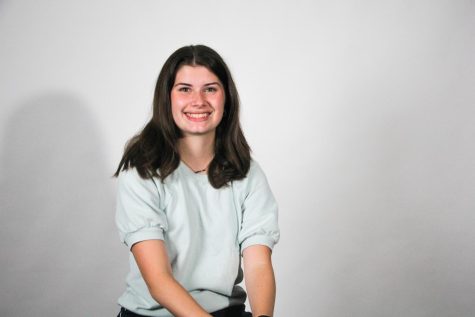 Eleanor Koehn, Section Editor
Although Eleanor Koehn is a senior, this is only her second year on staff and her first as Arts and Entertainment Editor. When she is not reviewing and/or...