Best in Texas: Soup
Editor's Note: Best in Texas is a review series that showcases local shops, drinks and food to determine which is the best in the area. TRL's Eleanor Kohen continues the series by reviewing soups at four different cafes.
Soup: who can live without it? Whether you are feeling cold or simply have one, soup can be there to warm you up. A soup's simple broth mixed with toppings ranging from chicken, beef and a variety of vegetables. A spicier tortilla soup, a mild chicken noodle or a classic tomato soup; the choice is yours. All I know is that it can be difficult to pick out which restaurant serves the best soup. In a 10 mile radius from Lucas, there is an abundance of soup-serving restaurants. Which is the best (in Texas)? Which is the worst? I have tried out four different cafes and after thorough tasting and reviewing, I have decided which deserves the Best in Texas Soup award. 
The first restaurant on my list was Panera Bread. When I think of Panera, I usually think of sandwiches and bread, not soup. After scanning the menu, I realized my notions about the restaurant were incorrect, and in fact, there is a plethora of various soups to choose from. I decided on the homestyle chicken noodle soup. The wait was fast, under five minutes. The soup came out piping hot, just the right temperature when you are trying to warm up in this cold March weather. The noodles and chicken were cooked to perfection. My only complaint is that the chicken broth was quite basic and I prefer it with more pepper. 
The next restaurant I tried out was Paradise Bakery. I also had the chicken noodle soup at Paradise Bakery in order to keep my soup judgements consistent. The Paradise soup also took relatively the same amount of time to come out. However, the flavors of the soup of Paradise were overall better than Panera's. The noodles tasted more homemade, unlike the noodles from Panera that were presumably out of a box. The broth also had more flavor which added to the whole soup experience. 
I was getting tired of the chicken noodle soups, and so at my next stop I decided to switch it up. La Madeleine's had a new spicy tomato and kale soup which sounded enticing. Since La Madeleine's is more of a sit down establishment compared to the other two, my order took a little bit longer. However when it came out, I knew it was going to be a hit. The soup has the perfect proportion of tomato and kale to the hint of spice that is carried throughout. I am a big fan of spicy foods, and this soup definitely hit the mark.
The last stop of my DFW soup tour was Zoe's Kitchen. Again, Zoe's Kitchen is not necessarily known for their soups. Most people that walk through the doors are there for their Mediterranean salads or roll ups. I ordered the classic tomato bisque. The soup also had hints of garlic and onion which added variety to the dish. My favorite part was the pita it came with, which shows their Mediterranean inspiration. Overall, I enjoyed this tomato soup and would recommend it. 
While all these soups were great in their own way, I have to address the obvious: no matter where you get your soups from, the quality, taste and time it takes to make is going to stay the same. Soup isn't some revolutionary new dish which can only be specialized through an extensive process and careful selection of gourmet ingredients. Most restaurants probably use a can or boxed soup and heat it up. If you have the time, making a homemade soup is by far the best (in Texas) option. However, if you don't have the time, the best soup in Texas is by far La Madeleine's soup. I loved how it balanced spice with the sweetness of tomato and bitterness of the kale.  I would recommend this soup to anybody who loves spice or soup. 
Leave a Comment
About the Writer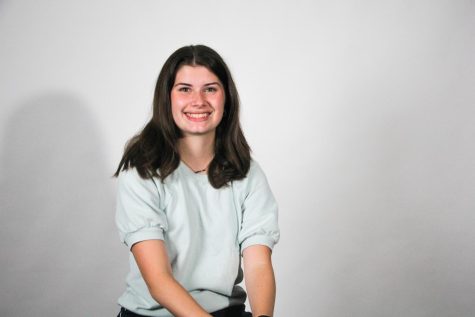 Eleanor Koehn, Section Editor
Although Eleanor Koehn is a senior, this is only her second year on staff and her first as Arts and Entertainment Editor. When she is not reviewing and/or...