Best in Texas: Pretzels
Editor's Note: Best in Texas is a review series that showcases local shops, drinks and food to determine which is the best in the area. TRL's Sarah Hibberd continues the series by reviewing two pretzel shops. 
Ah, pretzels. The twisted delicacy originated in Germany and made its way to the U.S. in the late 18th century, building the American pretzel empire. Before we jump into the ultimate Auntie Anne's versus Wetzel's Pretzels showdown, a brief history lesson. 
Most of us know Auntie Anne's as a classic, and they would be right. Auntie Anne's made its mark on America in 1988 and is the largest pretzel franchise in the country. Wetzel's was founded in California in 1994 and exploded when it gained a location in Disneyland. Both shops hold a place as one of the top five pretzel industries in the country, and Auntie Anne's seems to reign as number one with Wetzel's trailing close behind. As of 2014, Auntie Anne's holds an 865-store lead on Wetzel's, but could Wetzel's be underestimated? Let's find out. 
Auntie Anne's: 
For Auntie Anne's, I decided on its location at Stonebriar Mall for the supreme mall pretzel experience.
As always, energy is buzzing and Auntie Anne's is stationed around the corner from Dick's Sporting Goods. I decided on judging the shops by their original, sweet and savory pretzels, so I ordered Auntie Anne's "Original," "Cinnamon Sugar Bites" and "Roasted Garlic and Parmesan." The wait was very short, and the pretzels were warm when I received them. Auntie Anne's "Original" had a great salt ratio, and their dough had an underlying sweetness I found satisfying. The cinnamon sugar on the "Cinnamon Sugar Bites" was wonderfully distributed over the pretzel, making it remarkably similar to what you may find in Cinnamon French Toast Bites. Unfortunately, the "Roasted Garlic and Parmesan" pretzel failed me. While most people would agree you can't go wrong with garlic, the uneven distribution of the seasoning made for an overly salty bite. My only complaints about Auntie Anne's would be the general over-toasting of the pretzels and the inconsistent sizing of the bites. Other than that, Auntie Anne's pretzels are buttery, sweet and lightly salted, making it a pleasurable mid-shopping snack.
Cost: 7/10 Efficiency: 10/10 Overall: 9/10
Wetzel's Pretzels:
Next up was Wetzel's Pretzels in Allen Premium Outlets. Walking into Wetzel's, I admired the ambiance as the room was almost 100% yellow and I was met with a cute pretzel presentation with two large, spinning jugs of lemonade on the side.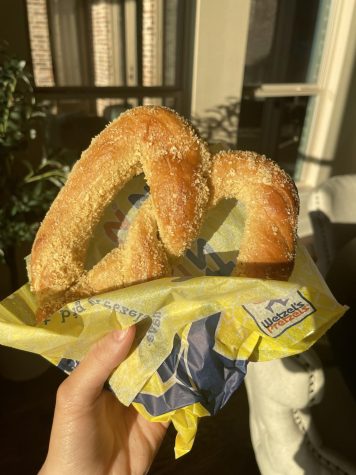 However, the store air was a little stuffy, which typically pairs with questions of ventilation or lack thereof. To continue my judging tactic, I ordered "Wetzel's Original," "Almond Crunch" and "Pizza Bitz." The first item I tried was the "Pizza Bitz," and I must say, I was let down. The golden expectation was a cheezy, warm, spicy piece of bread; instead, I was faced with a large, unseasoned cube and a little pepperoni that fell off mid-bite. A failed attempt, but Wetzel's still deserves a chance. "Wetzel's Original" was average. The pretzel was firm and lightly salted, but was chewy and couldn't compare to Auntie Anne's buttery, sweet dough. Wetzel's last hope: "Almond Crunch." When I ordered the pretzel, I thought, "almonds and pretzels don't mix." The pretzel gods must have shone down on Wetzels that day because I was pleasantly surprised by the golden surface and fine, sweet almond crumble that thoroughly coated the pretzel's surface. It was a sweet redemption for Wetzels, and I'd gladly return for that single item. 
Cost: 8/10 Efficiency: 10/10 Overall: 7/10
---
Overall, Wetzel's gave Auntie Anne's a run for their money with the "Almond Crunch," but sadly, Auntie Anne's dependable buttery, sweet dough is beyond compare. In my book, the duel is resolved. Auntie Anne's, keep your crown. 
Leave a Comment
About the Writer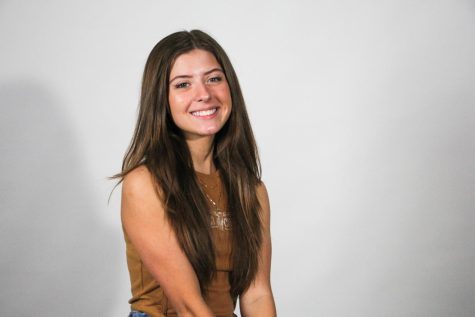 Sarah Hibberd, Editor-In-Chief
All good things must come to an end, but what about great things? Although she's approaching the end of her high school career, senior Sarah Hibberd...