Best in Texas: Local bakeries
I reviewed three local bakeries in Allen. For consistency, I tried various flavors of cookies or the store's most popular flavors. I'll be rating these bakeries based on efficiency, appearance, and taste.
Oven Love Bake Shop:
For my first at home bakery, I tried the Oven Love Bake Shop. This Lucas based home bakery specializes in cookie bars and has a variety of flavors. Oven Love rotates between four monthly flavors and 11 regulars. A 12 pack of cookies was $45 and a 4 pack was $12. The website is relatively easy to navigate and the customer service was extremely friendly. My order was ready in a timely manner and was beautifully packaged. I tried the flavors Pumpkin Snickerdoodle, S'mores, and Birthday Cake. Of all the flavors, Pumpkin Snickerdoodle was by far my favorite. It was like pumpkin pie in a cookie, and the cinnamon sugar sprinkled on top was the perfect touch. The texture was amazingly smooth and the sweetness was balanced. Birthday Cake was my second favorite because of the sprinkle and marshmallow fillings. The crust was perfect and the cookie wasn't too chewy. Last, was the S'mores cookie. It was a chocolate-based cookie with marshmallow and graham cracker crumble toppings. It was underdone and gooey in the best way possible, although it was a little too rich for my taste. 
Efficiency: 9/10, appearance: 8/10, and taste: 9/10, overall rating: 8/10
Batch Bakery:
Next, I ordered from the Batch Bakery. This locally owned bakery has locations in Frisco and Allen. Although they are known for their pies, they have a selection of other baked goods. I ordered the Thumbprint cookies, the Triple Chocolate Chip cookies, and the No-Bake cookies. A three pack of cookies was $3 and a two pack was $1.75.  My order arrived within an hour of placement, and the website was very easy to navigate. I was pleasantly surprised by how homemade and fresh all of the cookies tasted. Although they were the simplest, the Thumbprint cookies were my favorite. They were flaky and sweet in a delicate way, and the icing in the middle was not overpowering at all. The Triple Chocolate Chip wasn't very special, and was just a chocolate chip cookie with white, milk, and dark chocolate. I might be a bit biased because I don't like white chocolate. My least favorite was the No-Bake because it was overly fudgey and heavy. The peanut butter, chocolate, and oat mixture is usually my favorite flavor, but I didn't like how overpowering this version was.
Efficiency: 8/10, appearance: 6/10, and taste 6/10, overall: 6/10
Sugar Plum Square:
Last, I tried the Sugar Plum Square bakery. Sugar Plum Square is a home-run bakery that makes sugar cookies and cakes. The customer service and communication was so warm and friendly. I only sampled a few, but the vanilla sugar cookies were beautifully decorated and delicious. The frosting on the cookies was so detailed and delicate that it almost made me reluctant to eat them. The cookies were a classic flavor, and the simplicity was executed well. Although it wasn't a very unique or complicated flavor, the artistry made up for it.
Efficiency: 8/10, appearance: 10/10, and taste: 6/10, overall rating: 8/10.
Although Oven Love and Sugar Plum Square are technically tied, I'm weighing some factors over others. In first place, we have the Oven Love Bake Shop, because of the originality and excellence in the flavors. In second place, we have Sugar Plum Square. I'm still in awe of how gorgeous the cookies were. And lastly, we have Batch Bakery. I liked their flavors but they weren't anything special. However, if you need cookies in a hurry, Batch Bakery would be your best option.
Leave a Comment
About the Contributor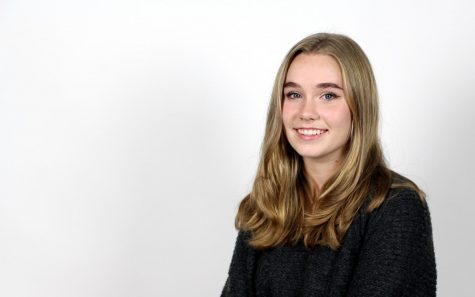 Libby Johnson, Staff Writer
Freshman Libby Johnson excitedly joins The Red Ledger for her first year in high school. Johnson is optimistic about the school year and can't wait to...